The best farmhouse Christmas decor ideas for rustic holiday fun! Whether or not you live in an actual farmhouse is not important, but if you love that Fixer Upper style, these rustic farmhouse Christmas decor ideas are going to tickle your fancy!
[aff]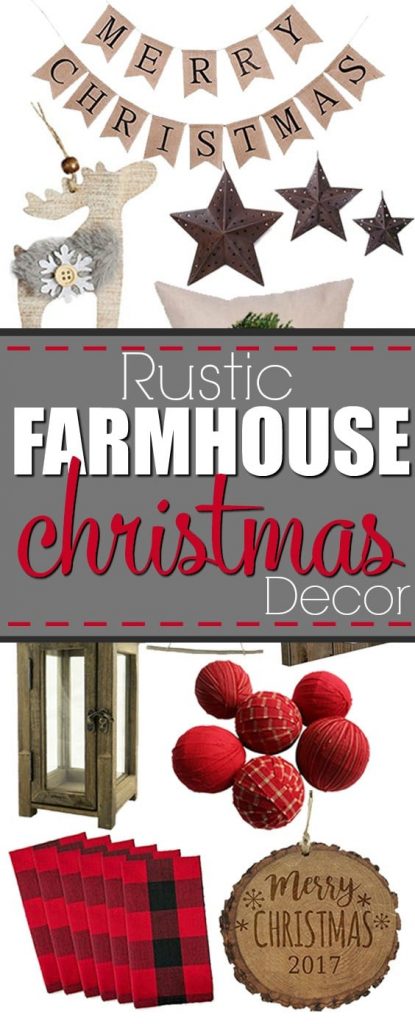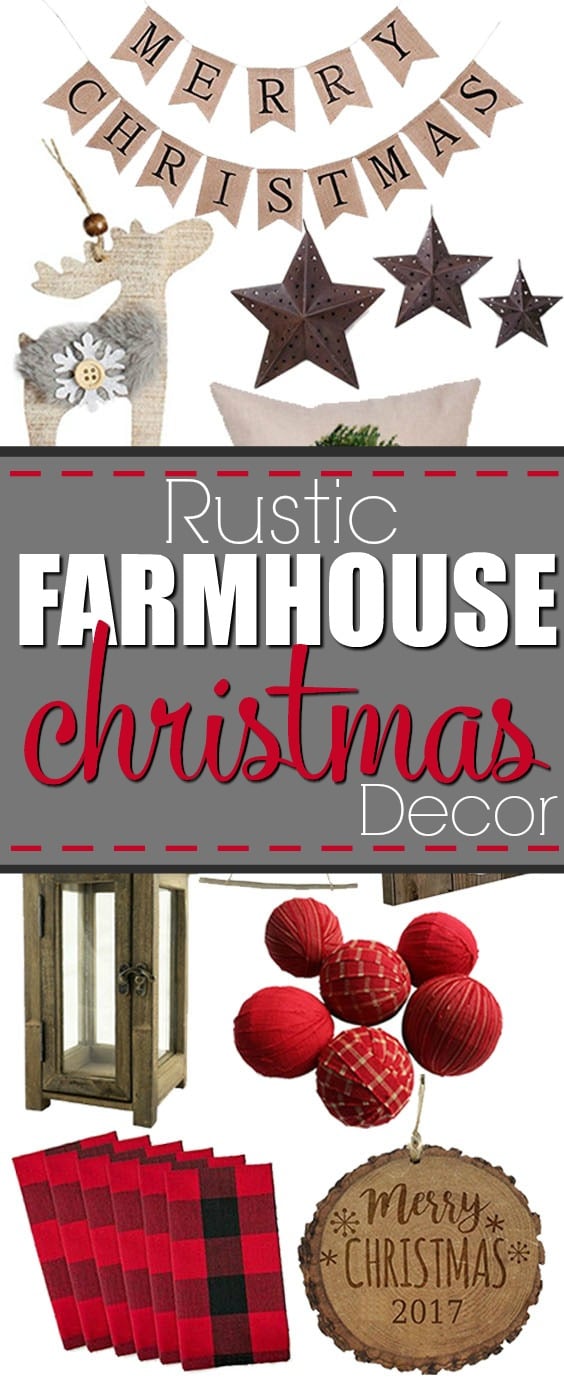 I'm a total sucker for the rustic farmhouse look. I have made a rustic farmhouse coffee table, I've added white subway tile to my kitchen, and painted my cabinets white, not to mention lots of little decor items I've added over the years. This year, I thought it would be fun to find some of the best farmhouse Christmas decor to share with you guys.
I know the frugalest (is that even a word??) way to get farmhouse Christmas decor is of course to make your own, but if you don't have time, patience or skill to make your own farmhouse Christmas decor, then you're in luck! There's tons of inexpensive options out there, especially on Amazon. You don't have to be crafty or have one of those "Pinterest Perfect" houses to really rock the rustic look. In fact, the greatest part about the farmhouse Christmas look is that simple is better-it doesn't look weird if it's done minimally, that's part of the charm! So you don't have to have tons of money or pieces to make it look totally chic.
Best Farmhouse Christmas Decor Ideas
Click on any image to be taken to the details and description.

I love the farmhouse aesthetic so much. It's so cozy and simple, yet can easily be made to look luxe and elegant. Think "Fixer Upper" style. Shiplap for days!
My favorite winter days are the cozy ones, especially around the holidays when it's snowing. I can think of nothing more peaceful than being curled up with a hot cocoa (or a hot toddy…I'm not gonna judge) sitting in front of a crackling fire with a book surrounded by festive, rustic, hygge-inducing farmhouse Christmas decor. You don't even have to go crazy, a few well placed pieces can really make a statement without spending a lot of money.
So those are my fave budget-friendly picks for farmhouse Christmas decor. I really need to get my tush in gear and get my own place decorated. Unfortunately most of my existing Christmas decor is buried in our storage unit from when we moved from Oregon back to Minnesota last year. We are in a small apartment for the next 16 months, so it's hard to really have space to decorate.
Anyone else struggle with trying to decorate tiny spaces without feeling like you're claustrophobic? Sigh, if it's not one thing it's another.
Anyway, I hope this post helps you decorate your space for Christmas with a chic, Farmhouse Christmas vibe.
If you use any of these suggestions, be sure to tag An Exercise in Frugality, we would love to see how you use these ideas!
Do you love rustic farmhouse Christmas decor too?
[share]
[disclosure]