DIY Pipe shelves are a simple, cute way to add storage and decor to any room!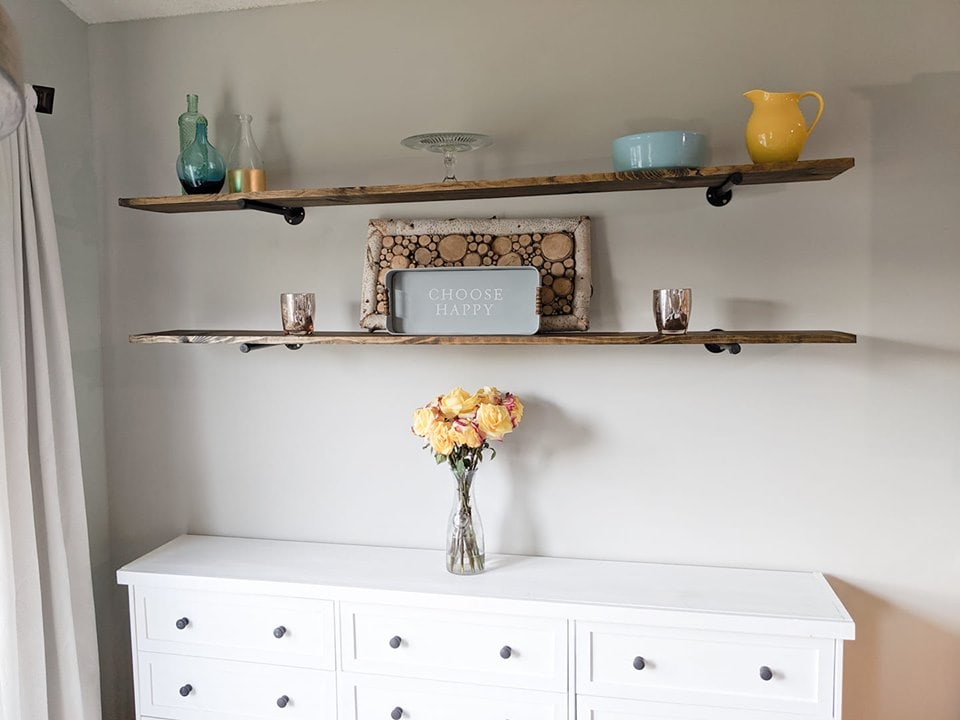 I had been trying to decide what kind of shelves to add above the credenza we built in the dining area of our kitchen. MONTHS of indecision. I kept going back and forth and couldn't decide if I wanted to tackle floating shelves or not.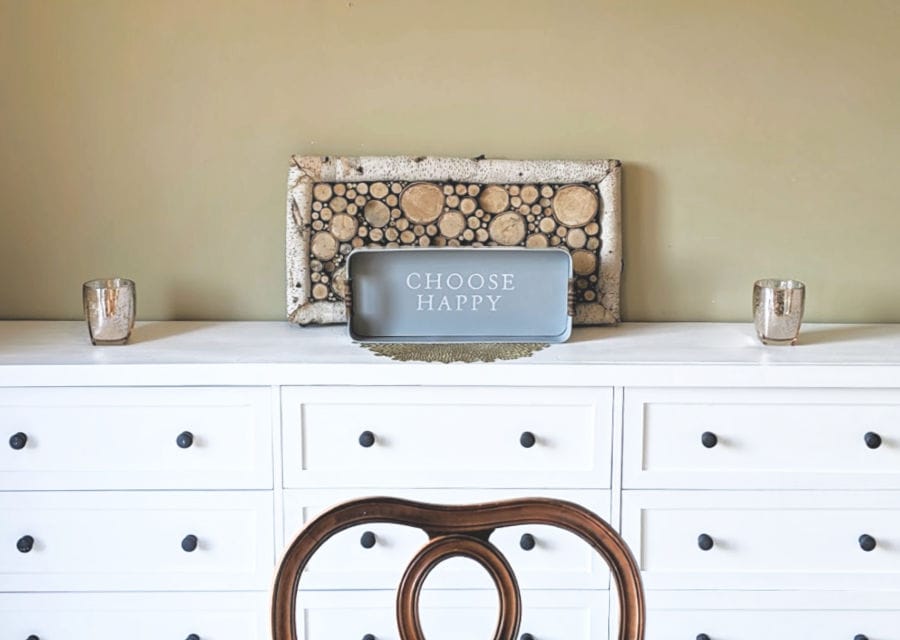 Speaking of that cabinet, it's an Ikea hack (specifically, an Ikea Rast Hack!)! You can read about how we built this DIY rustic sideboard cabinet in this post!

Floating shelves are not hard to do, but I was feeling lazy. I even built DIY floating shelves in my office at our old house. But for some reason I just wasn't feeling it.
Then I started looking at some modern industrial "pipe shelves" and knew that would be the perfect fit here!
Our kitchen is a light gray, and eventually the cabinets are getting painted white and the rug under the table is a light color, so I wanted something to warm up the space a little bit and thought that the ruggedness of these shelves would be a nice contrast.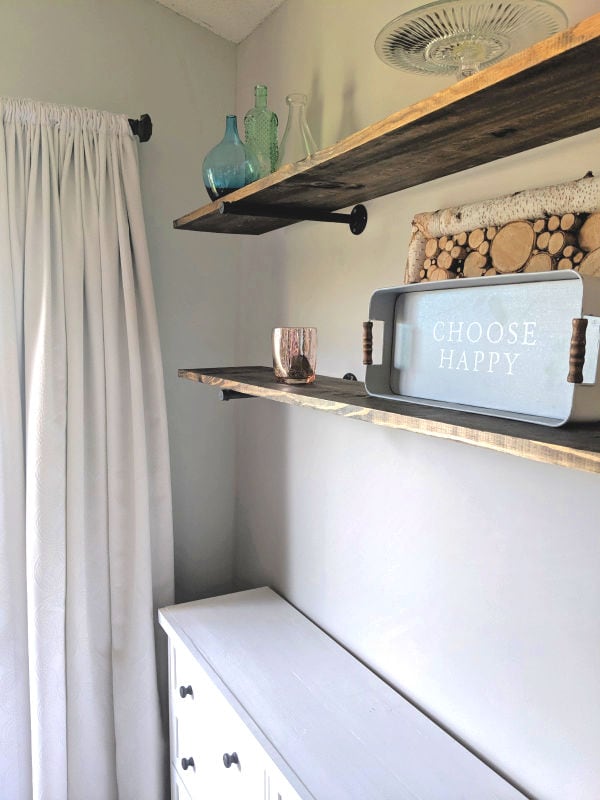 Also, truth be told I was trying to surprise my husband, since I know this is a project he wanted to get done for practical (read: storage) purposes, so I don't think he appreciated my aesthetic conundrum.
So while he was out of town for work, I headed to Home Depot and decided to finish this project once and for all! You do not need boys for your DIY projects ladies!
Speaking of DIY ladies, I met a ton of boss babes at Haven in Atlanta recently and they definitely inspired me to get back in the DIY saddle, so you'll be seeing a LOT more projects around here. Buckle up!
Can I make my own DIY pipe shelves?
ABSOLUTELY! These DIY pipe shelves are SO simple. If you're lucky and need shelves in a standard length, you won't even need to use a saw!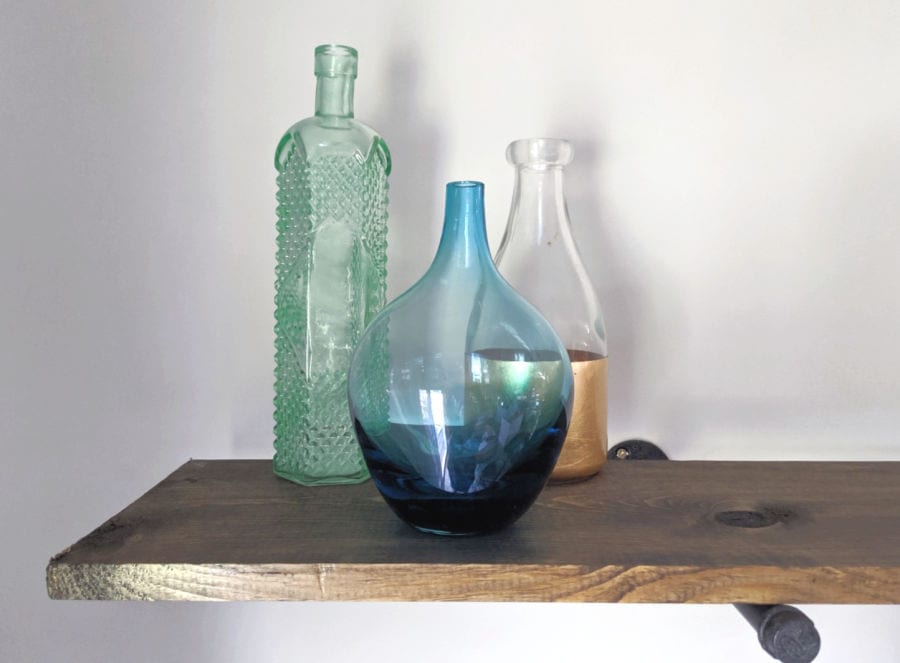 How deep should your shelves be?
Honestly a lot of this boils down to two things: personal preference and what you're storing on these shelves.
Personally, I feel like 10-12 inches is generally a good baseline, but if it's purely decorative/for picture frames, you can go narrower. If you need to store larger items you can go wider!
Can I hang a shelf with nails?
Only if you enjoy watching things come crashing down. Screws are going to be best and ALWAYS make sure you're screwing shelf brackets into studs. Drywall is not strong enough to hold up a large shelf!
What's the best wood to use for shelving?
Ideally you want something 1-2 inches thick. Something that will be sturdy, but also not adding a ton of additional weight. Pine is a nice, inexpensive choice especially if you will be painting or staining your shelves. For shelves where aesthetics are not important (like in the basement or garage) you can even use thicker sheets of plywood.
Is MDF good for DIY shelving?
In short, not really. MDF is inexpensive, however it gets ruined easily with any hint of moisture (so if your shelves are in a kitchen or bathroom or anywhere that they could get damp) avoid MDF at all costs. It is also softer than regular wood, so heavy items can cause them to sag over time.
If you choose to go the MDF route, you may want to add an extra support bracket to avoid any sagging under heavy items.
What can you put on a bookshelf?
Anything you want! I would avoid SUPER heavy things, but you can see in these photos we added some fun decor pieces. Since this is a kitchen I will eventually have cookbooks here too, but for a bookshelf you can add decorative pieces like small statues/figurines, recycled scented candles picture frames, flower vases (like these paint dipped bud vases!), these Kate Spade inspired storage boxes or whatever brings you joy!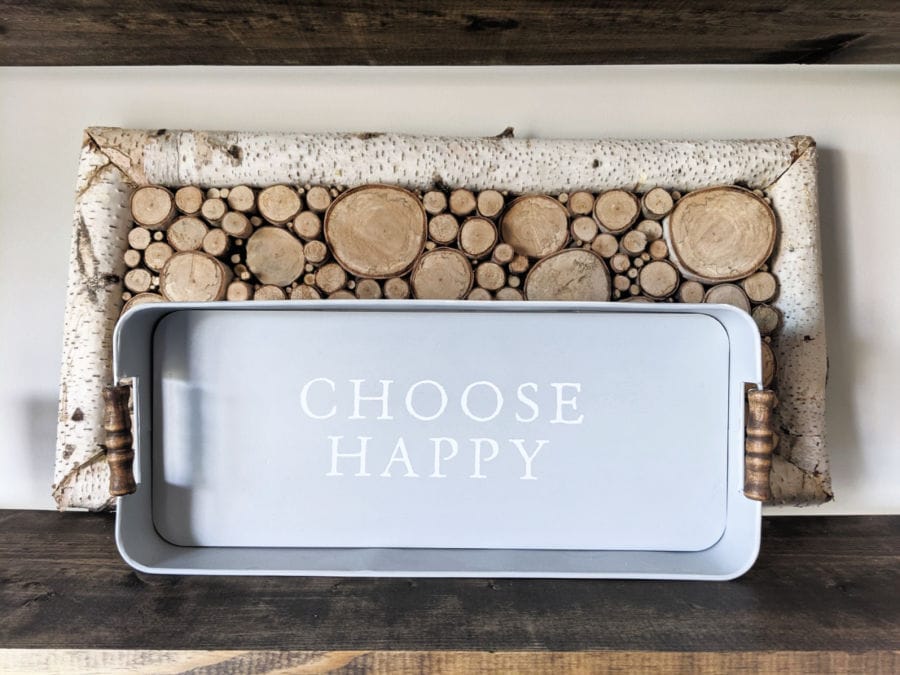 Now, you can probably do these shelves with actual pipe, however I did not feel like messing with cutting metal pipe so I hit up my local Hobby Lobby and found THESE bad boys.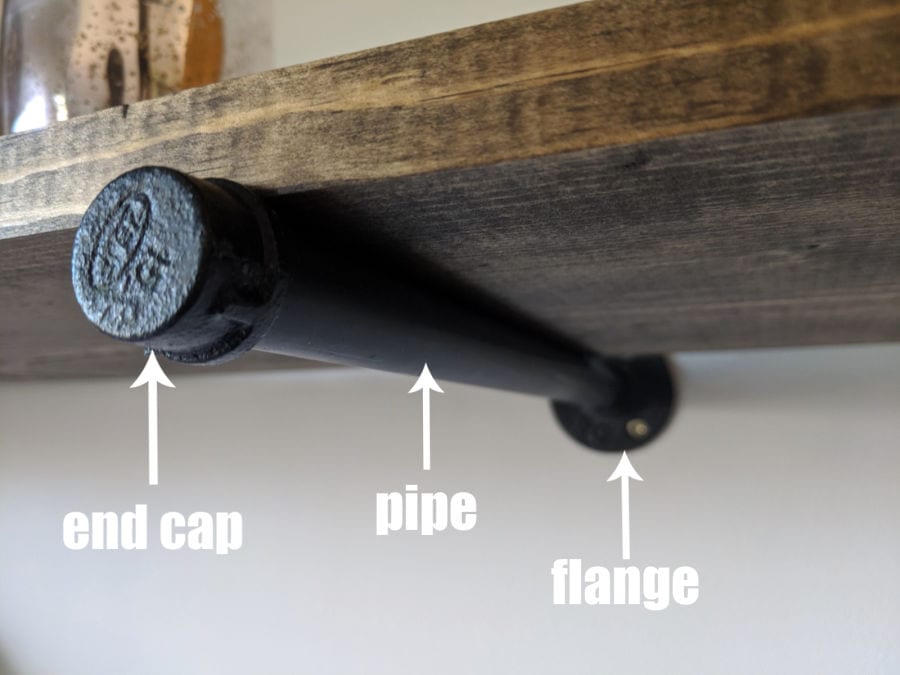 The best part is that they were on sale 50% off! HOLLA!
I just love how the DIY pipe shelves turned out, don't you? Easy and inexpensive to boot!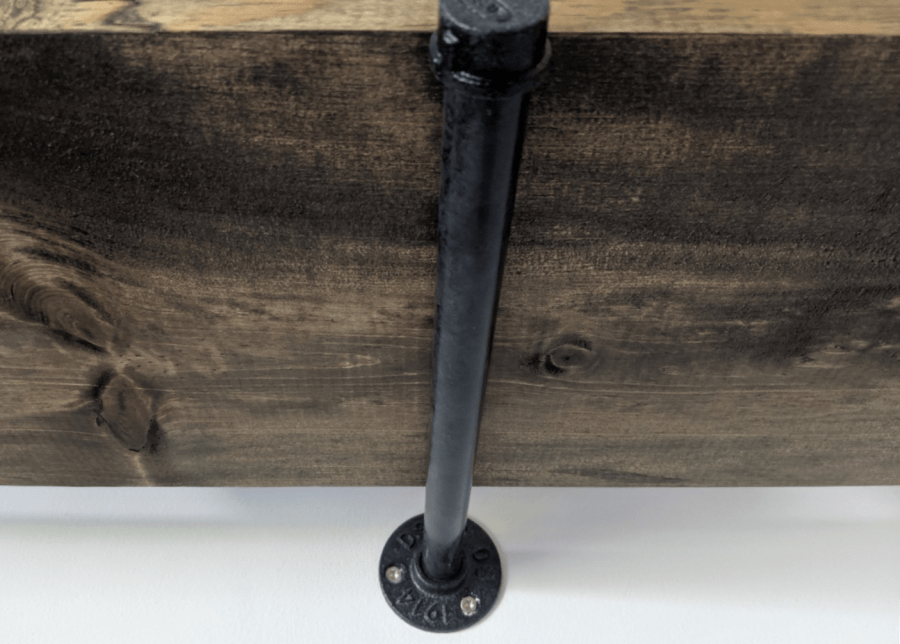 If you make your own, be sure to tag me on social media, I'd love to see your creations!
How to build DIY pipe shelves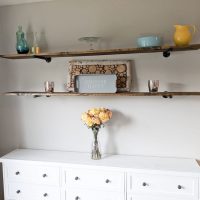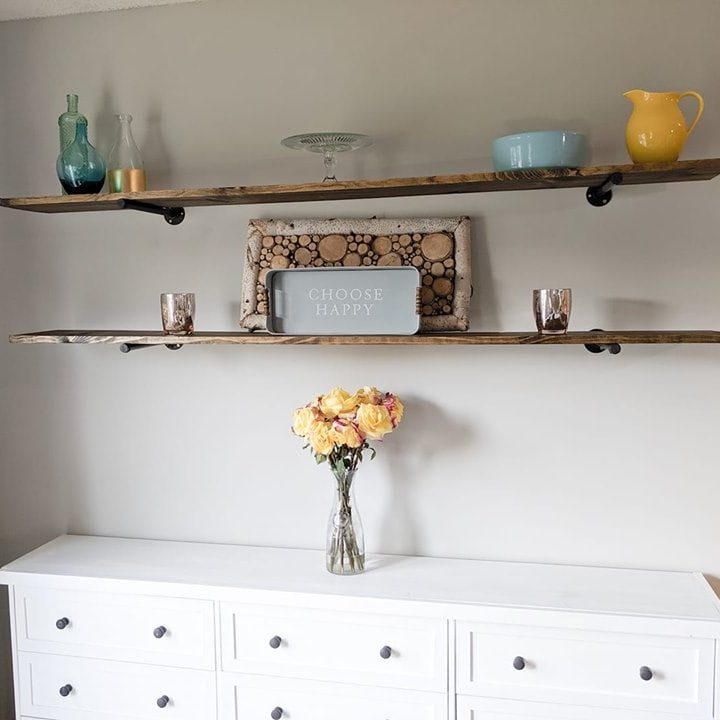 How to Make DIY Pipe Shelves
Total Time:
3 hours
5 minutes
These DIY pipe shelves are super easy and inexpensive to make but will turn any room into a beautiful, rustic chic oasis with extra storage to boot!
Materials
1 - 1 x 10 x 6 pine board
2 - pipe flanges
2 - steel pipes
2 - pipe caps
6- 2" screws
wood stain
Tools
drill
level
tape measure
stud finder
pencil
Instructions
Paint or stain boards with 2 coats, drying between coats per manufacturer's instructions.
Use tape measure to determine height of lowest board (I did my lower board 24" above the top of the cabinet)
Use a stud finder to locate and mark studs
Affix pipe flange using wood screws by drilling screws into studs.
Screw pipe end into flange, and screw pipe cap onto pipe.
Hold the second pipe flange to the stud, using your other hand (or a helper), place the shelf on the existing pipe.
Using the level, determine the location of the second flange on the stud.
Mark flange location with pencil.
Remove shelf, then screw the second pipe flange into the second stud.
Repeat step 5 for second flange
Balance the board on the two pipe brackets and decorate!
Notes
Instructions and materials above are for ONE shelf. Multiply above supples as needed per shelf.
You may need a third (or more) pipe bracket depending on the length of your shelf and the weight of what's being placed on it. I used only two per shelf for a 6 foot shelf but if you're going longer than that or want to store heavy things, placing another bracket in the middle is recommended.
"Additional time" above is drying time for the stain and will vary depending on the products used.
Recommended Products
As an Amazon Associate and member of other affiliate programs, I earn from qualifying purchases.