Last week I talked a bit about how to paint rocks (my latest obsession) but this week I wanted to talk a bit about my favorite rock painting supplies!
If you're wondering what to do when you find painted rocks, head over to this post too.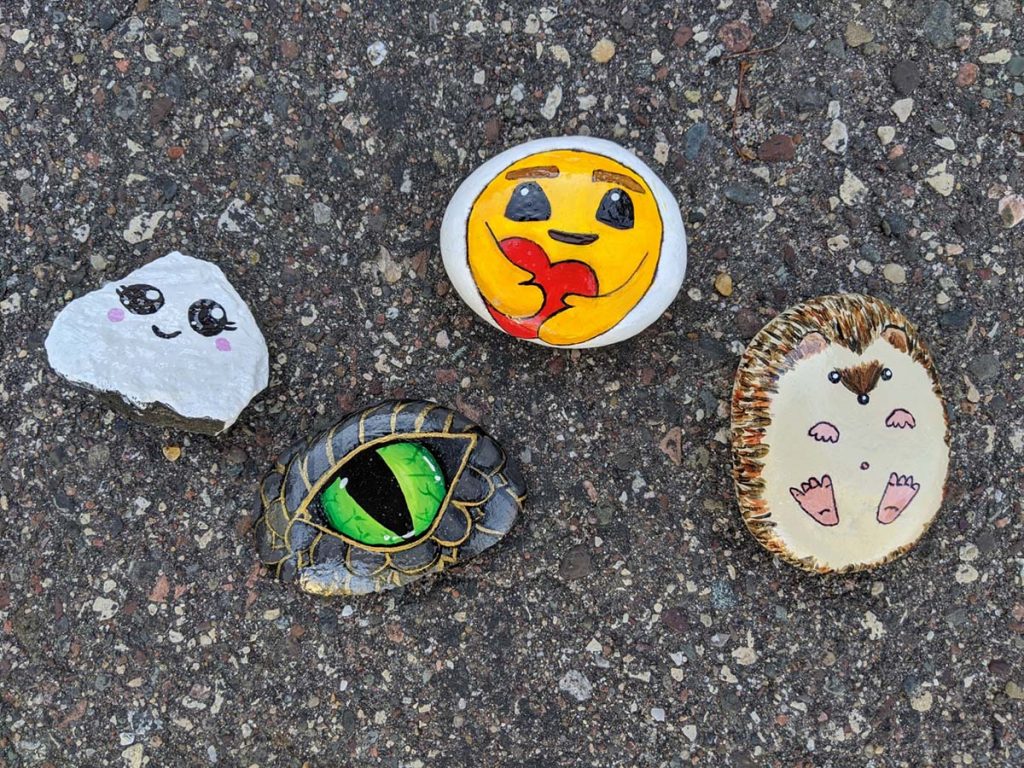 One of the first things people ask in a lot of the rock painting Facebook groups I'm in is "how do you paint rocks?" and the very next question is "what kind of rock painting supplies do I need to get started?"
The good news is that painting rocks doesn't require a whole lot of special tools. You can use basically any paint you have on hand, even cheap craft paints.
As you get into it, you'll discover tools and products that work best for your style of art! But to get you started I thought I'd share a few of my favorite rock painting supplies (including the best rocks I've found so far!)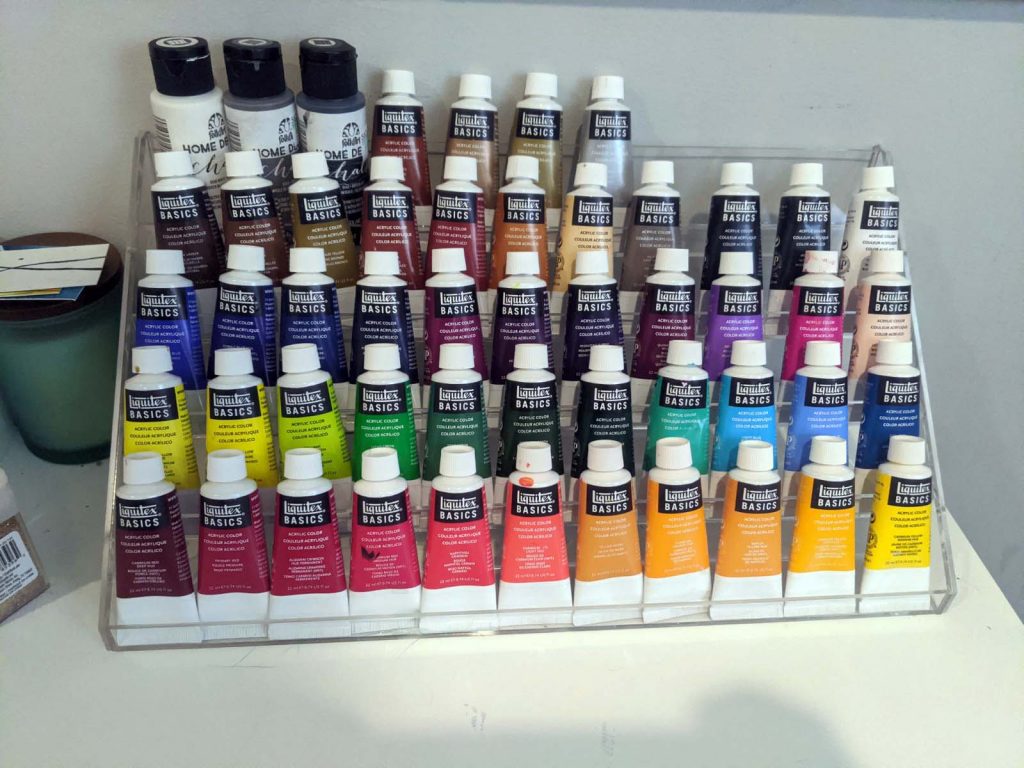 What supplies are needed to paint rocks?
There's a ton of different things you can use but the basics are:
base coat
paint
top coat
brushes
That's really all you need to get started. You can add things like paint pens, glitter or specialty paints/resins but the barriers to entry are super low here.
Some folks start with inexpensive supplies and work their way up to fancier stuff, others just stick with the cheap stuff because really it works just as well in most cases.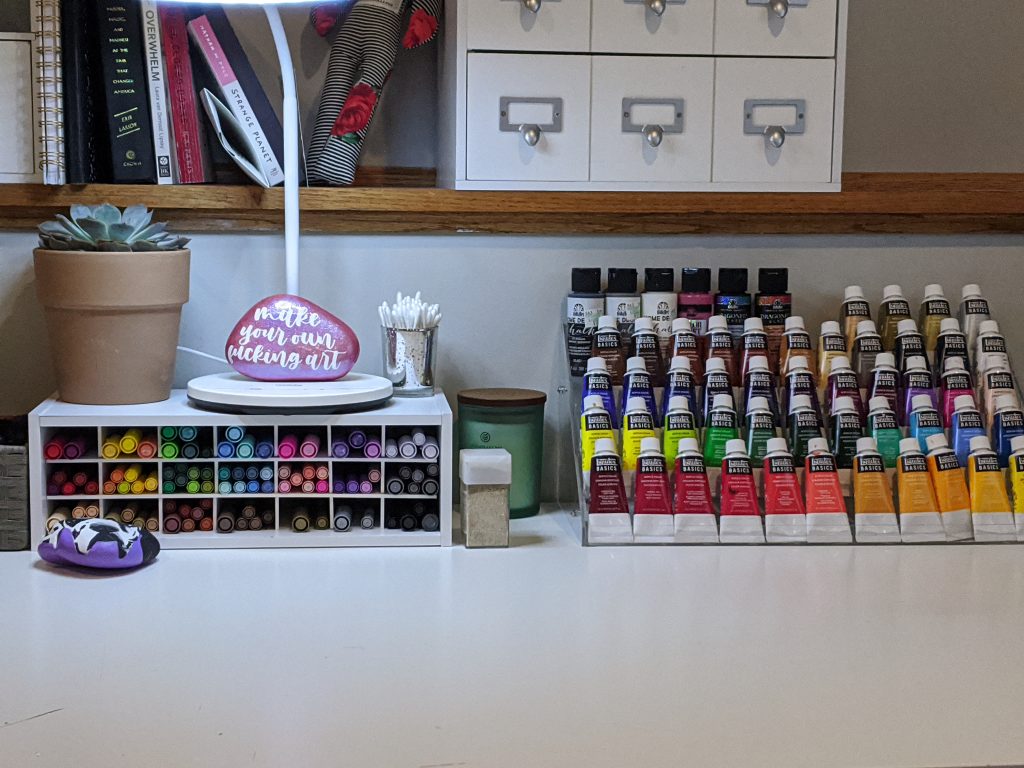 Can you use Sharpies on rocks?
You can, but I don't recommend it if you are sealing the rock for outdoor use. Sharpies bleed with most clearcoat methods, so unless you want to risk ruining your art (or you test it out on a spare rock first) I don't recommend it.
So what do you use instead? Paint pens!
What are the best paint pens for rocks?
Glad you asked! This is a little bit of a personal preference situation and some of it depends on the level of detail you're looking to create in your rocks. Really any acrylic paint pen will work, but I prefer to have both a thick and fine point so that I'm ready for a variety of design work.
I'll link to my favorite brand (so far) in the list below! They have a few different sizes as well as different sets. The brand is called Tooli Art and so far the pens have been fab!
Another brand some of my fellow rock artists love is called Posca. I haven't personally tried these and I think they cost a bit more than the Tooli pens, but they seem to be well loved! I have also heard good things about the Arteeza brand as well.
Can you use hairspray to seal rocks?
Uh, that would be a big ol' NOPE.
Do yourself a favor and use a proper sealer or resin to clear coat your rocks. You worked hard on them, don't skimp here! Using hairspray or no seal at all might seem easier, but in the long run it definitely shortens the lifespan of your artwork, especially if it will be left outside.
Where can I buy smooth rocks to paint?
Not everyone is fortunate to have access to unlimited free rocks, so some of us have to go purchase good ones for painting! My favorite place to get rocks is Home Depot, I buy them in 30 pound bags. This kind is the best one I've found, but you can definitely experiment with others. I chose this kind because I like the size (3-5 inches for most though they definitely include smaller ones) and they are so smooth!
Some folks have found independent local landscaping companies will let you come buy a whole bucket of rocks that you can select yourself for a very reasonable price! Check to see if any of your local landscaping retailers offer this because the ones from Home Depot are not the most affordable long term plan if you're going to be painting like a crazy person.
To make things easy I've linked below to all my absolute favorite rock painting supplies. These aren't MUST haves, but they sure do make the whole experience much more enjoyable!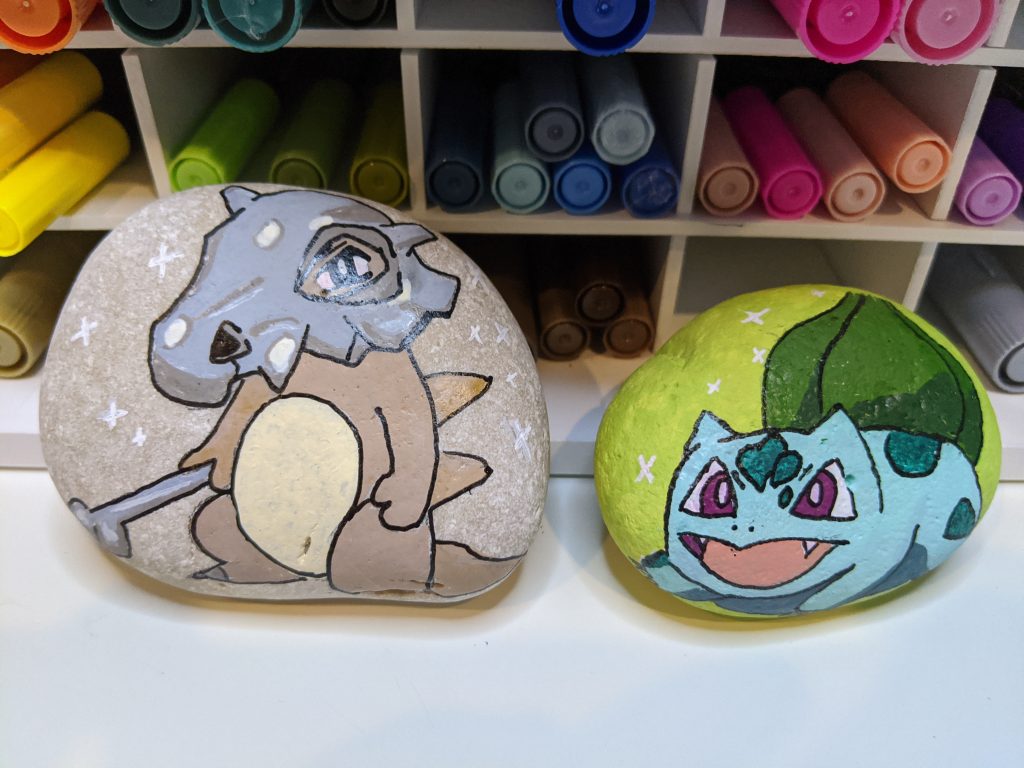 Rock Painting Supplies 101
What supplies do you need to start rock painting? Here's a list of some of my favorites! This includes the best paint pens for rocks and some of my favorite paint brushes for painting on rocks
Best Paint to Use on Rocks
This is an affordable basic paint set that includes every color you need including 4 metallics, black and white. Some of the lighter colors like the yellows are a little translucent so be sure to paint white underneath to help with opacity and vibrancy.
Alternatively, basic craft paint works well too, but bottles are a little more expensive to buy individually unless you find them on sale, so I included this set in case you want to get a whole rainbow of colors at once.
This sheer topcoat has a sparkly, color-shift quality that is absolutely mesmerizing on a black background! I love incorporating these fun topcoats into my art. The way they catch the light is just amazing.
Best Brushes for Painting rocks
This 15 piece paint brush set is a fantastic beginner set without being total junk. A lot of the inexpensive beginner sets of brushes shed bristles and are just not good quality. This set however is the exception! It includes blending sponges, a palette knife and this fab pop up brush case/stand. Definitely my pick for a basic set of brushes in a wide variety of shapes and sizes.
Best Paint Pens for Rocks
A rainbow of colors in a precise, extra fine tip. I love these for fine detail as well as outlining.
A bold rainbow of colors including black and white and two metallics with a generous thick tip.
I have not tried Posca markers yet but I've heard nothing but good things! When my Tooli set runs out, these are the next ones I plan to try. Huge range of colors and I'm told the quality is top notch!
Best Rocks for Painting
Tumbled, smooth and perfect! These are my favorite rocks to paint and I buy them 30 pounds at a time!
Best Way to Seal Painted Rocks
I have not tried this pourable method yet but my fellow rock painters SWEAR by this stuff. I've seen the end result, and it's gorgeous, thick and clear! Supposedly there's no offensive smell and the product is non-toxic and does not require a respirator. I'm excited to try it once I run out of my regular stuff.
Other Helpful Rock Painting Tools
I spotted these in some of my rock painting groups and they seem like such a clever way to dry rocks without smudging.
A fab, multi purpose desk lamp to be kind to your eyeballs during those late night painting binges!