Looking for some cute DIY Valentine Gifts that don't suck?
[aff]


DIY Valentine Gifts
DIY Romantic Fruit Arrangements – It's a gift that's also a treat. What's not to love? A simple to make, but super impressive gift idea that will have your sweetheart falling in love all over again!
Birch Pillar DIY Candle Holder – This is SUCH a cute idea. Carve your initials or a special date into your birch log and have it in your/their home to admire all the time.
DIY Heart Shaped Massage Bars with Essential Oils – These LOOK like they come from LUSH, but are made with LOVE. Bonus if you use them to give your Valentine a sensual massage!
Message in a Bottle Valentine's – These are cute for just about anyone and can contain any message you want. Make one for your sweetheart, your kids, or your favorite Galentine!
Free Adult Valentine's Printables – Definitely not one for the kids, or the easily offended, but these are pretty damn hilarious. Or should I say "dam" hilarious? You'll see what I mean…
How to Make A Year of Dates Gift – The "Year of Dates" trend is still going strong, and this cute idea will keep your relationship fun and playful straight through till next Valentine's Day.
Sharpie Dotted Mugs – This gift is one of those perfect, inexpensive, quick DIY Valentine Gifts that works just as well for your sweetheart as it does for friend or coworker. Everyone loves mugs!
Valentine's Kiss Bottle – This one is so easy and sweet it's practically foolproof. So simple even the least crafty person can pull it off no sweat!
Slightly Adult Funny Valentine's Printables – These printables based on popular song lyrics are perfect for showing your sweetie just how much you love them. And their booty.
Valentine's Gift Ideas for Star Wars Fans – Fans of the Star Wars franchise will ADORE these gifts from a galaxy far far away. Or Amazon mostly.
Easy DIY Glitter Mug– Every morning could use a little sparkle, am I right? This glitter coffee mug is a FAB way to start off your day on the right foot!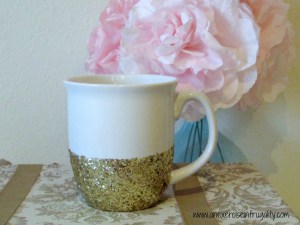 If you still don't know what kind of DIY Valentine Gift to give your sweetheart, be sure to take a look at my 101 Acts of Service post. You can make your honey a coupon book, advent calendar or some other type of gift that includes these 101 acts of service based on The 5 Love Languages book by Gary Chapman. There's tons of great ideas in there. You can use all 101 or just pick and choose the ones that work best for you and your Valentine!
Which of these DIY Valentine gifts are your favorites?