Low carb pizza casserole is here to save the day! It's keto-friendly and loaded with veggies. Kids love the cheesy pepperoni pizza flavor, and moms love that it's healthy!
You'd never know it's one of those low carb casseroles. This is a favorite at our house, we make it often and switch up the toppings. Give this a try the next time you're craving pizza without the guilt!
Let's talk about my favorite low carb spaghetti squash recipe!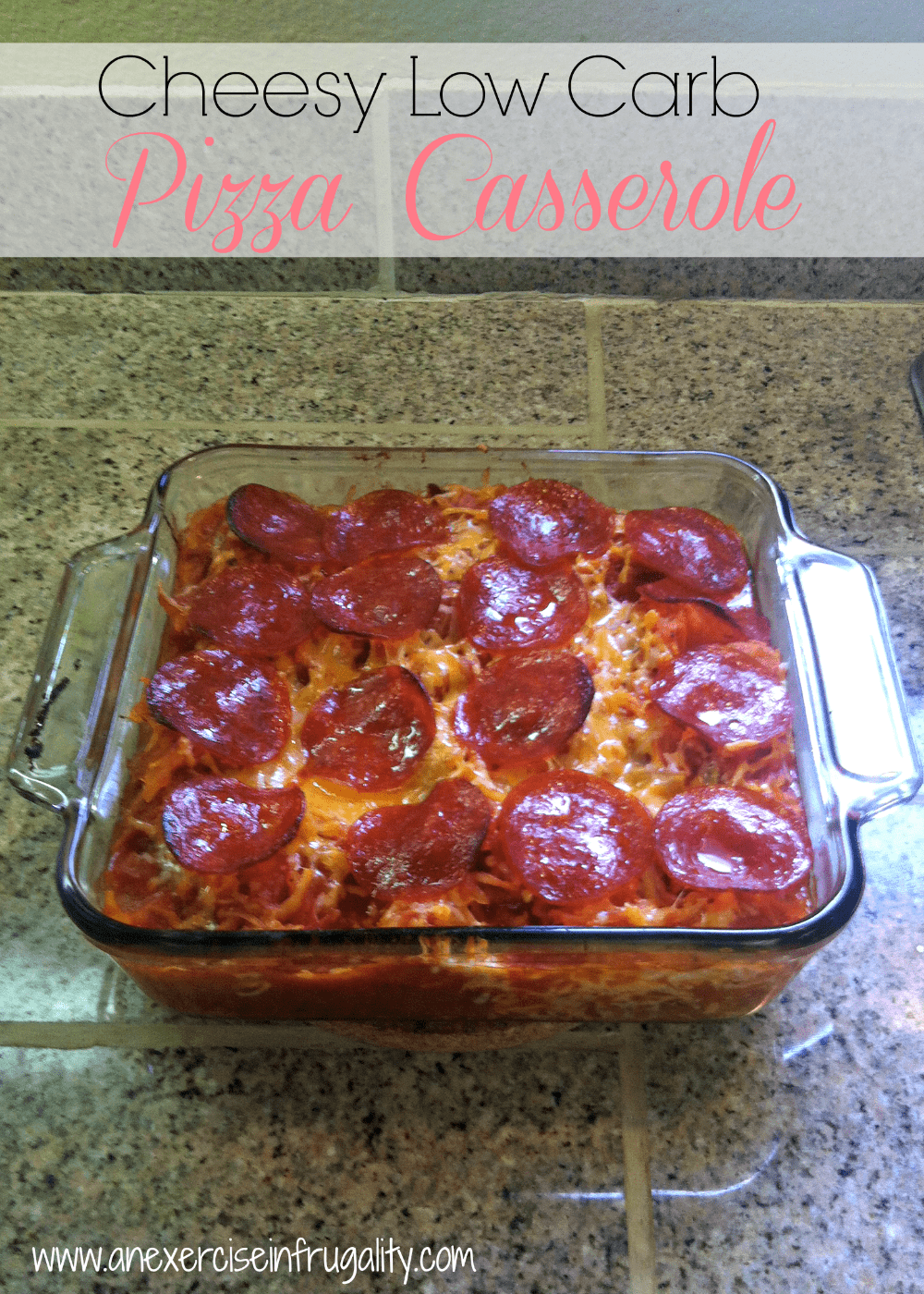 Behold, the insanely popular Cheesy Low Carb Pizza Casserole. This recipe has totally been blowing up on Pinterest ever since I posted it a few years back.
Low carb casseroles have been a staple in our house for a long time because they are delicious and easy to make.
And THIS is the king of low carb casseroles.
Since being diagnosed with type 2 diabetes (after a long battle with PCOS and Insulin Resistance) I decided I had to take drastic measures and adapt a low carb lifestyle.
So far, it's working pretty splendidly, the only problem is I often have to find low-carb replacements for my favorite comfort foods. Coming from a family that is part Italian, this means working out ways to get dishes that are similar to the carb-laiden pasta favorites.
So is it low carb pizza or low carb spaghetti?
It's both! This dish has all the delicious taste of a low carb pizza without the crust, but it's also got the fork-twirling feel of pasta without the carbs.
One of the things we've come to enjoy is spaghetti squash (also known in some circles as "winter squash). This funny vegetable can be cooked, and then shredded with a fork into long, low carb spaghetti-like strands.
The texture is similar to al-dente pasta, and it can be used in almost any recipe as a pasta replacement.
Tonight I had a craving for baked ziti, which I often used to top with pepperoni–much to the dismay of my more authentic Italian friends and family.
I have been doing good with veering away from carbohydrates, so I wanted to make sure I didn't mess things up by eating a big bowl of pasta.
Enter my friend, Mr. Spaghetti Squash.
Using this great gourd, I was able to make a delicious low carb pasta "impasta" that filled us up, and kicked my craving to the curb!
Can I use zoodles instead of spaghetti squash?
If you aren't loving spaghetti squash, or they aren't in season (and therefore kinda spendy) you can also use "zoodles" which are simply zucchini cut with a vegetable spiralizer. I use the Veggetti and love it!
This Kitchen Active Spiralizer is nearly identical to the Veggetti, but cheaper!
It's great with either vegetable. I haven't tried it yet with other spiralized veggies, but you could try whatever your favorites are and experiment.
Is this a kid-friendly keto recipe?
You bet! I love this recipe because it's delicious, but I know a lot of mom's who appreciate it because their kids love the pizza part and totally don't notice that they're eating a bunch of healthy veggies!


You are getting a big ol' serving of veggies in here. So give yourself a high five. Your kids may not even notice, and frankly, its ok not to tell them.
It can be our little secret.
Is this a diabetic-friendly recipe?
When we kept strict low carb, I lost over 60 pounds, my blood sugar stabilized and all my labs became nearly perfect. I definitely need to get back to that place, since we've veered a little off course.
We mostly do low carb (we don't buy bread, pasta or cereal) but we have started to eat more things like potatoes than we used to and would like to get back to a more keto place for a while.
Anyway, if you eat a low carb diet or stick to a keto lifestyle, be sure to check out some of my other recipes below. Also, feel free to leave feedback on those recipes in the comments. Always looking for ways to improve them!
And of course, be sure to tell me below what you think of the cheesy low carb pizza casserole, and tell me if your kids loved it as much as I think they will!
More low carb and keto recipes you might like…
Be sure to check out these low carb recipe favorites too!
Check out my Low Carb Crock Pot Enchilada "Pasta"
Low Carb "Fathead" Pizza Dippers
Low Carb Au Gratin Zucchini Casserole
Low Carb Chili Cheese Dog Casserole
and Low Carb Buffalo Shrimp Salad
these are just a few fantastic low carb meals!
Low Carb Pizza Casserole Recipe
Cheesy Low Carb Pizza Casserole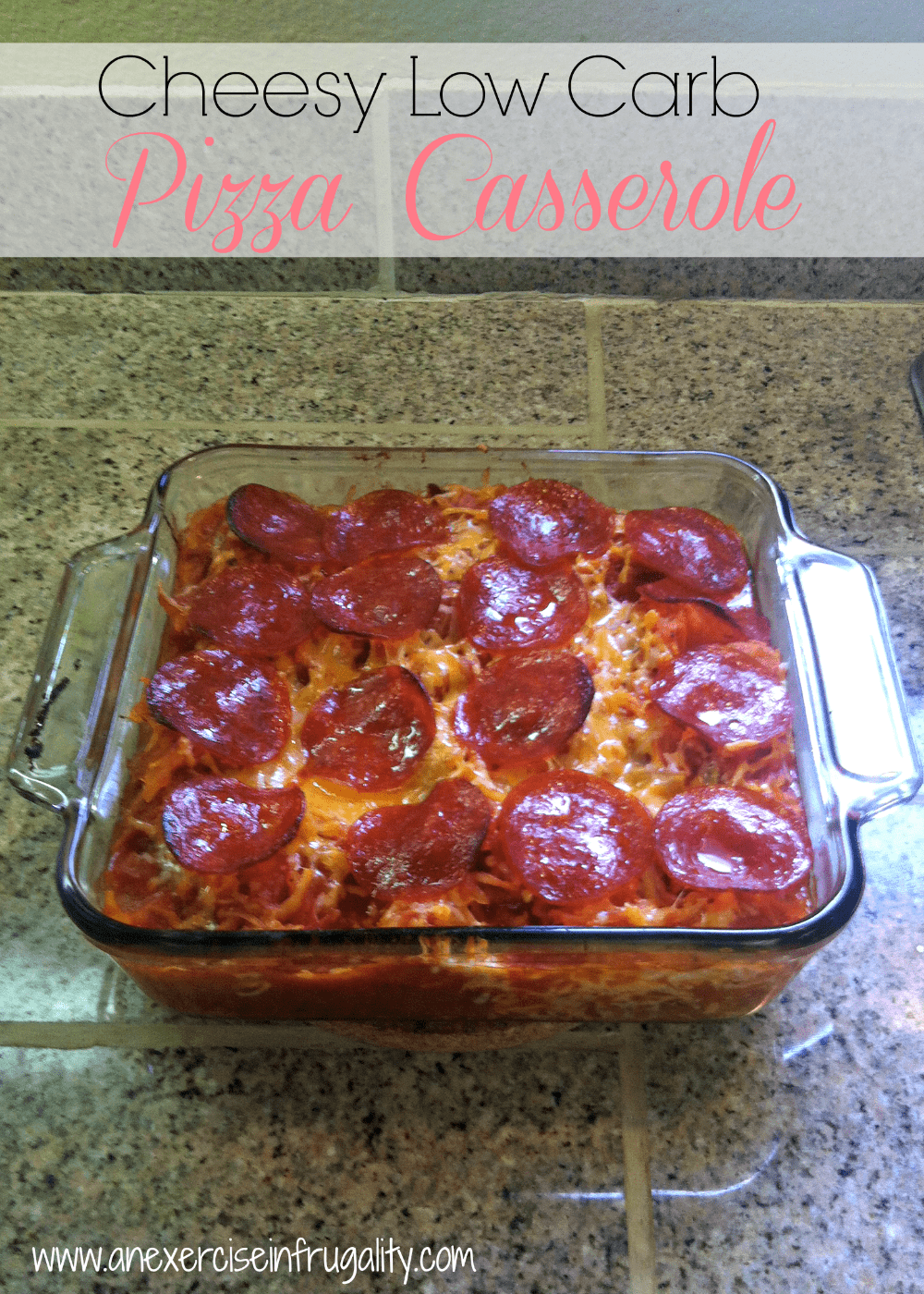 Ingredients
Spaghetti Squash
1-24oz jar spaghetti sauce or 24oz of homemade sauce (low sugar)
1 cup shredded cheese divided in half
1 tsp garlic powder
1 tsp onion powder
Pizza toppings of your choosing:
Pepperoni
Sausage (precooked)
Green Peppers
Onions
Olives
Instructions
Preheat the oven to 350 degrees
Pierce the squash all over with a sharp knife (CAREFULLY) 5-6 times
Place on baking sheet and bake for 45 mins to 1 hr until it shreds easy.
Remove from oven and carefully slice in half lengthwise
Remove the seeds and stringy center section
Shred with a fork, place in a medium mixing bowl
Mix with 1/2 of the shredded cheese, garlic powder, onion powder and the jar of sauce (and any optional "toppings" that you want mixed in.
Place in 9x9 baking dish and top with remaining cheese and any optional toppings.
Place back in the oven and bake for 15-20 minutes until cheese is bubbly and toppings browned.
Serve topped with Parmesan cheese and a side salad
https://anexerciseinfrugality.com/cheesy-low-carb-pizza-casserole/