I have been compensated by Glucerna for this post; however, I am sharing my own thoughts. All opinions are my own. Talk with your health care provider about a diabetes management plan that's right for you.#GlucernaChallenge #CollectiveBias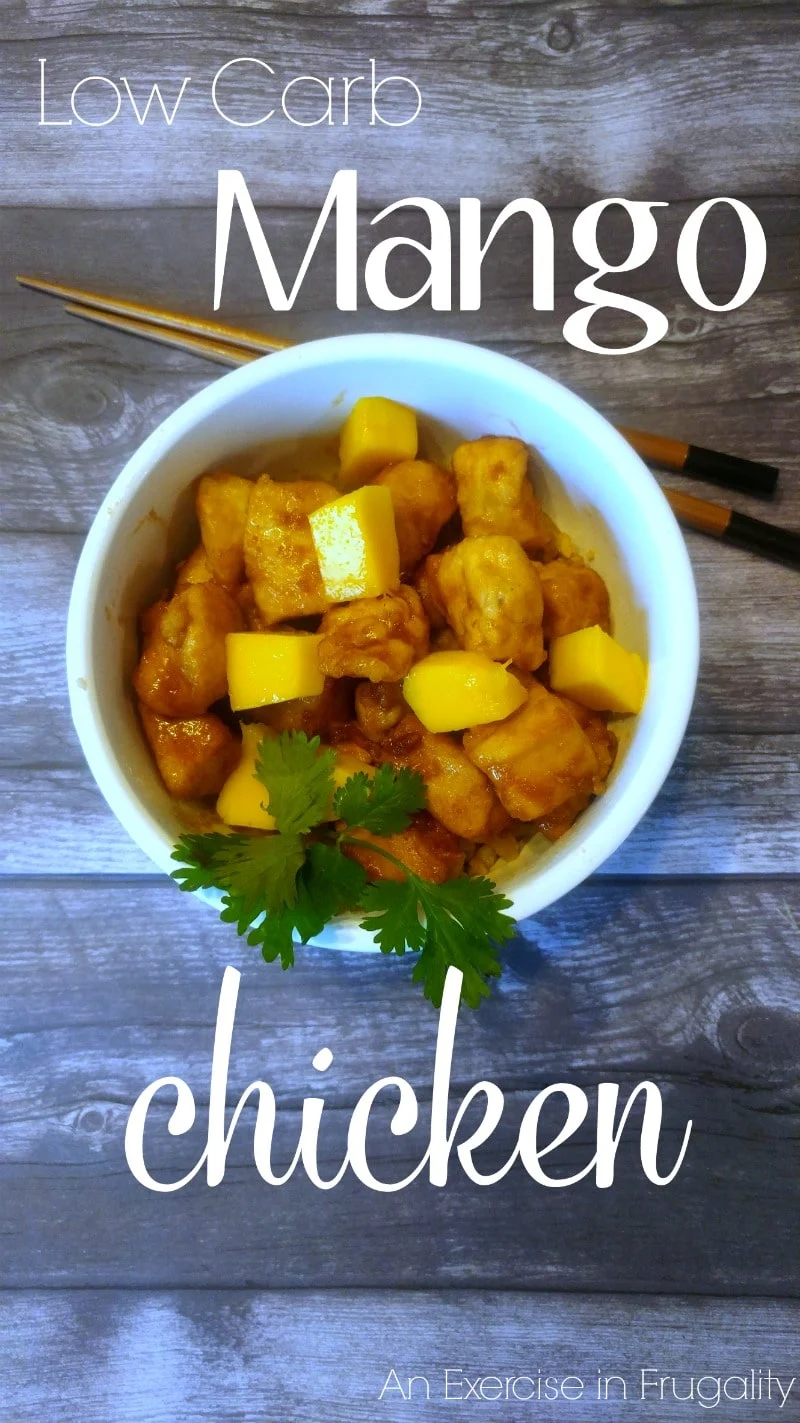 Today I want to get a little "real" for a moment. Eating healthy can be a challenge. I don't want to pretend like it comes easy for me because it doesn't. It's something I struggle with every day of my life. Feeling deprived can wreak havoc on a healthy lifestyle. Especially for me. If I feel like I "can't" have something I want, it makes it very hard for me to stay on track; even if I know that my health depends on my responsible choices.
I have found for me that the most practical way to stick to my resolve is to try to make delicious, amazing meals that are similar to or BETTER than meals I've had that are maybe less healthy. I do things like substituting nut flours for wheat flour or cauliflower mash for mashed potatoes. These swaps can be delicious and also healthy — often not only cutting the carbohydrate count, but also adding in additional nutrients.
I wanted to share with you one of my newest obsessions: Low Carb Mango Chicken. It's like something you would get at a high-end Chinese takeout, except better (and better for you)! I found a recipe for a Whole30 version on Pinterest and tweaked it a bit to be low carb. If you're concerned about the sugars in the fresh mango, that can be omitted from the recipe if desired. *Please also note that this recipe suits me and my diabetic needs but be sure to contact your doctor about what is best for you.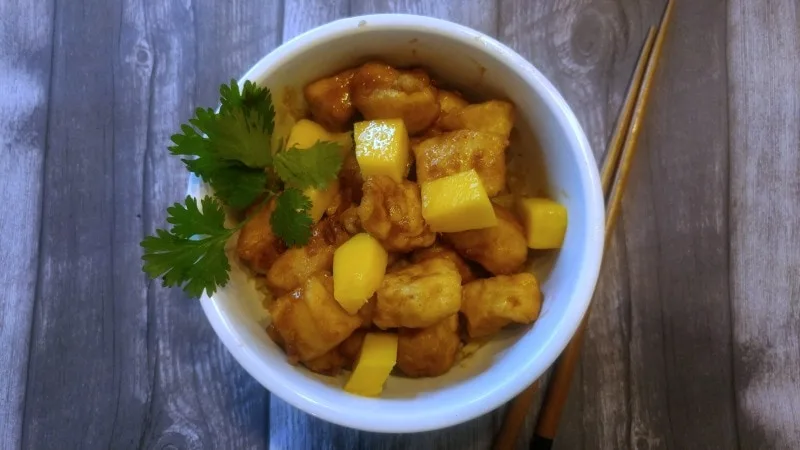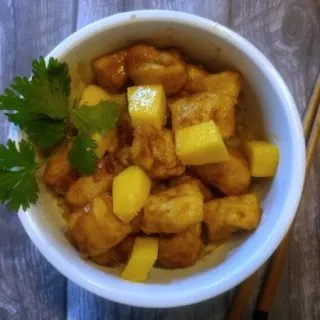 Low Carb Mango Chicken & Cauliflower Fried "Rice"
Low Carb Mango Chicken and Cauliflower Fried Rice-like awesome Chinese takeout, but way better for you! Low carb, and can be made gluten free if you substitute coconut aminos for the soy sauce.
Ingredients
Chicken
8oz chicken breasts cut into 1-inch cubes
1/4 c. tapioca flour (for dredging)
1 tsp ground ginger
1 tsp garlic powder
1 tsp black pepper
1/4 c coconut oil
1 small mango, diced
2 tsp fresh cilantro, chopped
Sauce
1 tsp fresh ginger, minced
2 cloves garlic, minced
1 tsp Sriracha sauce
1/2 cup soy sauce
1/4 tsp tapioca flour
Cauliflower Rice
1 bag riced cauliflower
2 tbsp coconut oil
2 large eggs
3 cloves garlic, minced
1 medium yellow onion, diced
Instructions
Heat 1/4 c coconut or olive oil or ghee in a medium frying pan. Mix tapioca flour, ginger, garlic powder and black pepper in a deep bowl. Dredge chicken cubes until coated on all sides. Fry chicken in small batches until golden brown and cooked through. Drain and set aside.
In medium saucepan, whisk sauce ingredients together, and heat on medium until thickened.
In a large wok, heat 2 tbsp oil. When hot, add diced onion and cook till translucent then add garlic. Meanwhile, prepare the cauliflower if you don't have pre-riced cauliflower. Use a food processor, grater, or a knife to mince cauliflower into rice-sized pieces. Add to the wok and stir-fry until tender. Scramble eggs in a small bowl and add to wok. When eggs are cooked, add soy sauce and toss to coat.
When sauce has thickened, add the cooked chicken and diced mango and heat until hot. Top with chopped cilantro and serve on a bed of cauliflower fried rice.
Nutrition Information:
Yield:

2
Serving Size:

2
Amount Per Serving:
Calories:

871
Total Fat:

51g
Saturated Fat:

37g
Trans Fat:

0g
Unsaturated Fat:

9g
Cholesterol:

282mg
Sodium:

3747mg
Carbohydrates:

55g
Fiber:

6g
Sugar:

28g
Protein:

51g
Adapted from Food Faith Fitness
We have this at least every other week, sometimes more. It's even good leftover the next day (which my husband takes to work for lunch). I like this recipe because it feels decadent and sweet without overdoing the sugar. Plus, cauliflower has more nutrients than rice. You can add vegetables to your fried "rice" like peas and carrots but that will increase your carb count so I usually skip them. You can also substitute coconut aminos for the soy sauce to make this recipe gluten free.
So far, I've been doing pretty well watching my blood sugars. My last A1c (which is the measurement of average blood sugars over a 3 month period) was 5.6, which is down from 9.5 a year ago! My endocrinologist and primary care doctors were both thrilled as this is almost out of the diabetic range. I've done this by focusing on my nutrition habits and eating a low carbohydrate diet, using the Glucerna® HungerSmart™ Shakes and Glucerna® Mini Snacks. Each satisfying Glucerna® Hunger Smart Shake has 15 grams of protein to help manage hunger and also has CARBSTEADY®, scientifically formulated to help minimize blood sugar spikes*.
*Compared to high glycemic carbohydrates.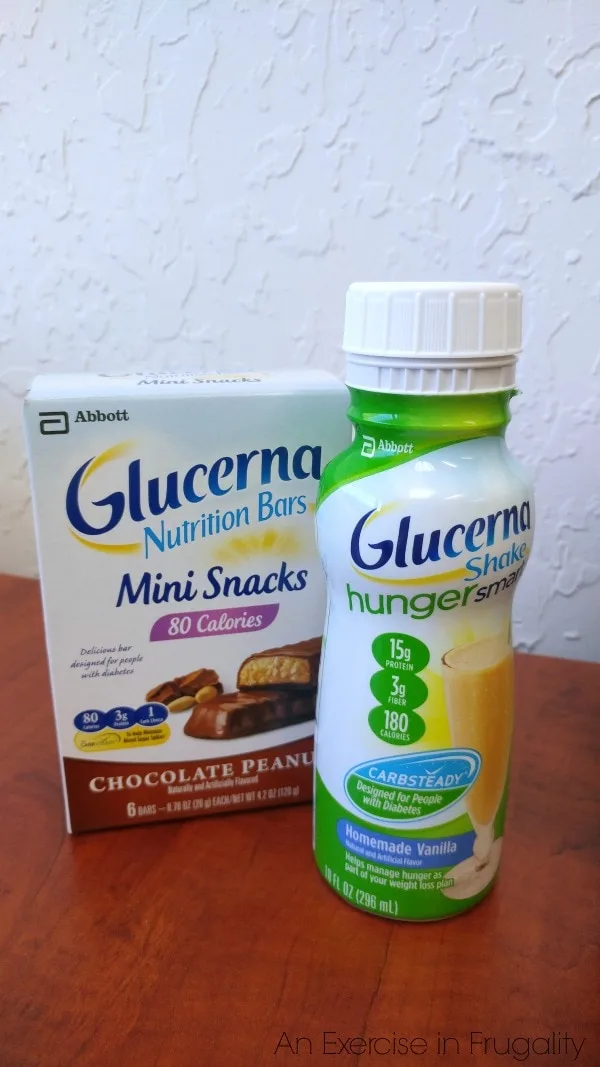 The Glucerna® Mini Snacks are so good, you'll forget they are low in carbohydrates. They are only 80 calories and contain 3g of protein and 3g of sugar. They are perfect for keeping in your desk or purse and are a convenient on-the-go option to help manage your blood sugar. Sometimes when I am trying to cook dinner after a long day, I can feel a blood sugar low coming on. I just snack on one of the Mini Snack Bars and it keeps me satisfied until dinner thanks to the low glycemic carbohydrates. You can find these yummy diabetic-friendly snacks at Walmart.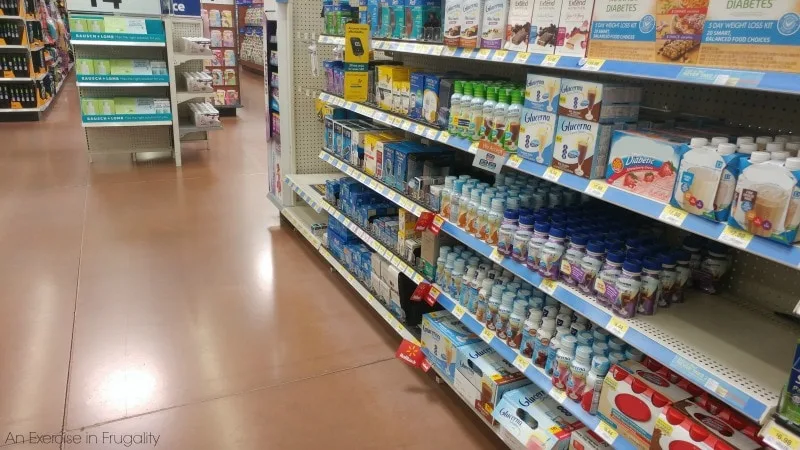 The last month has flown by! I feel better, with much more energy, and less sluggish now that I am back to eating healthy. It's amazing how much of a difference proper nutrition and minimizing sugar can make. We are playing Pokemon Go a lot, and therefore we're walking a TON more. The added energy has given me the stamina to keep hatching those Pokemon eggs!
*Use under medical supervision. Do consult with your healthcare provider or nutritionist regarding which diet / lifestyle is appropriate for your condition.
**Compared to high glycemic carbohydrates.
[share]
[disclosure]