Finding affordable clothes can be tricky for anyone, but finding trendy AND cheap plus size clothing is always extra difficult. Not as many places sell plus size clothing, and when you do find a place that sells plus size clothes that aren't frumpy, chances are they are EXPENSIVE.
And if you're anything like me and rocking the frugal lifestyle, you need some budget-friendly shopping options, AMIRITE?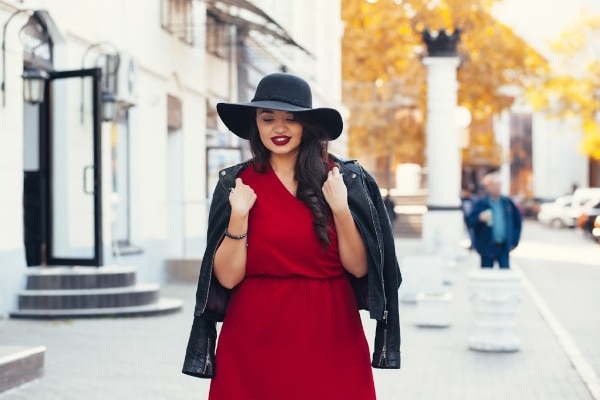 So today I wanted to share some of my favorite places to find cheap plus size clothing, so you can get your fall fashion shopping spree on, without setting your debit card on fire.
This list was inspired by my frantic shopping in preparation for The TCF Style Expo last week in Atlanta, GA.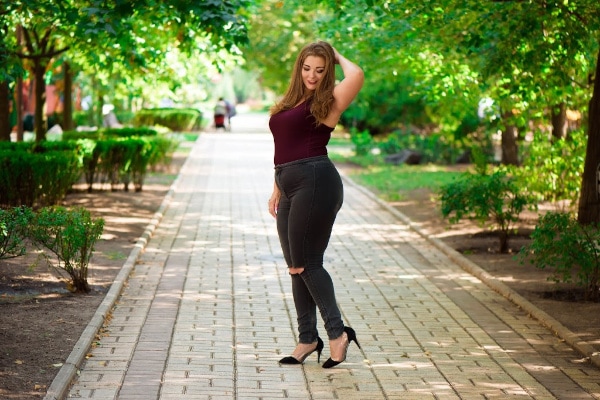 Myself and one of my amaaaazing coworkers Trista, (who btw is a brand new baby blogger over at I Give No Sips) presented during the Blogger Mastermind session on behalf of Mediavine. It was a blast and I hope to get to go back next year!
But of course "presenting at a plus size fashion expo" meant "I needed to go shopping in a bad way".
So let's just say I did a lot of first hand research for this post!
Does affordable plus size fashion exist?
Yes! Admittedly though, it can be tricky to find. Especially for larger plus sizes like 28 and up.
There are lots of places that pop up overnight and then disappear too. I have seen MANY that shut down over time. Not for lack of business though, us plus sized ladies are always looking for options!
Of course stores like Kohl's and Target are always a great pick, but there are so many other places out there that sell affordable plus size fashion.
But of course I couldn't resist some of this Ava and Viv goodness at my local Target!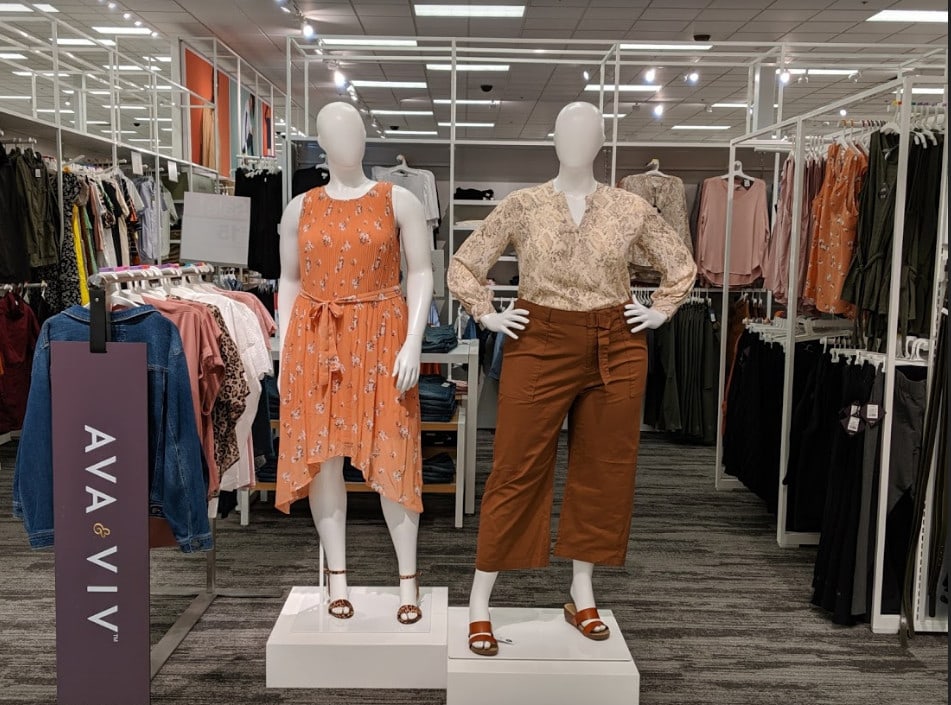 What sizes of clothing are considered plus size?
Hoo boy. This is a hot topic that is widely debated (and often criticized).
According to the fashion industry, anything larger than a size 8 (?!) is considered plus-size. It's no wonder we have so many body issues in our society.
Here in the real world though, most stores consider 16-18 to be the start of the "plus size" range and the end of the "straight size" range. This however is changing as more and more stores are including up to size 20 in their straight size collections.
Where can you buy cheap plus size clothing?
So let's get to the point here. All my plus size beauties are here because they wanna know one thing: where to find cheap plus size clothing that doesn't suck.
I'm gonna list out a few of my favorite places to shop. Some of these are on my list of places to try (either because they just arrived on my radar, are new, or I just haven't gotten around to shopping there yet).
There are of course many more places you can find plus size fashion, but I wanted to focus on the more budget-friendly options. Stores like Universal Standard do an amazing job of being size-inclusive which is awesome, however their prices are pretty budget-restrictive
And obviously this list can't possibly include EVERY awesome store, but if you have a favorite I missed, hit me up in the comments and let me know! I'm happy to add it to the list!
Without further ado, here's a list of some awesome places to get cheap plus size clothing!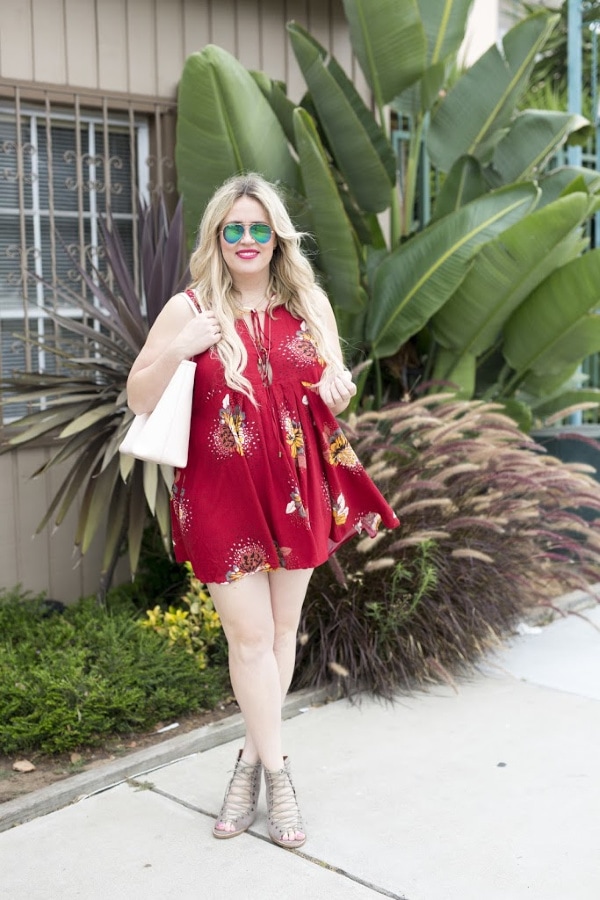 Cheap Plus Size Clothing
There are so many great places to find affordable plus size clothing, if you know where to look! These are a few of the best places to find cheap plus size clothing.
Amazon is a great place to find everything you need, including some totally affordable and trendy plus size pieces. I bought a maxi dress here recently and then attended a plus size fashion expo and was approached by several plus size fashion bloggers who wanted to know where I got it!
Sizes: Vary by brand
Shop Now
SHEIN is a site that specializes in women's clothing, and their "curve" section is for plus size babes. There's a ton to choose from and their prices are great! I have not tried this brand yet, but I plan on doing that very soon!
Sizes: Up to 5XL
Shop Now
Maurices has some adorable plus size clothing options in addition to their straight size offerings. Shoes and accessories too!
Sizes: 24/26 max in most items, select pieces are available in 28-30
Shop Now
Rainbow has been featured everywhere from The Zoe Report to Cosmo, Vogue and Seventeen. Their stuff is SUPER cute, and definitely affordable.
Sizes: Up to size 24
Shop Now
eShakti offers not only plus size clothing but it's fully customizable and you can even send in your exact measurements to ensure each piece is the PERFECT fit. I met a blogger at TCF Style Expo this past week with a gorgeous dress that she customized at eShakti to fit her exact measurements. She even customized the neckline to make sure it wasn't too revealing and she looked absolutely stunning in her bespoke sun dress!
They are a teensy bit on the spendier side out of all the other options here BUT you won't find a better price on clothes sewn exactly for your body.
Sizes: Up to size 36!
Shop Now
Chic Soul is a cute plus size boutique shop that has some REALLY trendy and adorable pieces. The only downside is that they are limited in sizing, which is a major bummer because I definitely would buy an entire wardrobe from here if I could!
Sizes: Most items go up to 20/22, select pieces are 24/26
Shop Now
Glitzy Girl is a Texas based plus size boutique shop with 3 physical locations. Those of us outside of the Lone Star State can purchase items online via their website.
Sizes: Up to 22/24
Shop Now
Curvy Sense has a full line of clothing that includes plus size party clothing AND plus size maternity clothes! You won't find your typical frumpy plus size clothing here. All the options are on trend and super hot!
Sizes: Up to size 26/28
Shop Now
If you are looking for FIERCE fashion, Ashley Stewart has you covered. These pieces are to die for and would fit in on any runway during fashion week. You betta werk!
Sizes: Up to size 36
Shop Now