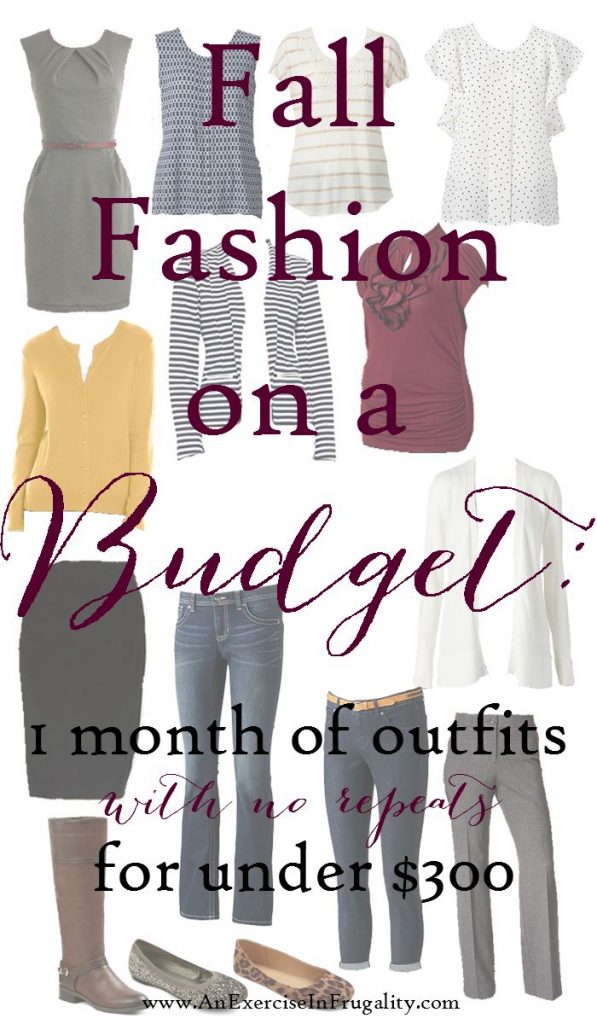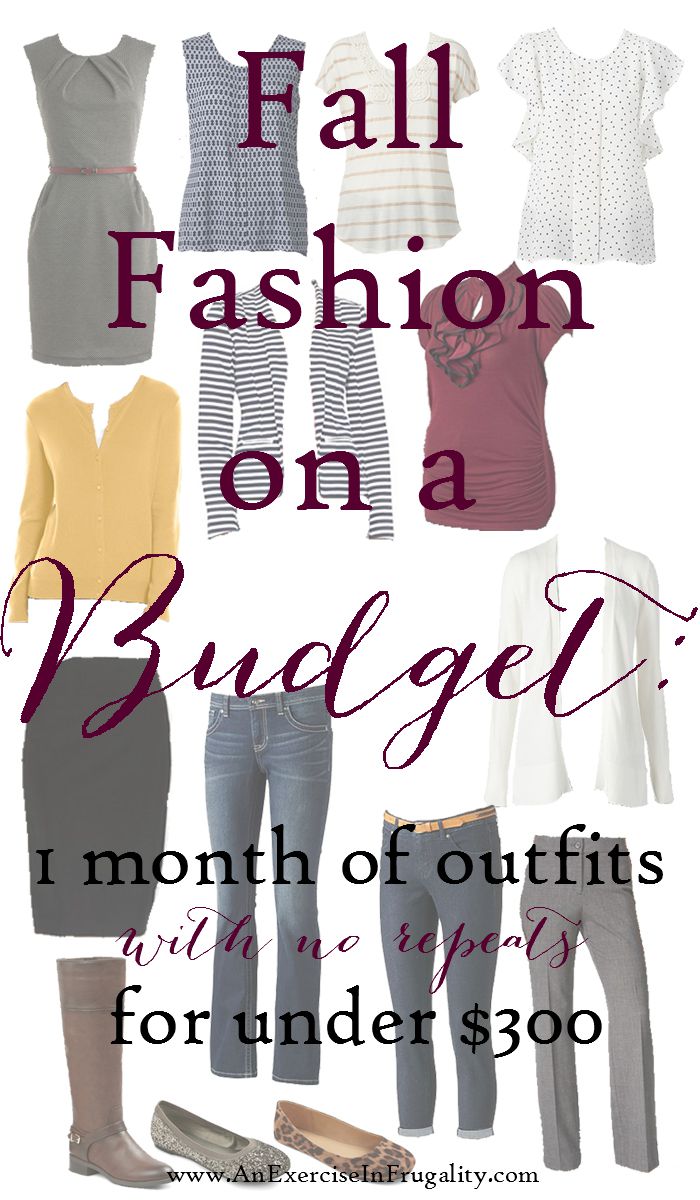 Fall is finally here! Its definitely one of my favorite seasons of the year with the crunchy leaves and the crisp air, but still the warm kiss of sunshine leftover from summer.
Fall also means its time for a wardrobe change. But before you go out and buy a whole new set of clothes, take a few minutes to plan. It is possible to purchase only a few key pieces and have an entire MONTH worth of outfits with ZERO repeats. For much less money than you'd think.
Now I'm not saying you have to run out and get a whole new wardrobe. In fact, its likely you have pieces from last year that are still in fashion, or even tanks and tees from summer that can be layered with a cute cardigan.
Whether you have not a single stitch of autumn appropriate clothing, or whether you are looking to supplement your current wardrobe, these budget-friendly pieces are sure to please.
These are a few of my favorites. I've assembled a fun fall wardrobe that you can purchase for under $300 and have a different outfit every day for a month without any repeats.
You could add in pieces you already own to stretch this concept even further.
Also, if you have a Kohl's card or Target Red Card (or Debit Card) you'll score additional savings and you can use coupons on these too. My Kohl's just sent me a 20% off coupon and there's a Kohl's Cash event going on now through October 3rd, so you COULD score this whole wardrobe for even less!
Let's see the individual pieces: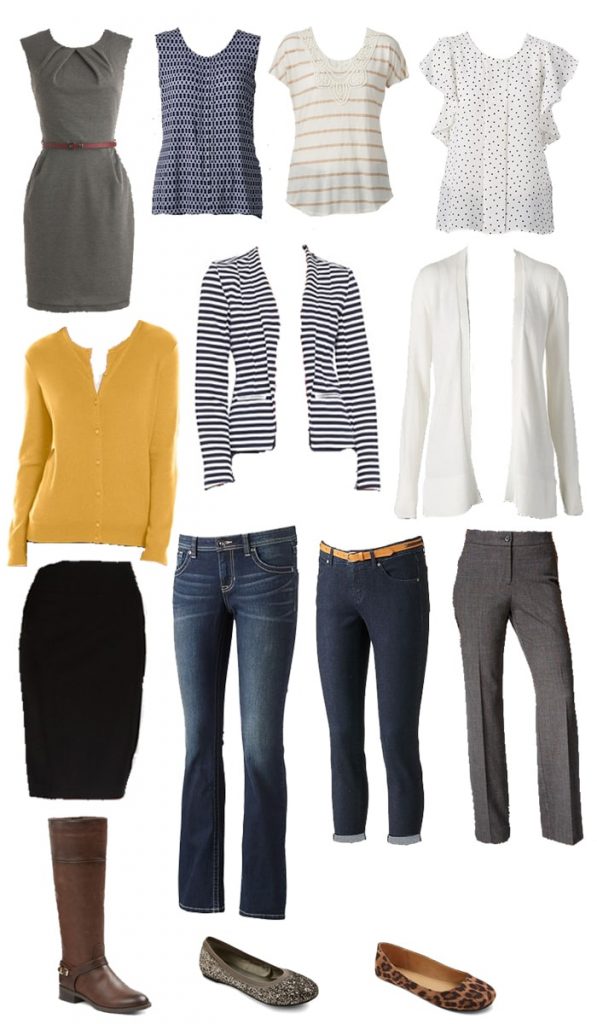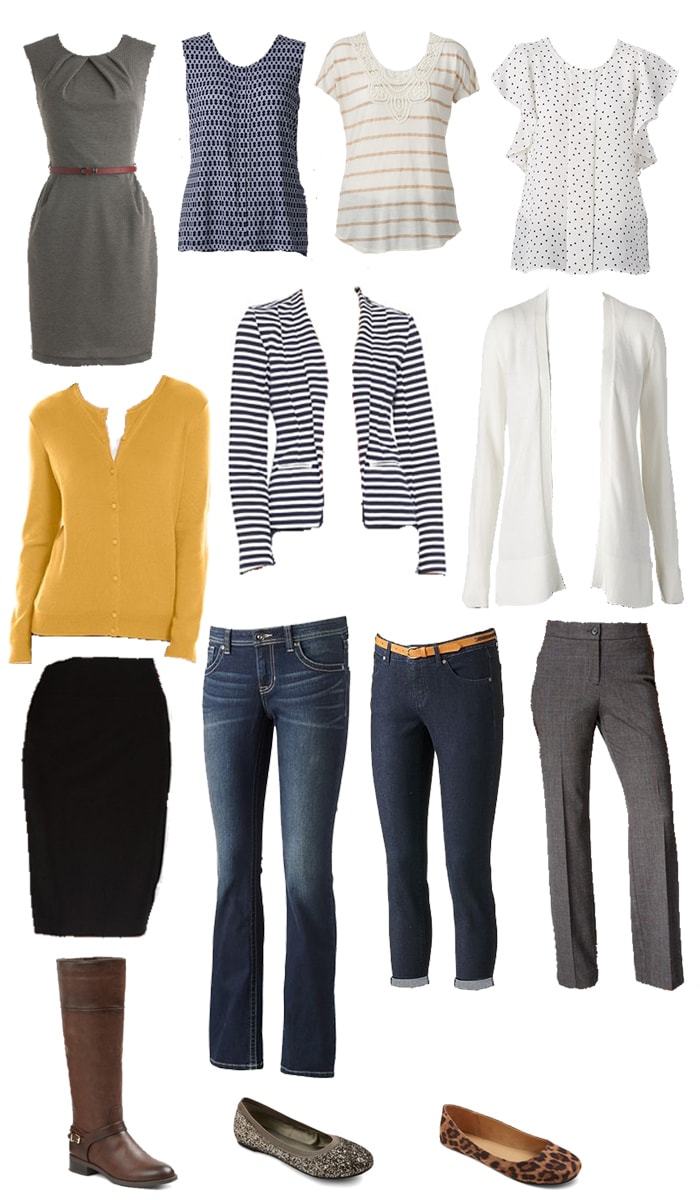 From top L-R:
Cross the Byline Dress: $59.99 Modcloth
Croft & Borrow Printed Pleated Tank: $9.60 Kohl's
Life + Style Crochet Scoopneck Tee: $10.40 Kohl's
ELLE Pleated Chiffon Top: $21.60
Croft & Borrow Essential Cardigan: $19.99 Kohl's
Merona Ponte Blazer: $8.98 Target
Croft & Borrow Open-Front Cardigan: $17.99 Kohl's
Apt 9 Solid Pencil Skirt: $27.99 Kohl's
Apt 9 Modern Fit Bootcut Jeans: $21.60 Kohl's
1010 Skinny Jeans: $19.20 Kohl's
Mai Women's Riding Boots: $49.99 Target
Vanessa Ballet Flats: $21.99 Target
Odell Ballet Flats: $14.99 Target
The nice part about these pieces is their simplicity. You can mix and match most of them, and you can accessorize with anything you already own: scarves, statement necklaces, boot socks, you name it.
Here's the outfits I came up with using the original pieces only. Again you can swap things out or use what you already have to extend this even further. These looks are perfect for anything from work to lunch dates to shopping. Using your accessories you can dress them up or down with almost limitless possibilities.
Week 1:

Week 2: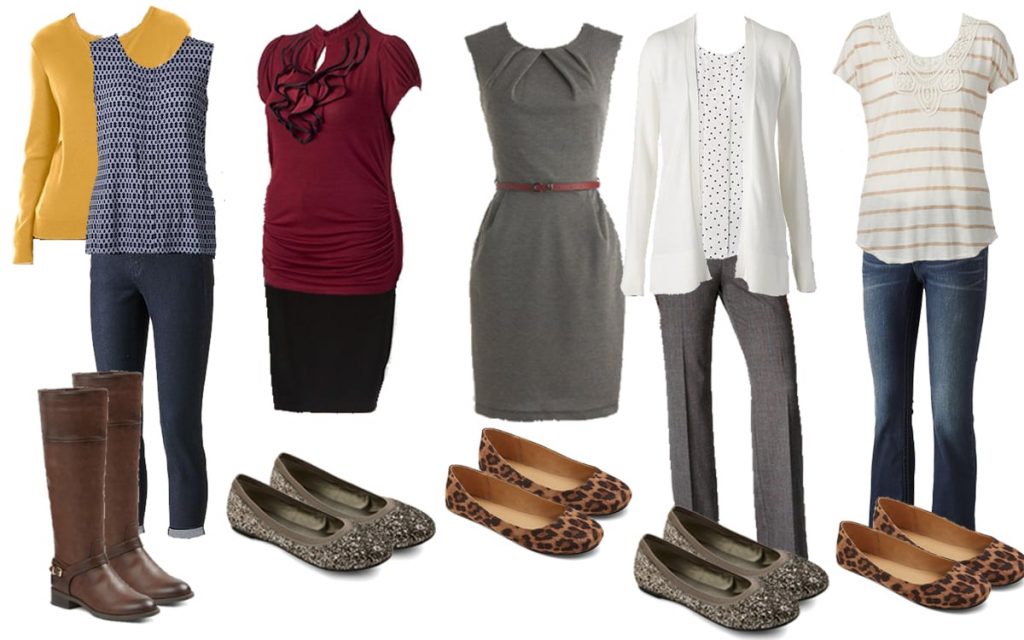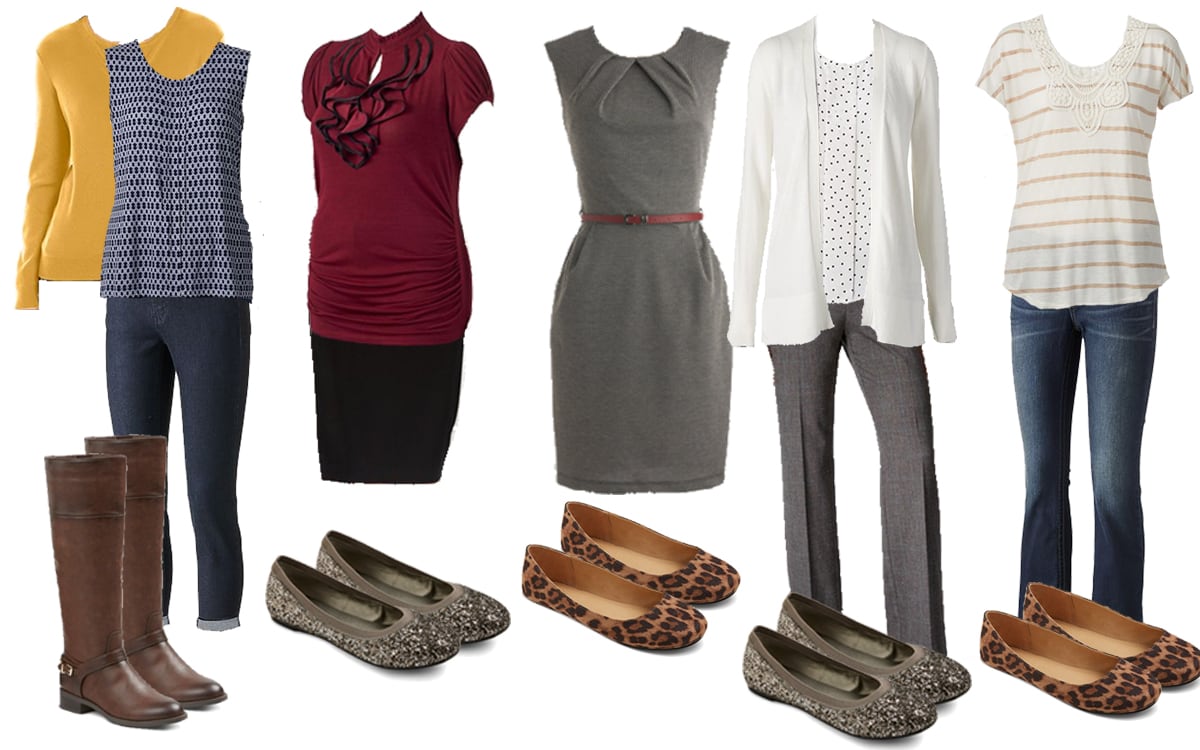 Week 3: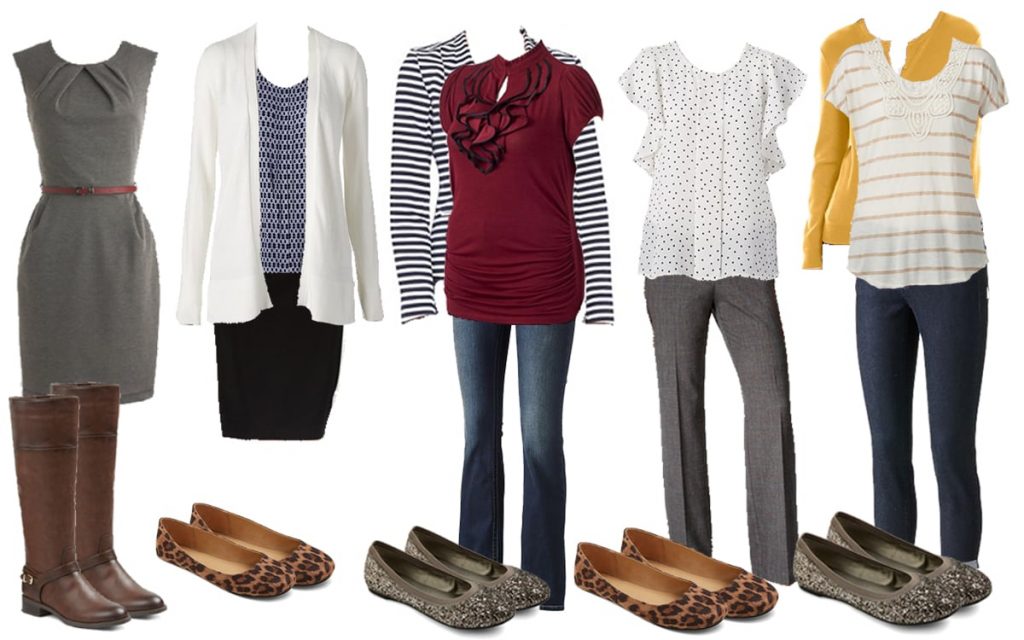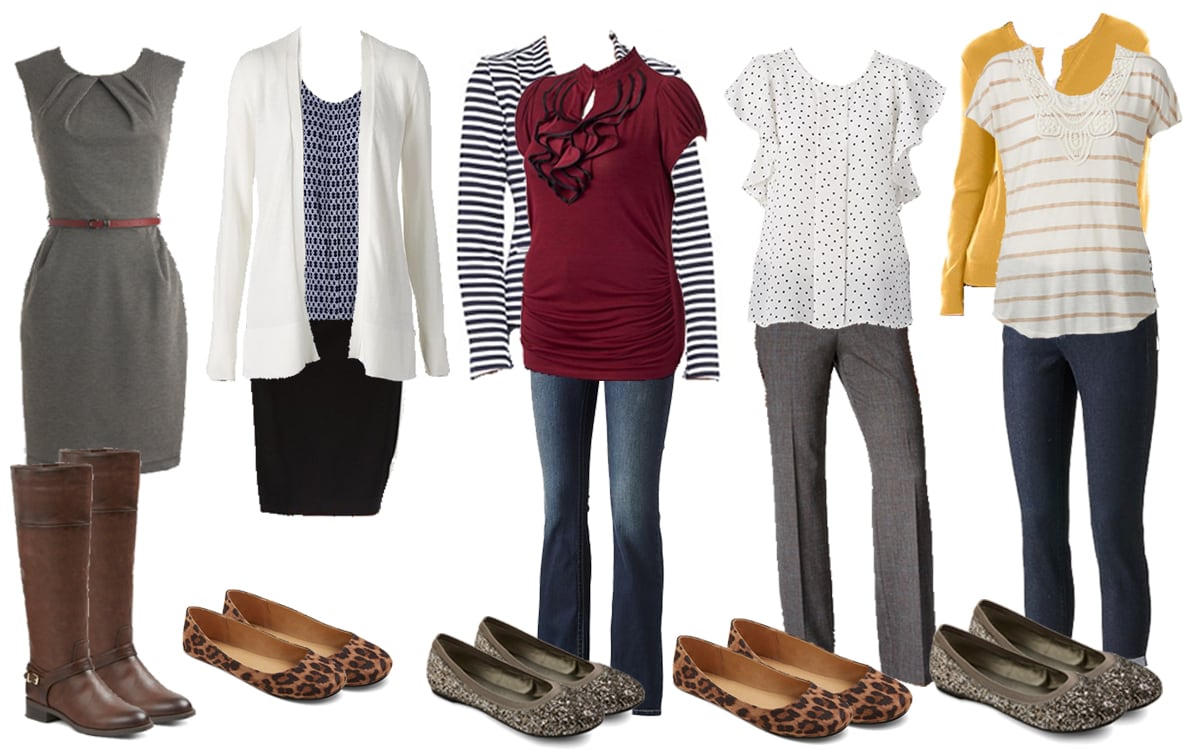 Week 4: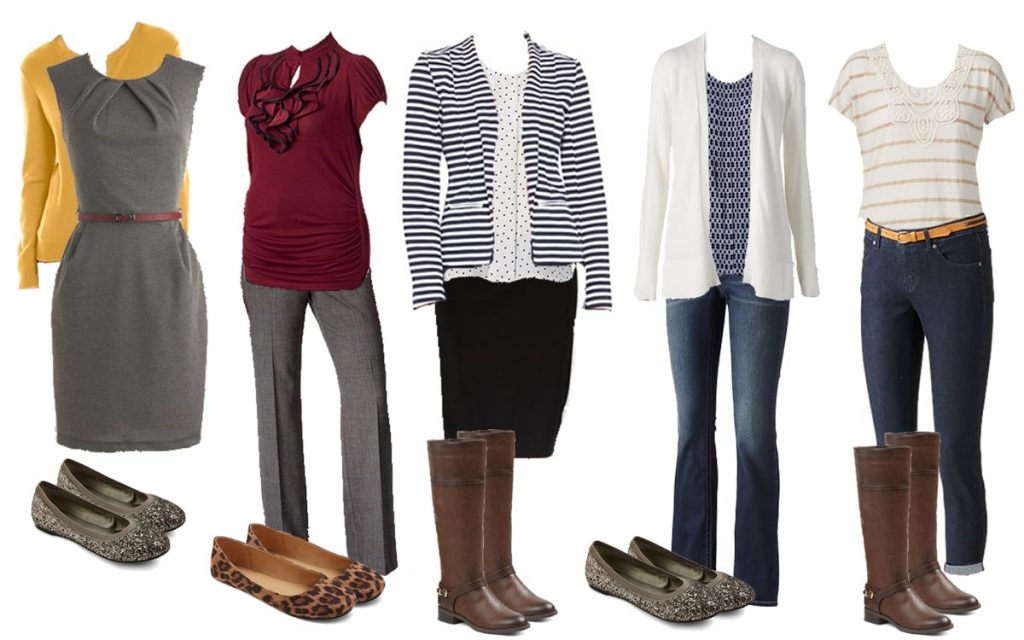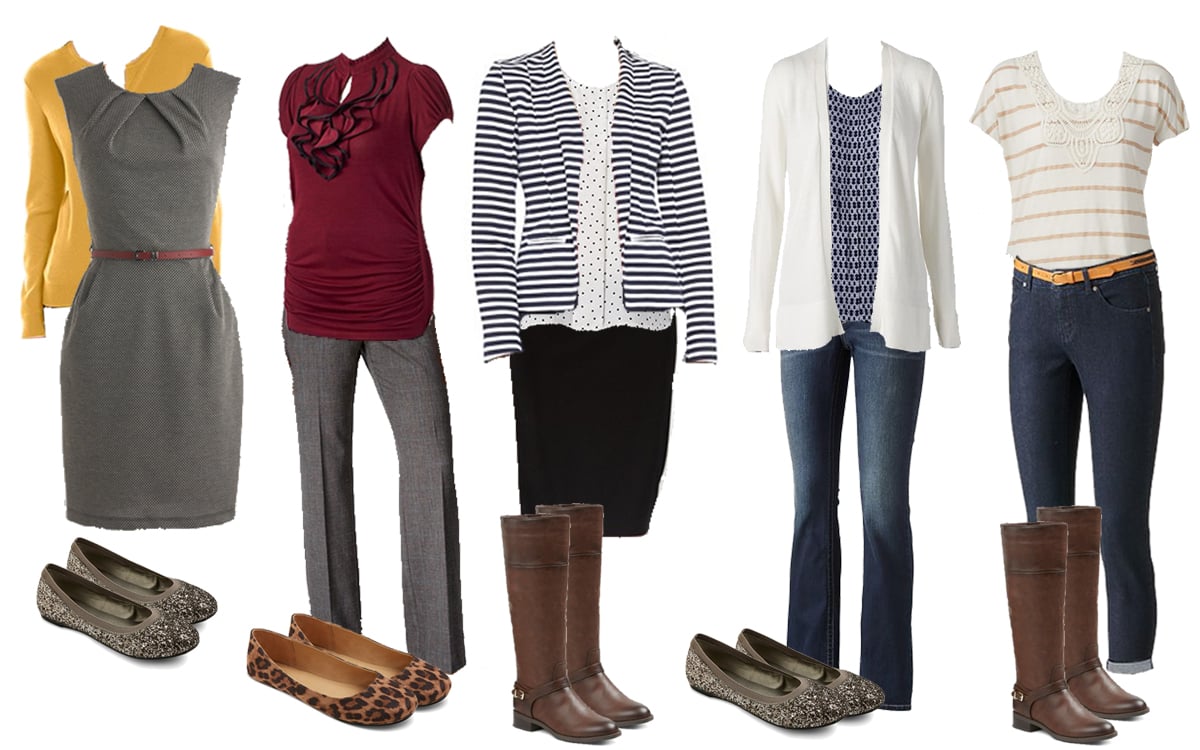 If you were to use only the pieces above, your outfits would cost you on average…*drumroll please* $9.11 per day for the month.
Since you're obviously not going to throw these away when the months over, it of course works out to even less cost per day over time…but you'd still look like a million bucks.
Of course there are tons of outfit options out there, and oodles of cute clothing pieces for fall, but if you're on a budget and need a new fall wardrobe, a few key pieces, or just some inspiration, I think this will help!