These easy no-sew throw pillows are a DIY delight! Super simple and quick to make with upcycled canvas bags.
You can make these on a rainy weekend, and dress up your couch for every season!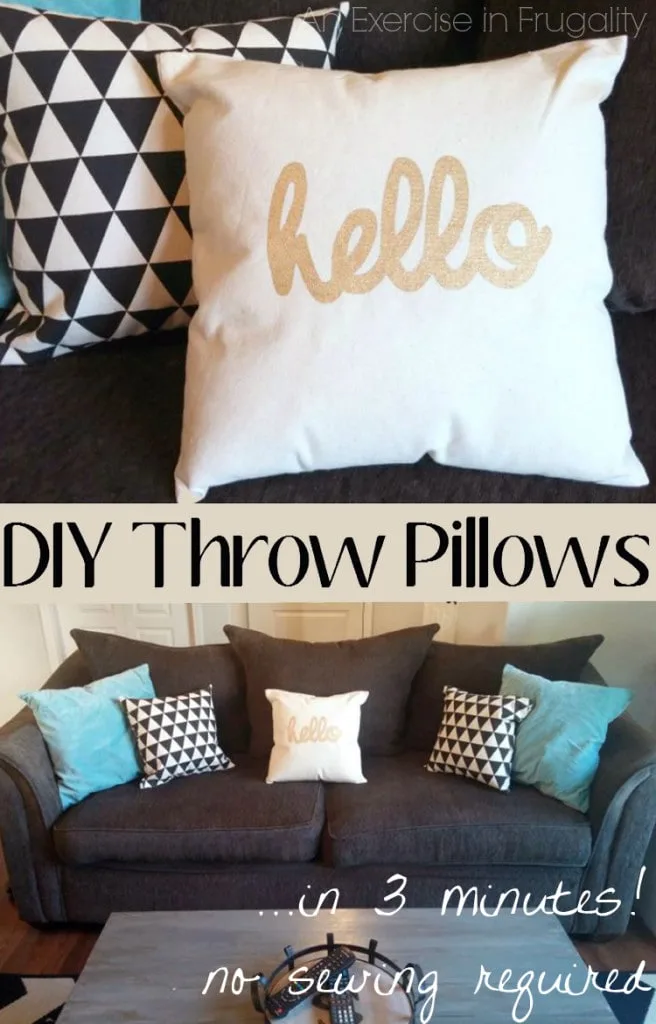 If you are interested in a tutorial for how to re-stuff your couch, you can read about that here.
Oh, and that coffee table? I made that too-or at least the top. It's my Restoration Hardware inspired faux barnwood coffee table and you can find the tutorial to make your own here.
On a recent trip to Hobby Lobby, I found these canvas shopping bags that were SO cute I couldn't pass them up.
I don't normally use canvas bags, and if I do, I look for ones with flat bottoms which these did not have-but I decided I could use these in another way: I turned them into easy no sew throw pillows!
I am going to show you how to take a canvas shopping bag and turn them into ADORABLE no sew throw pillows with a quick and easy hack. Did I mention they take 3 minutes and less than $4 each to make?
Seriously, are these not super cute?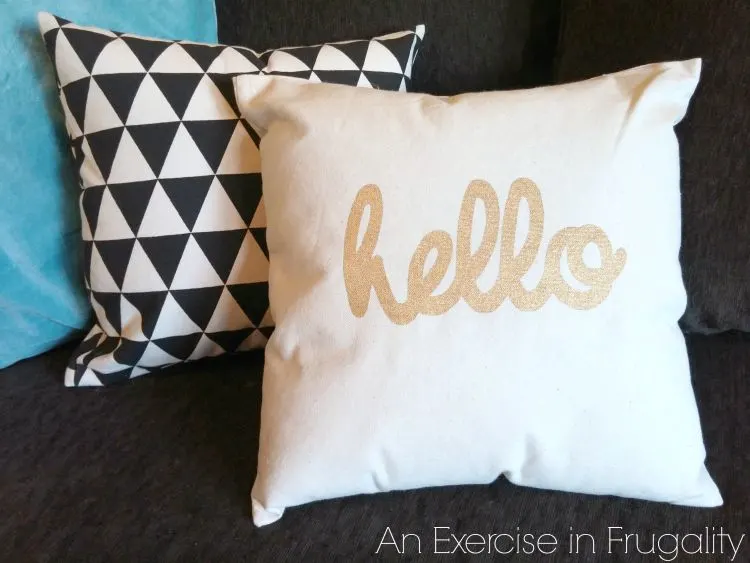 So if you have a Hobby Lobby near you, check these out-they were displayed at the front registers on an endcap, and they are $3.99 each.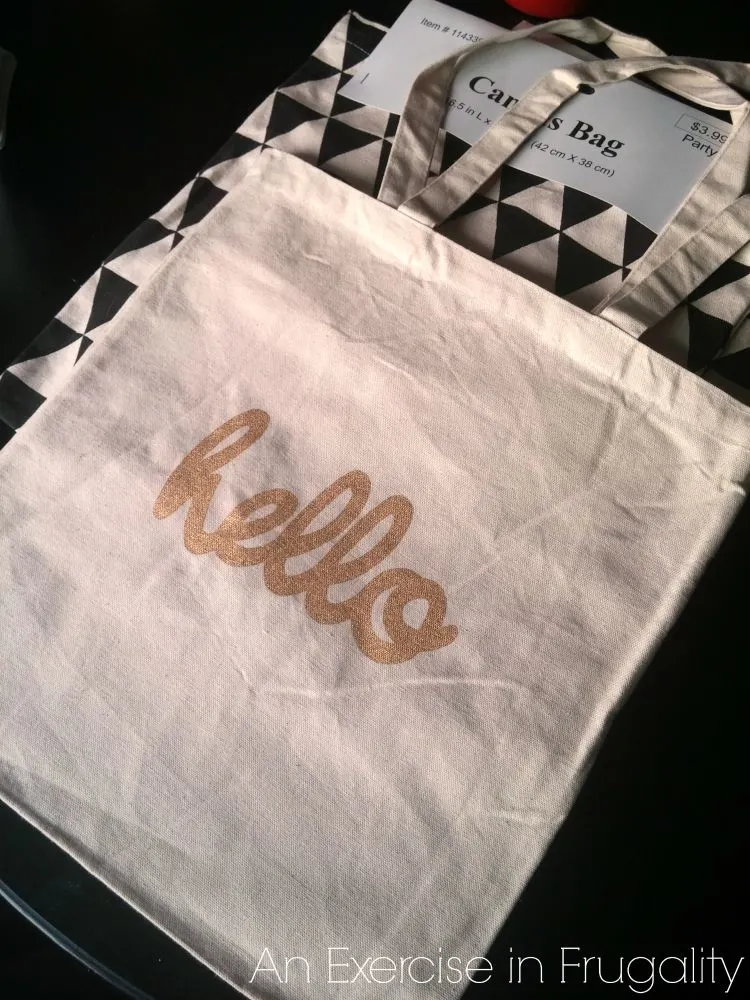 The great thing about using a canvas bag is that they are 99% pre-assembled for you. They are already sewn closed on 3 of the 4 edges!
I ironed my bags because they were a little wrinkly, but this step isn't necessary if yours are not wrinkled.
To make these no-sew throw pillows, you'll want to remove the handles from your bags. You can carefully pop the stitches or rip it carefully. I used a scissor to pop the first stitches out, and then just pulled for the rest.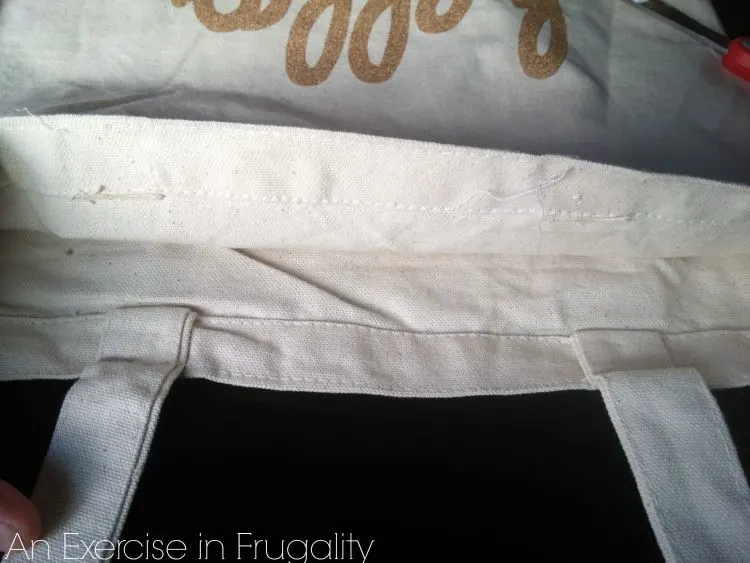 These are a few adorable bags I found on Amazon, but you can use whatever bags you have on hand as well!


Use new (or re-purposed) poly-fil stuffing. I am using some of the leftover poly-fil from my couch re-stuffing project from last week.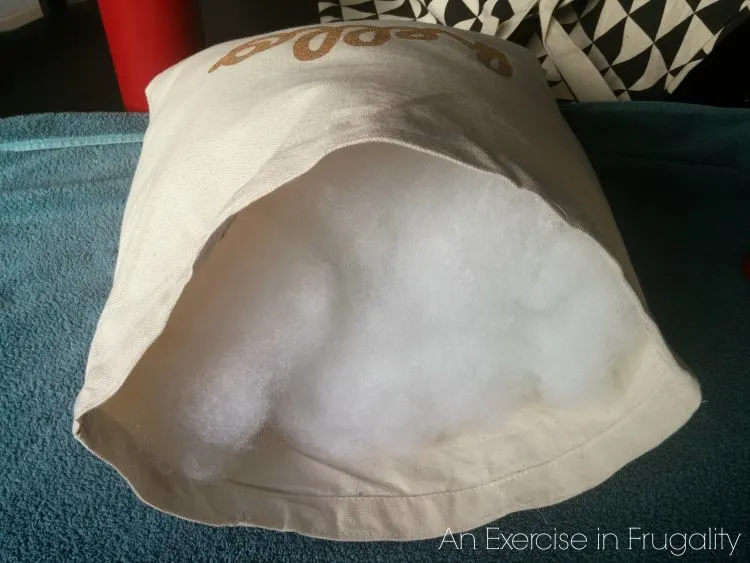 Now if you want to be all fancy, you could sew these, but I'm totally all about taking the easy route, so I pulled out my handy glue gun.
You want to fold over the top seam edge (otherwise you'll have a weird strip at the top sticking up).
You can also iron it if you want to get the seam to lay flat.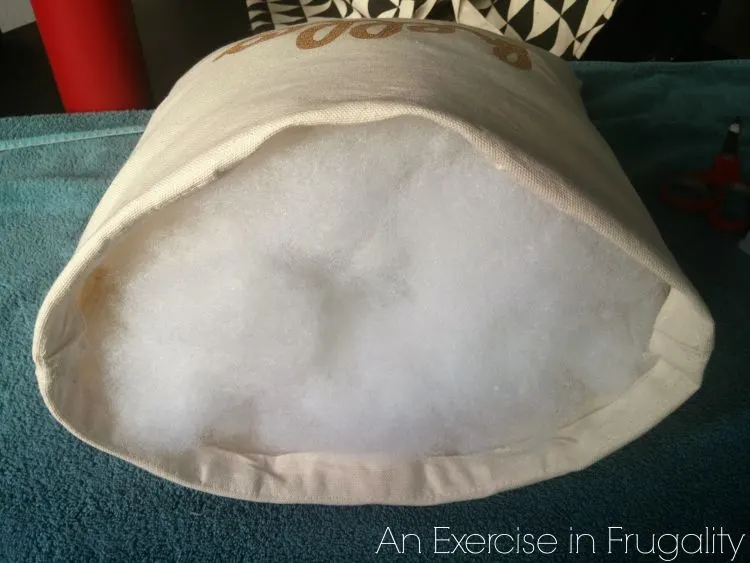 Use the glue gun to glue the top seam closed.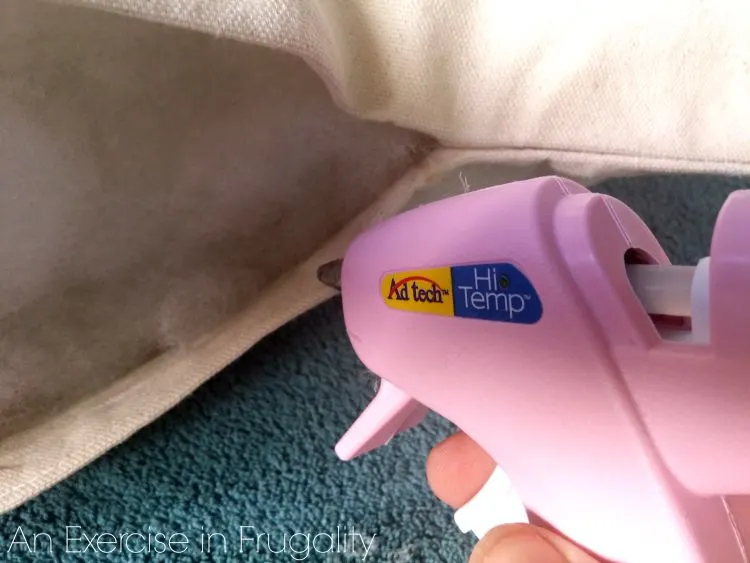 I did this in 3″ sections, holding down the freshly glued area until it was slightly cool to prevent it from pulling apart. Clean off any hot glue that oozes out of the seam.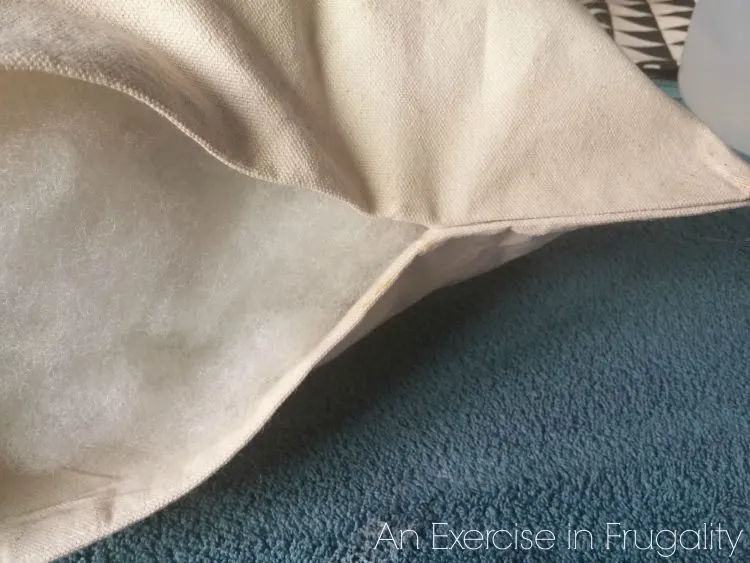 Voila! That's it. Done. In less than 3 minutes. That folded over edge gives it a nice clean seam.
If you have more time, or want to ensure its durability, you could always sew it instead, but so far these are holding up really well with just a nice substantial bead of hot glue.
If you have canvas shopping totes at home that have outlived their usefulness as a bag-especially if the problem is a broken strap-you can breathe new life into them as throw pillows.
You can also purchase new totes as I did for this project. Its so simple!
Here's the finished project: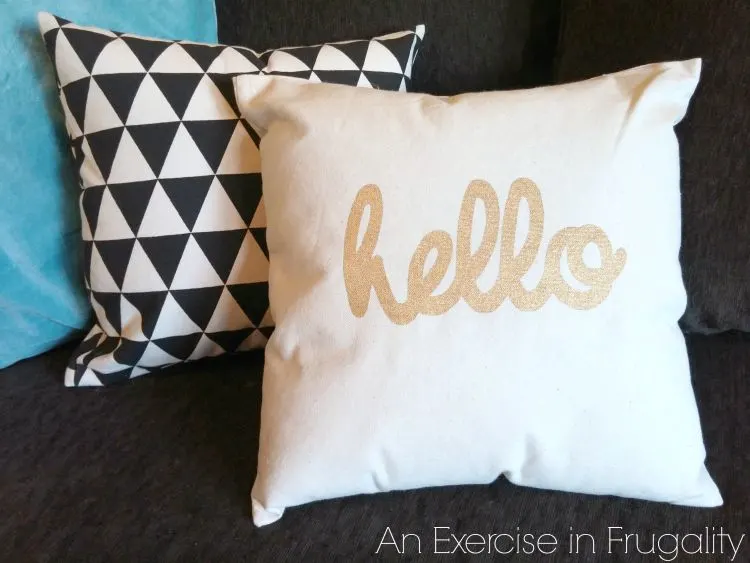 And here they are displayed on our newly re-stuffed couch. Looks cozy now, doesn't it? I think I might just take a nap!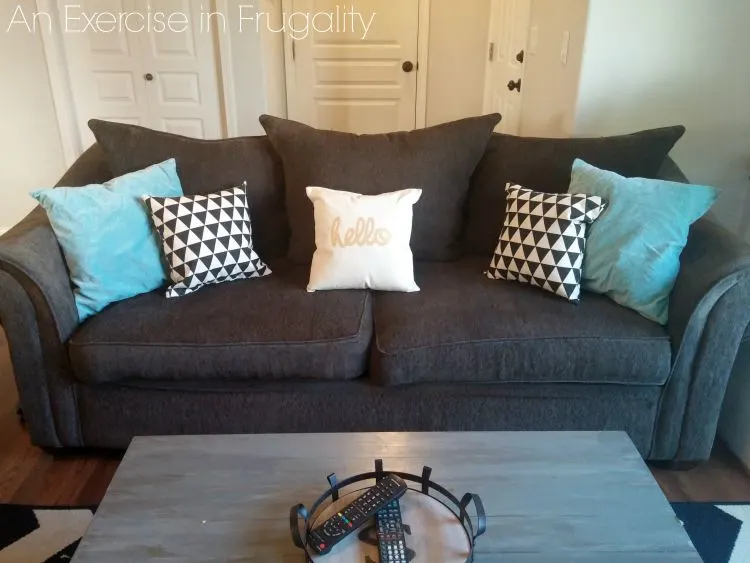 The blue pillows pictured are from Ikea (they are actually just empty shells you add a pillow form into).
What do you think of these no sew throw pillows?