It's customary to reserve a block of hotel rooms for your wedding guests. Even if your wedding is not taking place AT a hotel, it is important to have guaranteed hotel availability for your guests. This is especially true if most of your guests are coming from out of town, like ours, or if there's going to be other events in your area during the time of your wedding (things you might not think of: high school "state" sports competitions, soccer tournaments, conventions, state fair, major concerts, trade shows, etc). But since cold calling is my least favorite thing on the planet (probably tied with dental work) I wanted to find a better way than calling or emailing 20 different hotels to get rates. I discovered something that was WAY easier! So I decided this week's $5k Wedding Wednesday post would be all about Hotel Planner!
HotelPlanner.com is an online event specialist website. As you can see below, you can use it for things other than weddings (like setting up business travel) but for our purposes, I'm going to focus on how awesome my experience was, and how easy to use it is! First of all, you select your details. Destination city, check-in/check-out dates, how many rooms you want to reserve, and what the event type is: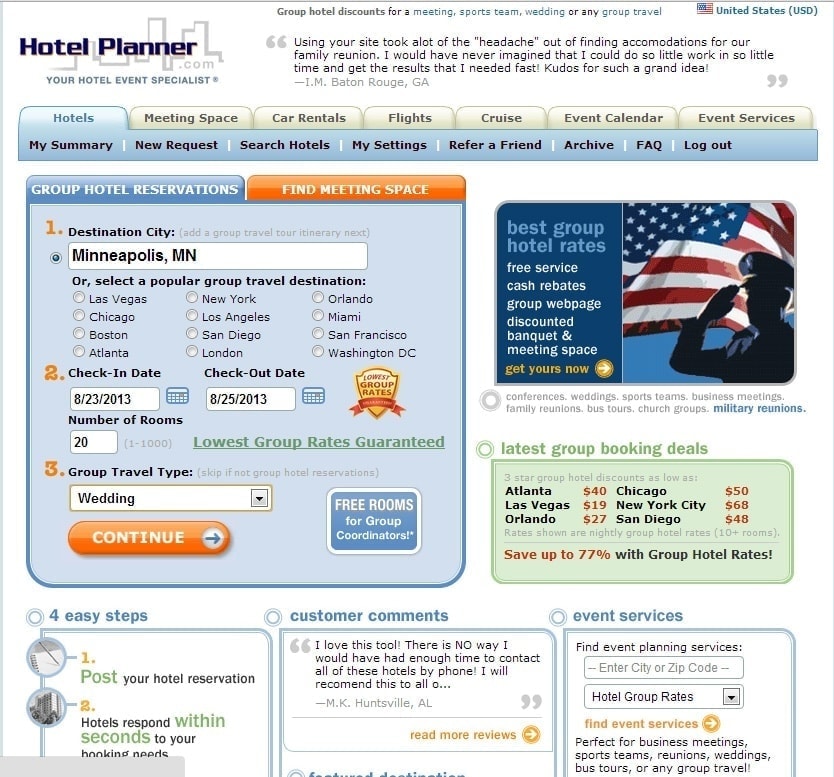 Once you've entered that info and hit continue, it brings you to the next screen where you enter a few more details and can put in specific instructions like: Only want hotels with non-smoking rooms, or must have a swimming pool, or a shuttle bus, etc. You can also put which "star rating" you want, if you want to exclude certain ratings. The system will tell you right away if your target price is likely going to be unattainable.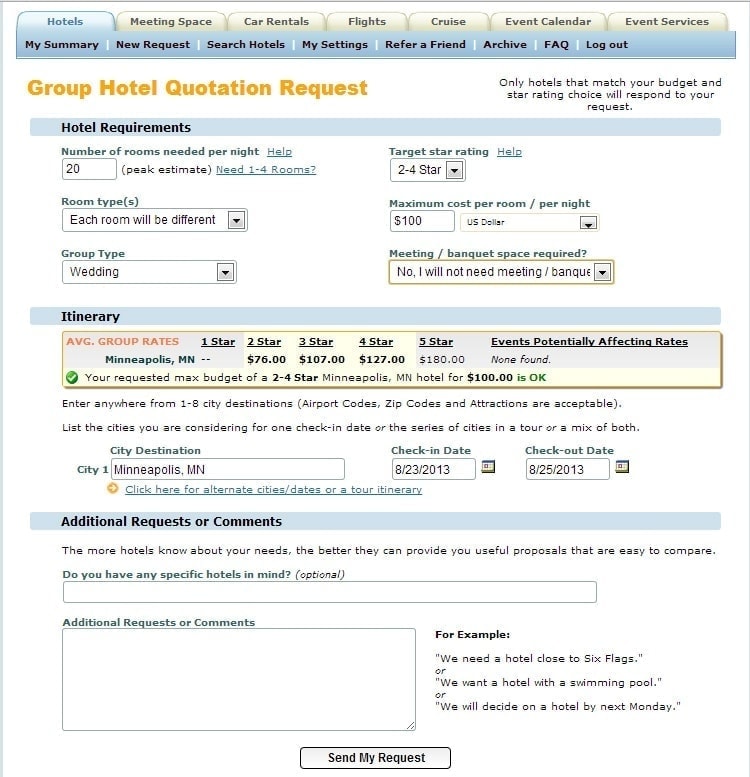 Once your request is in, you may get some results back within minutes. I had all my results within 2-3 days, but I chose a hotel that responded to me the morning after I submitted my request (I look at the quick response time as a positive-hopefully it means the hotel will be as responsive to any concerns/requests we have down the road!)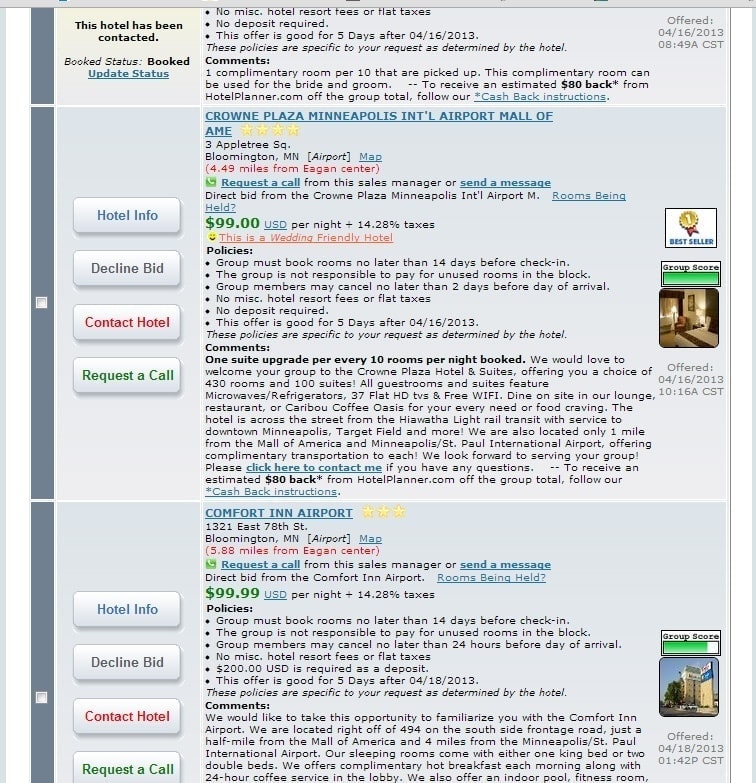 This is where the fun part starts. Once you have bids in, you can still haggle. You can decline the bid, and give a reason (like say you really like the hotel but the price is a tad more than what you would like your guests to pay) you can decline the bid with an exception, like: Will reconsider if price changes to $x.xx. Basically it gives you room for negotiation if you feel its necessary. You can also request hotel tours, and contact the hotel representatives to work out any kinks/details.
My favorite part is that it lays out all the details for each hotel for you. You can see prices and everything right up front, and the policies are highlighted. I was able to see immediately some hotels required a deposit, which I knew I was absolutely NOT going to do, so those were ruled out right away. Then I compared prices. Then I found some hotels that offered a free room for the bride and groom when a certain number of rooms were booked.
I stumbled upon HotelPlanner.com while looking for hotels for my own wedding, and I was thrilled with how easy it was to use. It's free to use, and they get the best deals around with many area hotels. There's even one on one assistance if you need it from your representative. They will help you navigate if needed, but honestly it's so easy to use, you probably won't need it.
I have noticed the prices are better with HotelPlanner.com because the hotels know they are competing for your business. Instead of having to call each individual hotel yourself (where they know you are going to get tired of messing with it and give in eventually) you can have the hotels working FOR you.
We saved our guests at minimum $20 per night, PLUS we were able to negotiate a free room for ourselves (the newlyweds to be) by using HotelPlanner.com. Plus, it took me only seconds to submit my requests, and hotels came to ME with offers. It saved me so much time, it was more than worth it. Just the saving time is worth it to me, any money saved is a bonus!
As you know, I only endorse businesses that have truly been a pleasure to work with, and this is one of them. I suggest the next time you need group accommodations or travel booked for an event, you really should check out HotelPlanner.com!
[share]
[disclosure]