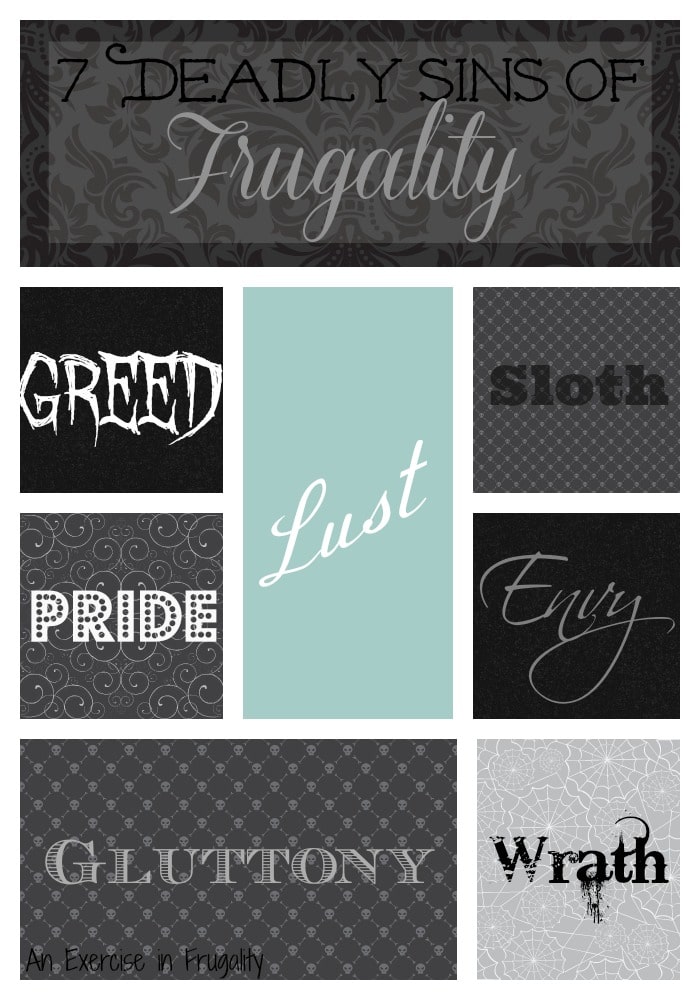 You've probably heard of the 7 deadly sins before. They are a list of "no-no's" from Greek philosophy that people are supposed to avoid. They can be interpreted in many ways, but here's my spin on them as applied to living frugally. Here are the 7 things to avoid when trying to live a frugal life.
-Envy-
By coveting someone else's "stuff" you are setting yourself up for a life of comparing. You will never truly be happy with what you have, starting a perpetual cycle of "Keeping up with the Joneses". This causes needless spending and a lifestyle of consumption. Be happy with your life, not with what you have or don't have. And DEFINITELY not with what others have.
-Gluttony-
Running to a store the day an ad breaks and buying them out might SEEM like a good idea, but have some common courtesy. Being gluttonous and clearing shelves all at once is not just bad practice, its just plain rude. Sure you might think "first come, first served" but common courtesy has gone by the wayside these days, and it's really just sad. If you're going to buy more than a few of an item, have the decency to pre-order, come back over the course of several days, or go to several different store locations to get your quantities. Don't be a jerk.
-Lust-
Sure those brand new designer shoes are hot. But are they hot because the style is hot, or the brand name? Would you still like them if you saw them at Walmart? Think about WHY you buy what you buy. If it's just because of the store it came from or the name on the tag, you should probably reconsider. Do not lust over name brand items simply for the name. Do your research of the cost vs. quality and see how it works out. You might be surprised that you can get a similar item from an off-brand for cheaper. (Think about it, if those shoes will be out of style in six months, does it make sense to spend $200 on them?)
-Wrath-
There have been times where cashiers pushed my buttons. No pun intended. They have wrongfully accused me of scamming their store (by using legitimate coupons for an item causing it to be free and by using valid high-value printable coupons). I have had cashiers refuse legitimate coupons because they don't understand the wording (one who claimed do not DUPLICATE meant they could not double the coupon…). But I have never, and will never, lash out at a cashier and neither should you. Even if they are wrong, it is not their fault that their training is not sufficient. And they have every right to be skeptical because of all the fraud other people commit. Take a deep breath, ask for a manager, and if all else fails, walk away. No deal is worth making a scene, getting kicked out, or worse…arrested.
-Pride-
No matter how long you have been in the game, sometimes you will make mistakes. Instead of being too proud to admit it, learn from it. If you misread the expiration date on a coupon, chalk it up to experience, and deal with it. Don't try to mend your pride by insisting it's someone else's fault. Just move on to the next deal. There will be others. Oh, and don't be too proud to shop the sales and use coupons. If you think you can't get a deal and still keep your dignity, then you're just foolishly wasting money!
-Greed-
This is a big one. Misusing coupons (for the wrong item, making duplicates, counterfeiting, altering, etc) is fraud. It is illegal. It is unethical. Don't do it. While we're talking unethical, if you're clearing shelves of free product only to resell it on Craigslist…you should be ashamed of yourself. Plain and simple. One example: I know of a person who would get free diabetes glucose meters by the dozen at Walgreens (when they are free after register rewards) and then SELL them for a profit on Craigslist and at "sample sales". Disgusting. Leave those for people who cannot afford them and stop being so damn greedy. Enjoy the fact that we can even get free items for our personal consumption and stop trying to cheat the system before you ruin it for everyone.
-Sloth-
If you decide to be a couponer, you have to make sure you keep your coupons organized. If you have coupons all over the house in disarray you will miss out on deals. I cannot begin to tell you the number of times I have found a coupon I intended to use, and it was expired. Or worse–you LOSE one you really need. SO frustrating. By being organized both with your coupons and with your stockpile, you will not let coupons and goods expire, and therefore you won't be throwing money away. We work too hard to keep track of all the fantastic deals to let them go to waste by being disorganized. Pledge to yourself to keep up with it. It's a constant struggle for some of us, but it's worth it!
[share]
What do you think? Are you guilty of any of the 7 Deadly Sins of Frugality?
[share]
[disclosure]