[affiliate]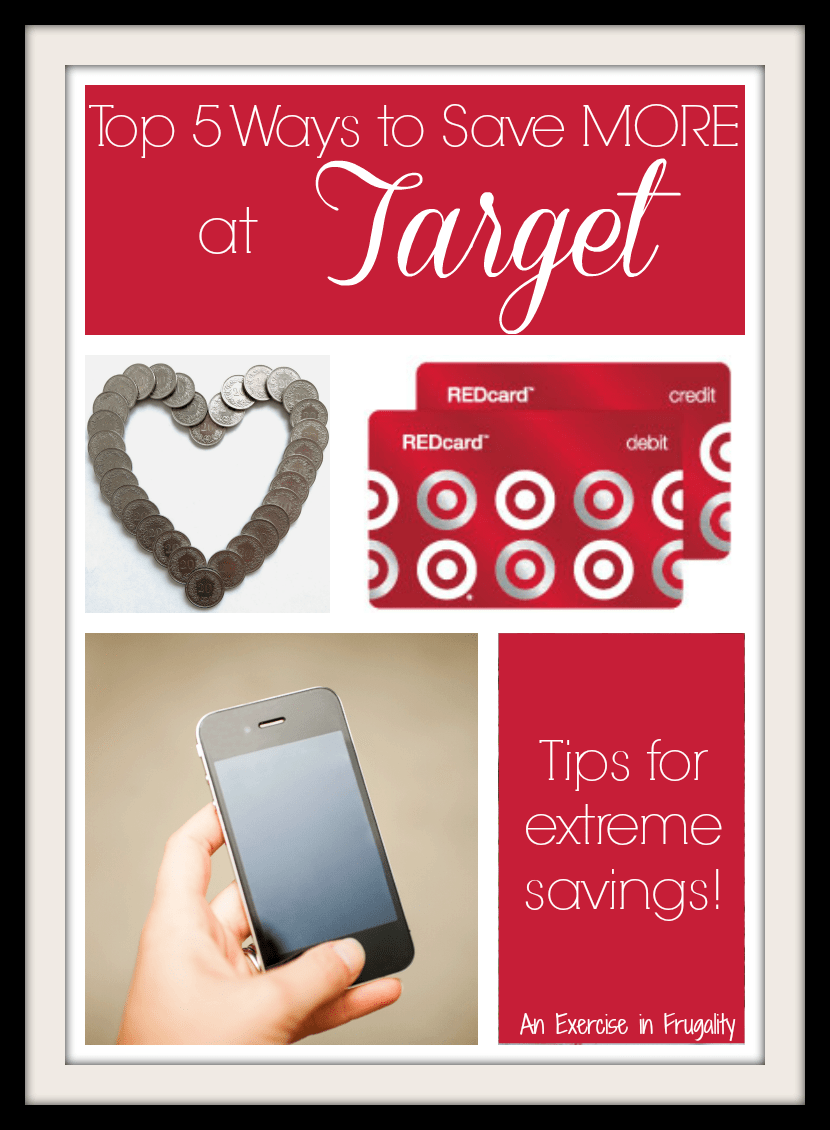 Some might say it's not hard to save money at Target. You walk in the door, and they have sales, and you get a good deal and that's it. Well that might be true to some extent, but there are ways to maximize savings at Target. No, I'm not talking about shoplifting! Target offers plenty of great ways to save a little extra cash each time you shop with them, and none of them involve a misdemeanor! Let's get right down to it and talk about my favorite ways to save money at Target:
1. Coupons
This should be a no-brainer. If you have read anything I have ever written about saving money, chances are you've seen coupons mentioned at some point. Even if you're not an extreme couponer, you can still use the occasional coupon to save a couple bucks. You should know that Target accepts manufacturer coupons (as do most retailers) but they also offer their own store coupons too. These can be stacked together for even bigger savings if you have a manufacturer and store coupon for the same item. You'll know which ones are store coupons because they say "Target Store Coupon" at the top once they are printed. There's also posts on how to tell which coupons are Target store coupons before you print them.
2. Cartwheel App
This is another way to get deals from Target. Download the free Cartwheel app and use in conjunction with your coupons for even more savings.
Most people are familiar with the Target Red Card, but many people try not to use credit anymore (especially if you're trying to reel in your budget). Did you know that Target offers a Debit card? AND did you know it saves you the same extra 5% off your total transaction at Target just like the Red Card does? Its SO easy to sign up (you can sign up right now for the Target Debit Card here) and all you do is link your checking account. No fees, totally free, and then you save a bonus 5% right at the register. We got one in 2011 and I use it EVERY time I shop at Target. We've saved hundreds just by using this card instead of our regular check card when we shop at Target. Again this savings is in addition to any coupons/app savings you might be using. Score!
4. Gift Card Deals
Watch for gift card deals on your favorite products. Often, Target will offer a gift card with purchase of an item, like "Buy 2 body washes, get a $5 Target Gift card". When you buy the two items to trigger the gift card, you can use coupons on those items as well. This means more money in your pocket. And you can use those gift cards on a future purchase with coupons for THOSE items too. Isn't saving money awesome?
5. Target Mobile Coupons
Sometimes Target offers mobile coupons. These special savings can be obtained by texting a code word to a given number. For example, it may say "Text OFFER to 12345". You send the text message and the system replies to your text with a link to the coupon. The cashier scans that coupon at the register and BAM: more savings! Usually they are for specific items, but sometimes you will see one for a dollar amount or percent amount off your order. These are great because as long as you have your phone with you, you can get the coupons, there's no need to remember to bring anything extra to the store!
Let's not forget either that there are tons of other savings apps that are not Target-specific (like Checkout 51, Ibotta, Retail Me Not, etc) that will also help you save money at Target too! I didn't include them in this list because they aren't just for Target shopping, plus I already have a post about the top 5 money-saving apps and you can (and should!) read about those here.
Oh, and I almost forgot…Target price matches too! You can price match competitors and Amazon (provided the seller is Amazon and not a third party vendor). Thanks to Amy for reminding me of this great perk!
AND another reader reminded me that you can refill your prescriptions at the Target pharmacy and for every 5th one you get 5% off that you can stack with your other coupons AND the Red Card (or Debit Card) discount! Thanks Melinda!
What's your favorite way to save money at Target?
[share]
[disclosure]