[aff]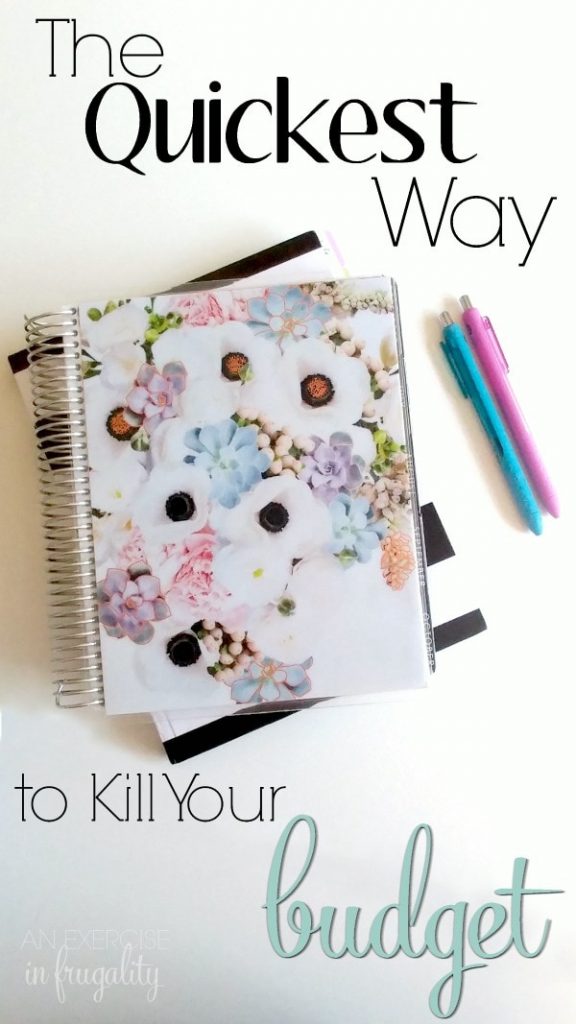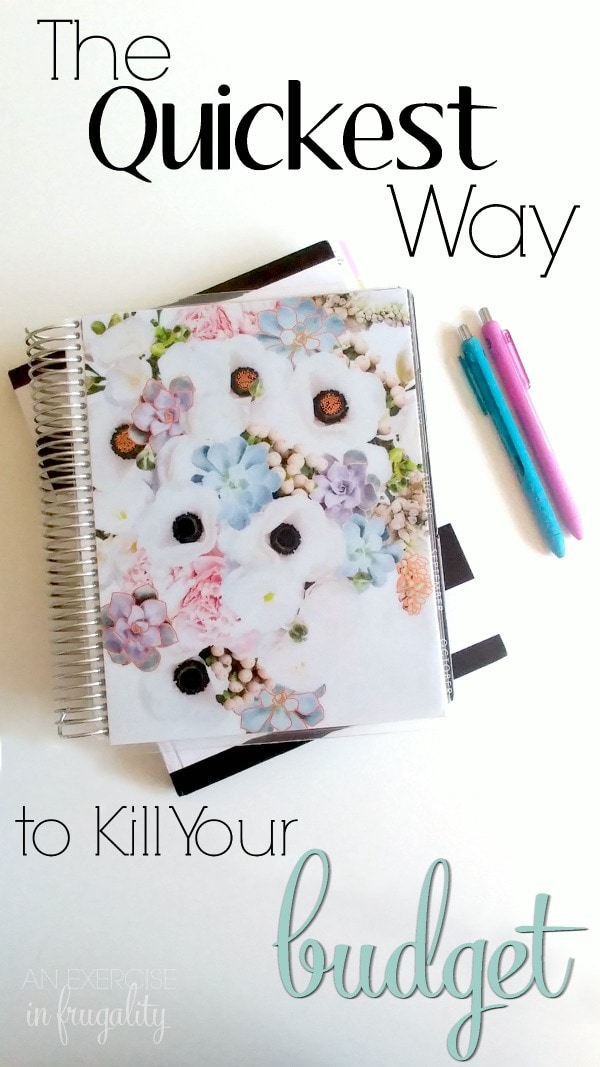 How to Ruin Your Finances in one easy step:
There's lots of ways to ruin your finances. There's probably countless ways to waste money, infinite ways to spend frivolously and endless ways to drain your bank account. But there's really only ONE thing that will ruin your finances every single time, and quickly: being impulsive.
Impulsivity is a weakness of mine. It has ruined things for me time and time again. My impulsive nature has gotten me into money trouble in my marriage and let's not even go into the fact that I gave up the "secret" ingredient to this post right in the third sentence of the first paragraph.
Sigh.
But my blurty writing skills aside, impulse control is really at the root of most financial problems. Think about it: if you act impulsively you are more likely to spend more than you should on things you probably don't need.
Perhaps the most important thing for you to understand is that the following post comes from a place of LOVE. This is not me wagging my finger at you, telling you how naughty you've been and how all your money issues ever are ALL YOUR FAULT. Think of this as a virtual best friend, wrapping her arm around your shoulder and saying "Look honey, I have been here. Your story is my story. I want to help you from making the same mistakes I did. Let's get through this together." I might tell you some things that you don't necessarily want to hear, but I promise it's for good reason and the sooner we get through that icky hurdle, the sooner you can be on your way to financial peace.
It's basic marketing 101 to encourage impulse spending. They know if you don't buy something RIGHT AWAY there's a good chance you're not coming back. They want you to make that purchase now. That's why all the impulse buys are right at the front by the register. Buy this candy you don't need, or this tsotchke you don't really want.
You may not have thought about it before, but I bet you can look at your finances, a real honest look and I bet you'll find that impulsivity in some form or another is either responsible for or largely contributing to your money struggles.
Let's take grocery shopping as a small example. You are walking through and decide you want chicken for dinner, so you swing by the meat department and grab some chicken. Seems innocent right? You are just buying plain ol' chicken, that's not impulsive, right?
While buying chicken isn't necessarily an issue of impulse, it can be if you're overpaying for that chicken. If your impulse is to buy the chicken despite it not being on sale, or to grab the first package you find because you don't want to waste time comparing this brand to another brand, or if you know that the other grocery chain across the street has it cheaper but you don't want the hassle of driving over there and going in just for some chicken…now it becomes an issue of impulse. You need to buy that chicken right now is what is going to cost you more.
Let's look at this on a larger scale. When we were looking to buy our first home, we were so ready to be homeowners, and I was SO tired of renting that we wanted to just buy something already. Now, I made sure not to get into a home that needed a whole bunch of work however my impulsivity kicked in and we bought a house. Had we I taken a breath and not jumped into it so quickly, I would have realized that this house was too small for us, had no central air (something that we really needed) and it was in an area that was not as conveniently located as we would have liked. We might have been able to find a cheaper house we really loved had we waited, but again impulse got the best of me and before my husband could open his mouth to protest, I was discussing paint colors with the realtor.
You could even say that things like paying for the big cable package has to do with impulse control. You THINK you need the sports package, or that cable itself is a necessity, but really if you were honest with yourself, it's a frivolous thing you could easily do without if you wanted to. But you don't. That's impulsive.
Without judgement, and with the honest, caring insight you'd provide to your dearest of friends, take a good hard look and see if maybe impulse is the reason why you ruin your finances.
Impulse or rather lack thereof is responsible for SO many bad financial decisions-from bad investments to bad purchases. I am guilty of trying to blame other things for my circumstances, but really it boils down to making impulsive choices more often than not. Sometimes it SEEMS like it's something else's fault but really impulse is back there pulling the strings like an expert puppet master.
Let's say your car breaks down and you pay to get it fixed, then a week later you get a flat tire and can't afford it. Seems like the universe is conspiring to keep you broke, right? These external forces are conspiring to ruin your budget. This isn't your fault! Or is it? Did your impulsivity lead to a situation where your finances were already stretched to their limit? Did something happen after that which you let take the blame? Maybe before that car broke, you decided you had the money to buy those new shoes you were eyeing. And eat out a couple times last week instead of cooking at home. And maybe you bought a car that was a little more than you should have spent. THOSE decisions are impulsive. The car breaking and flat tire didn't ruin your finances, your impulse control did!
Please don't take this as a personal attack. I'm not trying to be negative, I'm not trying to hurt your feelings by "blaming" you for all your financial troubles. What I am trying to do is open your eyes to help you see the truth you don't want to see. The truth *I* didn't want to see myself. It's so much easier to blame those external things, but in the long run it's never going to solve your problem. Ask me how I know.
Of course, there are always exceptions: tragic accidents, devastating illness, loss of a child or spouse…those things obviously are not your fault, and can be incredibly financially draining. I'm talking about the average person, sans tragic circumstance.
Take a deep breath and take a good hard look at your current situation. Without judgement, and with the honest, caring insight you'd provide to your dearest of friends, take a good hard look and see if maybe impulse is is the reason why you ruin your finances. And just remember this suggestion is just some honest, caring insight coming from a dear friend as well!
What's the main way you ruin your finances?
[share]
[disclosure]