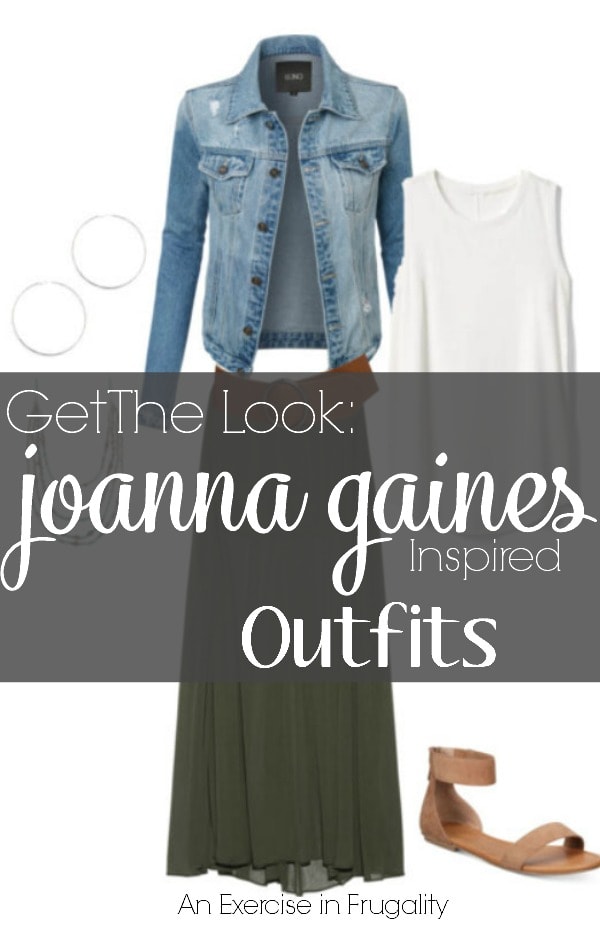 I am starting a new feature on the blog, which will be a regular, recurring series on celebrity fashion on a budget. For my first post, I wanted to pick someone that practically everyone loves. The unassuming, unpretentious, naturally gorgeous Joanna Gaines! Today we're going to see how you can steal Joanna Gaines' style sense while sticking to a budget.
I love the show Fixer Upper, and Joanna Gaines is one of my favorite celebrities. I'm not a big fan girl as far as celebrities go-I typically don't freak out over celebrities or anything but Joanna Gaines is someone that seems so genuine and down to earth. She seems like someone I would love to know in real life, not because she's famous, but because she's just a nice person but Joanna Gaines' style is so on point, yet so effortless.
Her outfits transition perfectly from working on her farm to showcasing her newly designed homes, from spending the day with her family or working in her store to date night with her husband. I swear, this woman can make jeans and a tee shirt look flawlessly put together, while I look like I live under a bridge. It really isn't fair!
The other thing I love about Joanna is that she seems so modest and approachable. She's never overly "done"-her makeup is natural, her hair is never fussy, yet she looks fabulous every time you see her!
Of course Joanna's ACTUAL clothes are probably far more expensive, even though they are casual, basic pieces, but you can recreate this celebrity's look for VERY little money. Some celebrities style is hard to mimic on a budget, especially if they are loaded to the gills with haute couture designer looks, but thankfully someone as down to earth as JoJo makes it SUPER easy to copy her style.
Click the links below each image if you'd like to shop pieces for these looks. I do receive a small commission if you purchase through these links, but I did curate these looks based on a tight budget to save you the time from having to hunt them down individually!
This first outfit is very casual. It would be perfect for running weekend errands while still looking put together enough that you wouldn't duck behind a display of cantaloupe if you ran into your ex-boyfriend at the grocery store. This comfy tee and jeans look is fancied up by the cool leather jacket and riding boots. The hoop earrings are a Joanna Gaines' style staple and add just a touch of feminine to this otherwise tomboyish look.
This romantic look has a slight "rough" edge to it, sort of like Joanna's dainty yet tough style. It pairs a white eyelet dress with a fitted denim jacket, accessorized with simple hoop earrings and a leather cuff bracelet topped with slouchy cowboy boots. This is the stuff cowgirl dreams are made of. You can almost picture Joanna effortlessly pulling this off while feeding her goats or tending to her garden. Seriously, how does she never get dirty??
This outfit is quintessential Joanna Gaines' style. A flowy skirt with a simple white tank topped with a denim jacket, oversize belt and a couple simple pieces of jewelry. A casual pair of sandals makes this breezy outfit perfect for a summer night out with or without the denim jacket!
Gap crewneck shirt / LE3NO vintage jacket / Enza Costa green jersey / American Rag Cie wide sandals / Accessorize boho necklace / Forever 21 silver earrings / LULUS thick belt
This look is a dressier outfit. This outfit isn't necessarily a signature Joanna Gaines' style, but she has been known to sport a couple similar outfits to this one. When you need to be a little bit dressy, but also a little bit country, this outfit fits the bill!
So those were my outfits inspired by Joanna Gaines' style. I tried to stick true to her aesthetic while sticking to a tight budget. You could easily make a Joanna Gaines inspired capsule wardrobe by consolidating these pieces. You could get by with one or two pairs of riding boots, a couple leather cuffs, one pair of hoop earrings, a denim jacket, white tank, white tee, a pair of jeans, a flowy skirt and a dress, with maybe a couple other pieces. Thankfully Joanna's style is easily attained on a budget! This post was a ton of fun to put together, and it is REALLY making me want to go revamp my closet right now!
DISCLOSURE: I may be an affiliate for some products that I recommend. For more information please check out my Disclosure Statement.