I LOVE WAFFLES.
Don't get me wrong, they are delicious, but like…I can't eat them every day. So when my boyfriend (now husband) said he wanted to buy a waffle iron. I balked at the $40 price tag and said "what are we gonna eat waffles, like once a month?" That's how I got roped into making waffles every Sunday for a year. But that is a different story…now I know that you can make more than waffles in your waffle iron!
I debated the purchase of our Oster Waffle Iron for a while. I didn't want to buy just another appliance to take up space in my already too-small kitchen. So I started researching. Were there other things you could use a waffle iron for?
The results astounded me. There's TONS of things you can make in a waffle iron. It's a real multi-tasker. I use ours to make hash browns ALL THE TIME. It's hands-down THE best way to eat them. Look at this: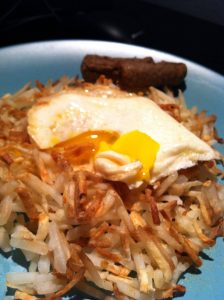 Drool. The hash browns come out tender on the inside, crisp on the outside and the best part? NO OIL. No grease. Just a tiny spritz of fat free cooking spray. Heavenly.
They come out like a perfect nest of wonderful upon which to lay your over-easy egg. Or scrambled. Whatever you want, I don't judge.
There's more though…
There's TONS of other things you can make in a waffle iron. Here's a list of recipes and links to get you started!
Waffle Iron Brownies (Seriously….these need to happen and SOON)
Waffle Iron Grilled Cheese
Waffle Iron Cheeseburgers (aka: Waffleburgers)
Waffle Iron Bacon
Waffle Iron Bread Pudding
Waffle Iron S'MORES (Dear sweet Jesus…)
Waffle Iron Falafel (Waffled Falafel…say that ten times fast)
Waffle Iron Calzones
Waffle Iron Cinnamon Rolls
There's even a blog dedicated to all things waffle iron. It's called Waffleizer, and it asks the "burning" question: Will it Waffle?
If you're now drooling everywhere, I apologize. Profusely.
If you're in need of a waffle iron to start creating these masterpieces, I highly recommend the Oster waffle iron that we have. It flips, which is a great feature for making things like paninis and hash browns (and, let's be honest, it makes pretty fantastic waffles too).
What do you make in your waffle iron?