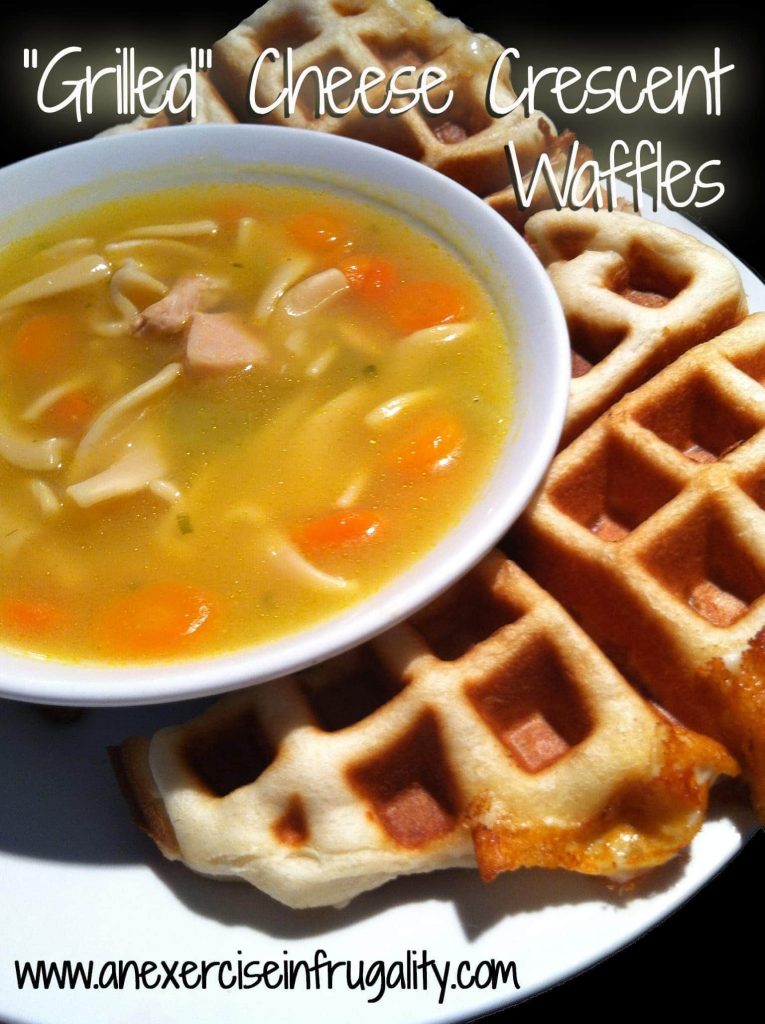 Ohhhhh lordy. Look what I've gone and started now. Grilled Cheese Crescent Waffles. YUM. Can you stand it? Read on for the recipe. SO easy.
Did you see my Beyond the Belgians post this morning? I explained that there are many more uses for a waffle iron than simply making waffles. I saw tons of great recipes, including some for Waffle Iron Grilled Cheese. Then that got me thinking…It was just crazy enough to work. Here's how you can make your own:
Grilled Cheese Crescent Waffles

Grilled Cheese Crescent Waffles

Ingredients

1 tube refrigerated crescent roll dough (I used reduced fat)
Your choice of cheese (I used a cheddar/mozzarella blend)
Cooking spray

Instructions

Preheat your waffle iron on a "medium" setting.
I can barely even call it a recipe because it's so easy. Just take the dough and unroll it. You should have four "rectangles" that are perforated in half into right triangles.
Take two triangles, lay one on top of the other so they line up, with the long side on the bottom, and the short side to your left. Gently press the two layers together on these TWO sides. You should now have the long diagonal side left open (the hypotenuse for all you nerds out there. Look! A math lesson! Whee!)
Now through the open side, stuff it with cheese. Gently so you don't blow out your seams.

https://anexerciseinfrugality.com/grilled-cheese-crescent-waffles/
That's it. Easy, customizable, and most importantly de-lish!
You can use whatever cheese you fancy. American or cheddar for the kiddos, or you can get sassy and grown up with pepperjack, or smoked gouda. Can you imagine what melty brie or muenster would be like in here? Yikes…
If you really want to get fancy, you could put other things in here, crumbled bacon, craisins, peppers, mushrooms or pepperoni (or anything else your little heart desires), but otherwise, just toss them on a pre-heated waffle iron, and close gently but firmly. If yours flips, then flip it. Set a timer for 3 minutes-check for doneness.
Now go forth and use hypotenuse in a sentence. You'll feel really smart.
What's your favorite cheese to put in your "grilled" cheese sandwiches?
DISCLOSURE: I may be an affiliate for some products that I recommend. For more information please check out my Disclosure Statement.