My Nana (or "yiayia" in Greek!) loved to cook for everyone. She had a few recipes that were really fantastic, and this authentic spanakopita recipe is one of them!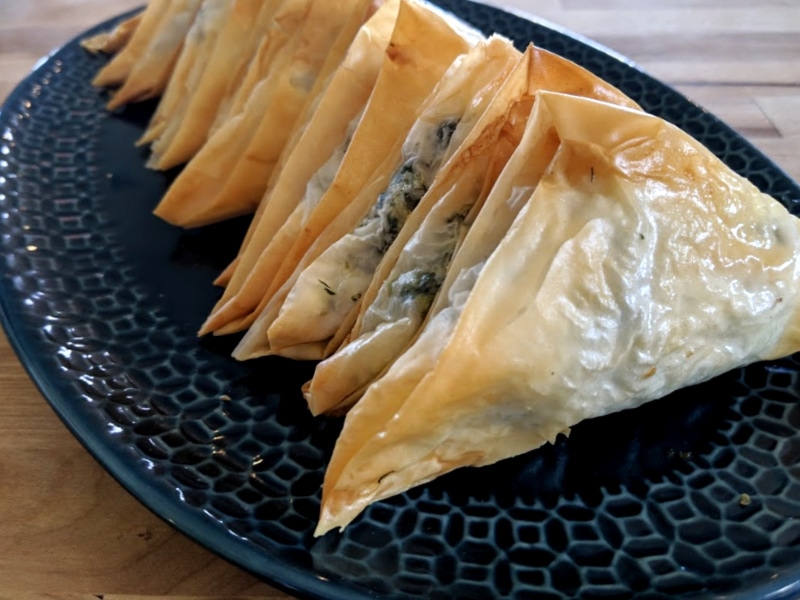 Nana's been gone almost 10 years now, but making this recipe (which is a bit of a labor of love) never fails to make me feel connected to her.
Spanakopita is not hard to make, however it can be a little time consuming and phyllo dough is a bit temperamental.
Today I wanted to share Nana's authentic spanakopita recipe, along with a few tips for making spanakopita triangles without pulling out your hair!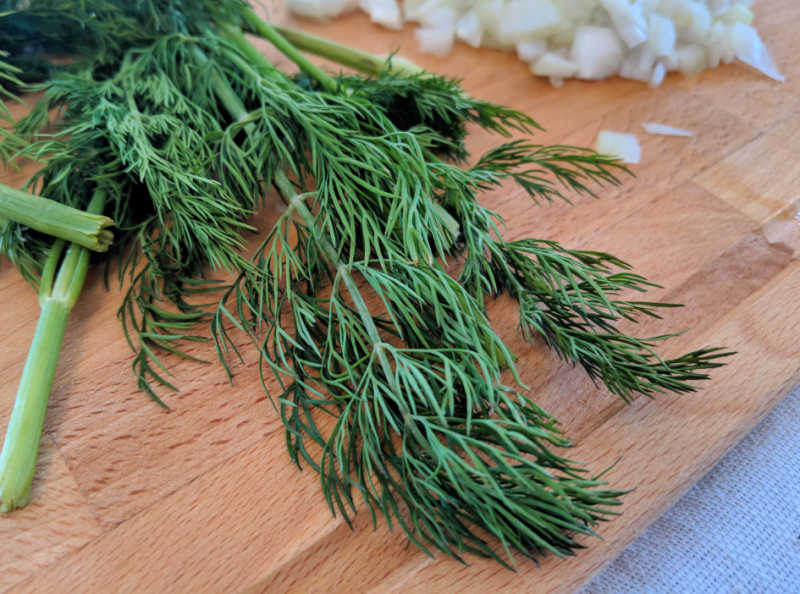 Keep in mind also the method for making spanakopita triangles can also be used to make other triangular filled hand-pies like baklava too!
So let's get right down to it!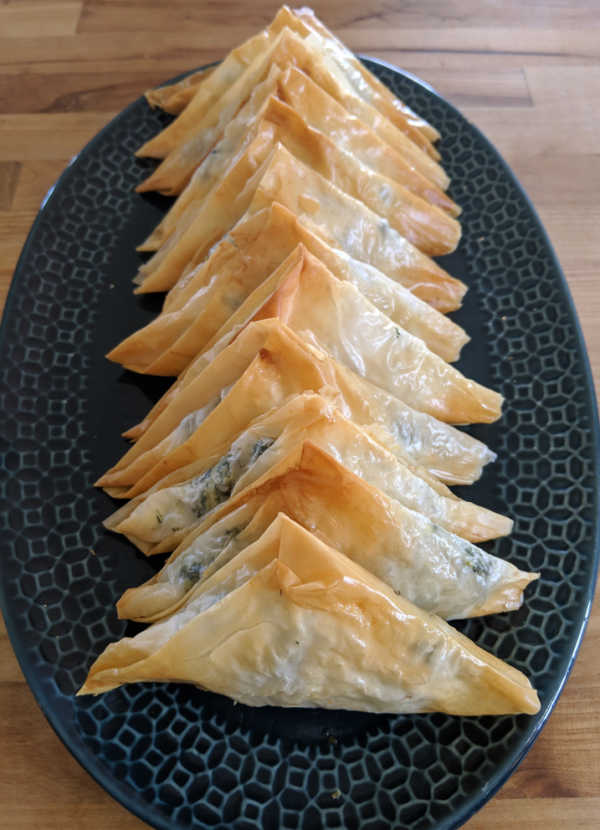 How to make authentic Spanakopita
This authentic spanakopita recipe can also be made in a pan, similar to lasagna. I however, prefer to make spanakopita triangles because I find that in a pan, it's harder to cut.
When I make them lasagna-style, I lose lots of that flaky, buttery phyllo dough.
And that's pretty much a crime.
So let's make these spanakopita triangles instead and enjoy every crispy bite.
What is spanakopita?
Spanakopita is a Greek savory pastry. Spinach, feta cheese, onion and dill are nestled inside a buttery phyllo dough crust. They make a fantastic appetizer, but also are great pretty much any time of day.
I love spanakopita for many reasons but in addition to it being nostalgic AND delicious, it also makes for an impressive (and inexpensive) appetizer to bring to a party.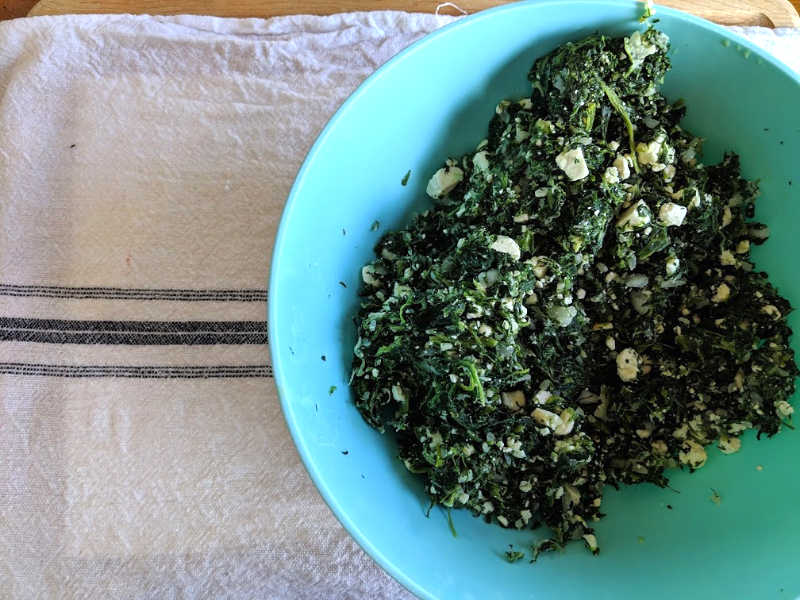 Is authentic spanakopita vegetarian?
This authentic spanakopita recipe is vegetarian but is not vegan. The eggs are necessary to bind the filling, and of course there is feta cheese as well.
You could try substituting a vegan binder, dough and cheese but I can't say how well it would work since I haven't tried it myself.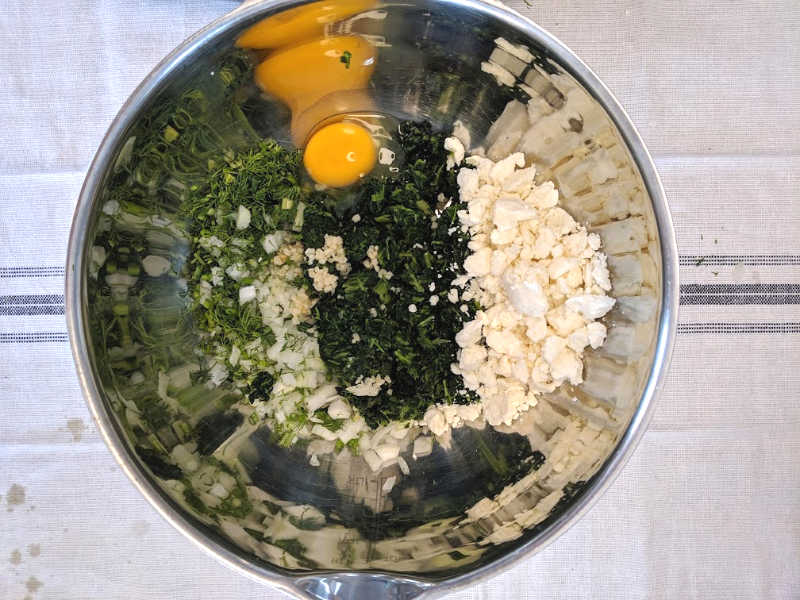 What is tiropita?
Tiropita is basically spanakopita without the spinach! Usually made with feta and ricotta cheese, you can substitute another cheese such as anthotiro or cottage cheese.
Tiropita is often served as a savory breakfast dish but can be served any time of day.
Can you freeze spanakopita?
You can freeze spanakopita, but I recommend doing so either before it's baked, or partially baking before freezing.
What is good to serve with spanakopita?
Honestly I eat it with anything. And by itself! But if you're making a Greek feast, you can serve it alongside your favorite Greek main dishes, or it can be the main course with a hearty Greek salad on the side.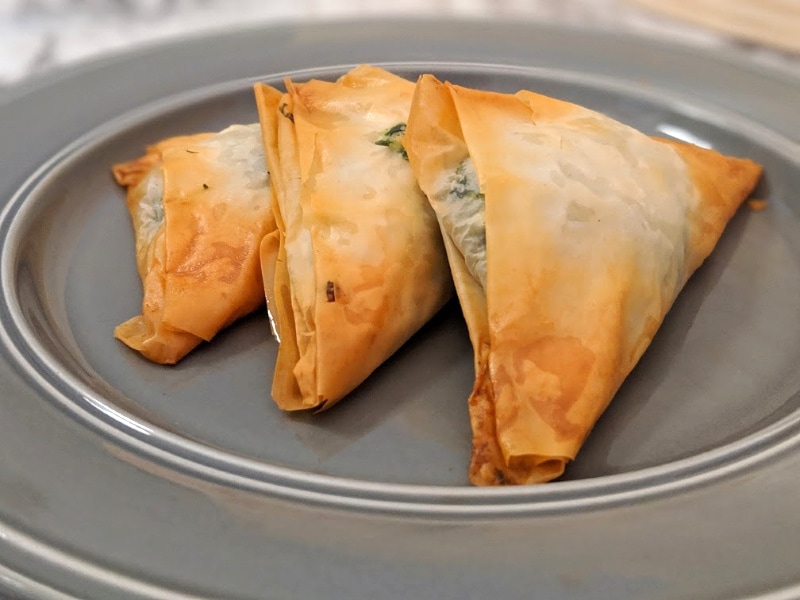 How to make authentic spanakopita triangles without the hassle
Working with phyllo dough can be tricky. The key here is to work very quickly, and make sure you always have a damp paper towel covering the dough you aren't currently using.

Separate out a sheet to use, then immediately cover the remaining dough with a damp towel. Because phyllo is paper thin, it doesn't take more than a minute to get dry and brittle.
Place the dough sheets in front of you, then grasp the top of the first sheet of dough, and fold it down towards you.
Lift the folded sheet, place the damp towel down, then place the folded sheet on top.
Easy Authentic Spanakopita Recipe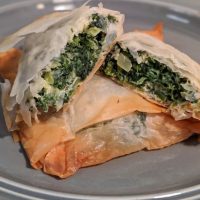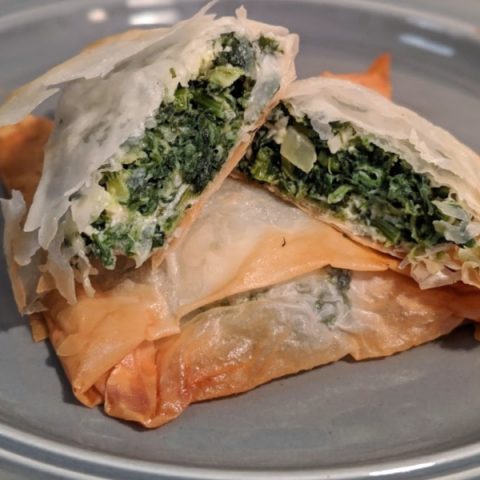 Authentic Spanakopita
Additional Time:
10 minutes
My Greek grandmother used to make this cheesy, flaky spanakopita. Now her memory lives on in this family favorite recipe.
Ingredients
20 oz frozen chopped spinach, thawed
12 sheets frozen phyllo dough, thawed
8 oz crumbled feta cheese
1 medium onion, finely chopped
2 cloves garlic, minced
1 c. fresh dill, finely chopped
1/4 c. butter, melted
1 egg
1 tsp. olive oil
salt
pepper
Instructions
Preheat oven to 325 degrees
In a medium skillet, heat olive oil then saute diced onion until translucent.
Add minced garlic and saute additional 30 seconds or until fragrant.
Remove onion and garlic to large mixing bowl
Using a colander or large sieve, press the defrosted spinach draining out as much water as possible. Then press spinach again between layers of paper towel.
Add the spinach and feta to the bowl with the garlic and onion and mix gently
Add salt and pepper to taste
Add the egg and stir until well incorporated.
Take a sheet of phyllo, and fold it in half horizontally
Place a heaping tablespoon or two of the spinach mixture in the lower left corner of the folded sheet
Fold the top left corner down to the lower left corner diagonally as if folding a flag
Grasp the lower left corner, and fold it up and to the right diagonally
Repeat until you reach the end of the sheet
Brush the finished triangle with melted butter and place on prepared baking sheet
Bake finished triangles for 20 minutes or until golden brown and crisp
Notes
This recipe makes 12-16 triangles on average depending on the amount of filling used.
Recommended Products
As an Amazon Associate and member of other affiliate programs, I earn from qualifying purchases.
Nutrition Information:
Yield:

12
Serving Size:

1 triangle
Amount Per Serving:
Calories:

194
Total Fat:

10g
Saturated Fat:

6g
Trans Fat:

0g
Unsaturated Fat:

4g
Cholesterol:

42mg
Sodium:

429mg
Carbohydrates:

19g
Net Carbohydrates:

0g
Fiber:

2g
Sugar:

1g
Sugar Alcohols:

0g
Protein:

7g