This shop has been compensated by Collective Bias, Inc. and its advertiser. All opinions are mine alone. #BTSwithHP #CollectiveBias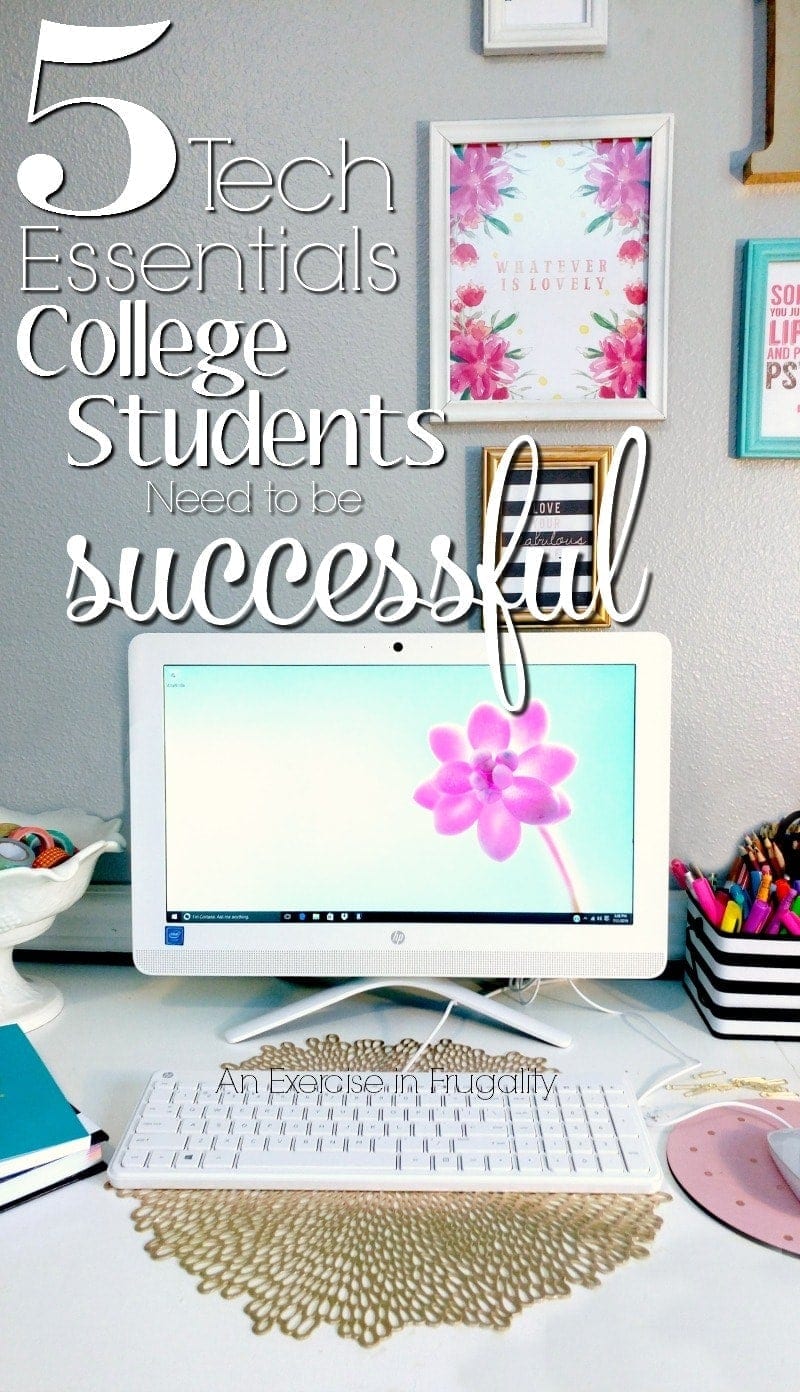 Fall is just around the corner and that means the kids will be heading back to school. For some students however, the arrival of fall means a whole new chapter: starting college! I remember heading off to my first day of college. I had moved all my stuff into my dorm…new towels, sheets, a hot pot and of course piles of textbooks. Know what I didn't have? A computer. By the second week I was calling my parents begging them to buy me a computer. I was brutally rebuffed with a firm "no way, go to the computer lab" and that was that. I sulked my way to the computer lab every single day until Christmas break, when I was finally gifted a new desktop PC.
My first day of college was 15 years ago (yikes!) this September. Students today absolutely require access to technology. Unfortunately it's not really an option anymore like it was back when I was in college. My parents thought a computer was a luxury (and of course, back then they were priced as such!) but now computers and other forms of technology are a crucial part of your child reaching their academic potential. For most parents though, technology is overwhelming. What does it all mean? Where do you start? What does your student really need?
I am fortunate to be married to an IT manager. My husband knows everything there is to know about technology and computers (enough to bore the average person to tears). It makes shopping much easier when you know what you're looking at and what you actually need versus what the sales person (or worse, your teenager) is trying to talk you into.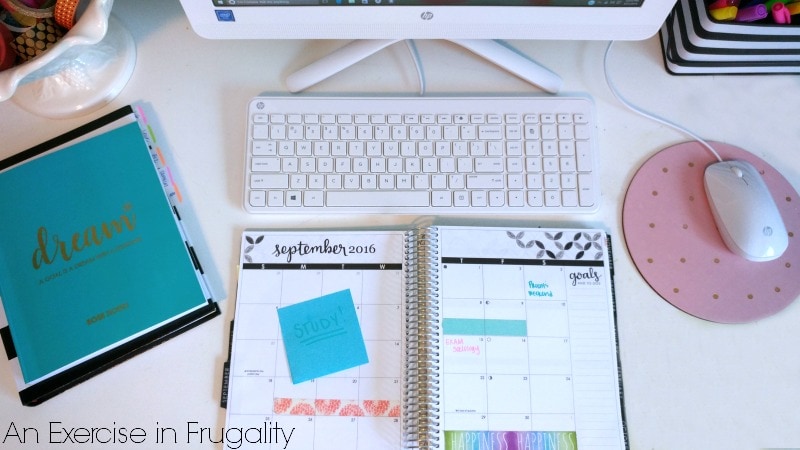 To help you determine what is essential for your teen, We've come up with a back to school checklist for college bound students. This list is a great guide for things that would benefit MOST students to have. Some students will need more than this, some won't need all of it, but its a great place to start!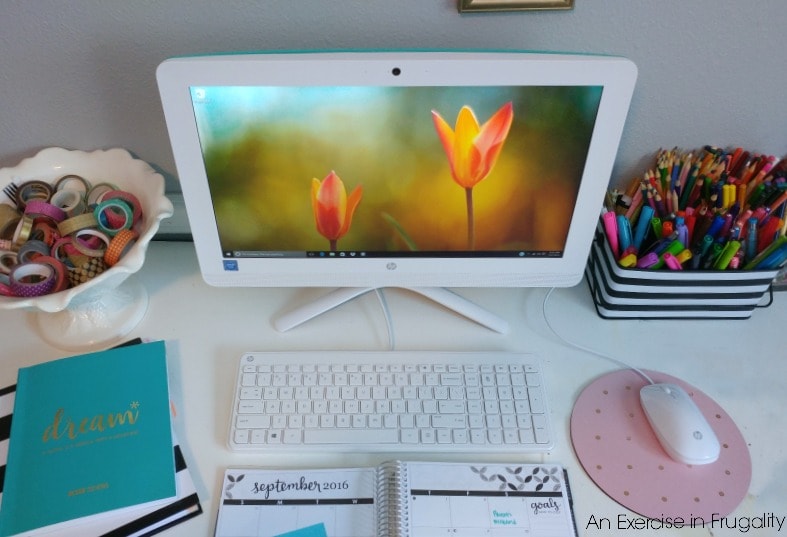 Computer
Computers are big decision of course. You'll need to decide whether to go desktop, laptop or both. Each one offers pros and cons. Laptops are great for taking notes in class, but can be difficult to spend long hours on doing research or typing papers. If you decide to go with a desktop, the all-in-one computers are a great choice. They are affordable and compact. No bulky CPU tower to take up precious space in those "cozy" dorms.
Your computer should have a minimum of 4GB memory (RAM), 500 GB hard drive and a good monitor. We like HP monitors because they help reduce eye strain with a high refresh rate and number of pixels. If you get an all in one computer like this one, it obviously includes the monitor and the CPU which makes the decision easy!
Printer
I highly recommend and all-in-one ink-jet printer. With an all-in-one, you can scan your notes into a digital copy to keep organized, or submit a document to your professor. Save time in the long run by using your own all-in-one printer to make copies too. We love the HP DeskJet 3752 All-in-One Printer which is sleek, compact and wireless. You can even print from your mobile devices!
External Hard Drive
An external hard drive is not only great for its portability to take your files on the go (and to transfer them between desktop and laptop or home and school) but also as a back up for your important files and make them available even when you can't be connected to the internet. We love the HP 1TB External Portable Hard Drive. 1TB is a great size, and you don't need much more than that for most students.
Headphones
Coming from someone who had several inconsiderate roommates, let me just say that headphones are a necessity. They don't have to be crazy expensive. These HP headphones even have an in-line microphone so your college student can Skype with you while they are away!
Anti-Virus Software
Some schools provide anti-virus software, and many schools require it. Don't leave your computer open to viruses and malware. Lock it down with a good anti-virus program. You'll want one that protects you both from the internet AND from external sources like the school's network or a flash drive-loaded viruses. My husband, "Mr. Frugality" recommends McAffee Total Protection 2016 because it can be used on unlimited devices (at home AND at school) plus it covers all your bases in one easy-to-use software package.
You'll notice that most of these products are HP brand. That's because in our house, HP is kind of the gold standard. We have 3 desktop computers and 2 laptops…all of which are HP. Our printer? That's HP too. Oh, and most of the computers and servers my husband purchased for his firm are HP also. Why? They are affordable, quality products that have lasted us many years.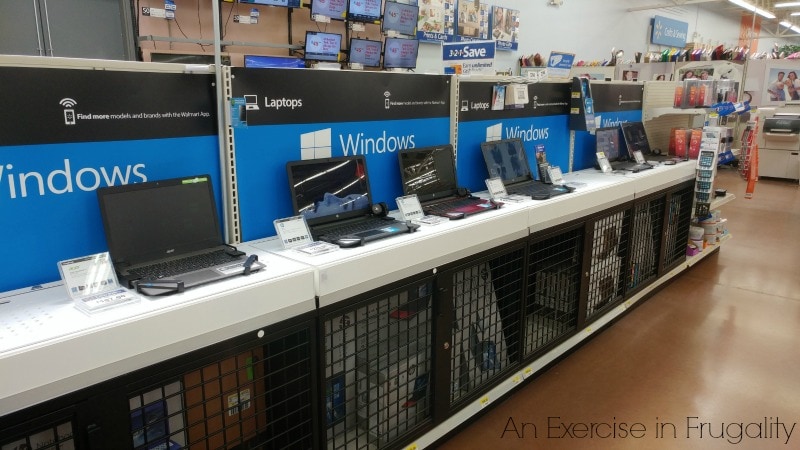 There's a whole selection of all-new HP computers at Walmart that are perfect for back-to-school and for the whole family.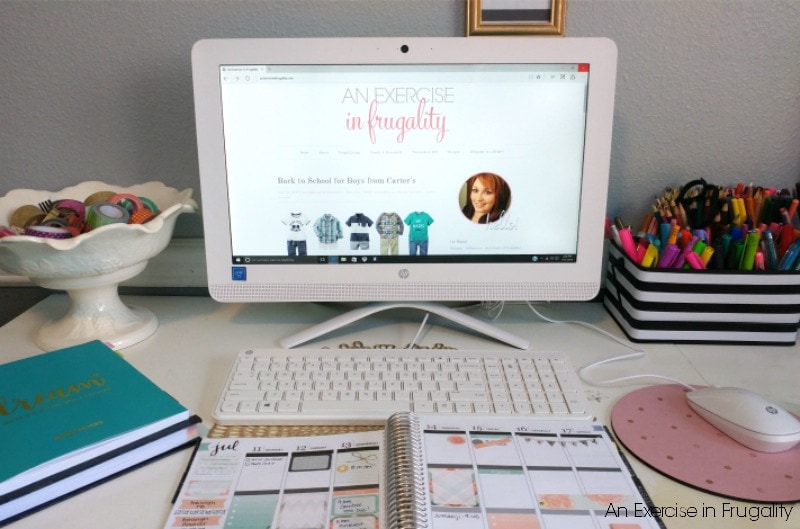 This is the 20″ HP All-in-One Desktop PC. We think this is a great choice for students because it's totally redesigned, budget-friendly AND can I just say how cute it is? My husband would kill me for saying that is an important factor in the computer-buying decision but let's be real: I know a lot of tweens and teens would agree with me!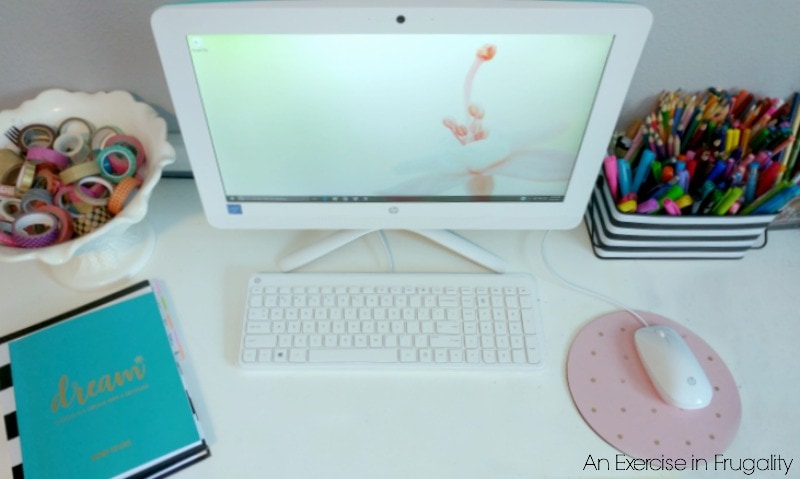 It meets all our requirements, without frills and with a very affordable $349.00 price tag at Walmart. It comes with an Intel Celeron J3060 Processor, 4GB memory and 500GB hard drive and of course, Windows 10. It's got the latest processor, 20″ monitor, a colorful redesign and a 1 year warranty for a little parental peace of mind. It's everything your whole family needs.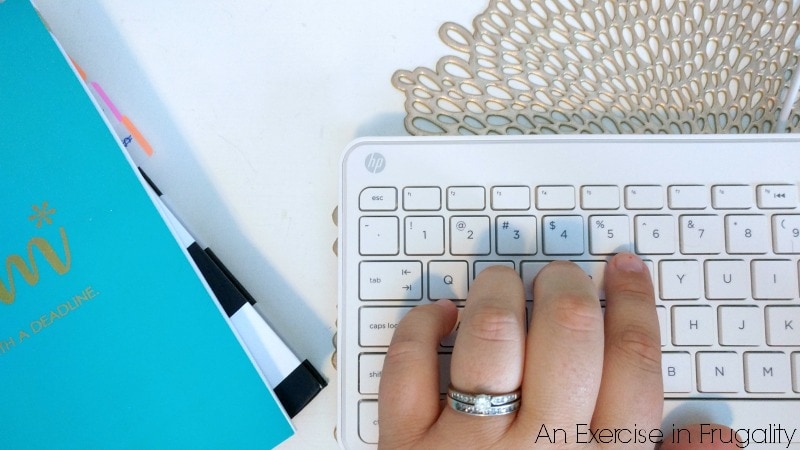 She's more than just a pretty face though, this computer is currently the main workhorse in my blogging and virtual assisting world. I love that it is reliable and simple to use. It takes up SO little space which is great for both the home office and the dorms.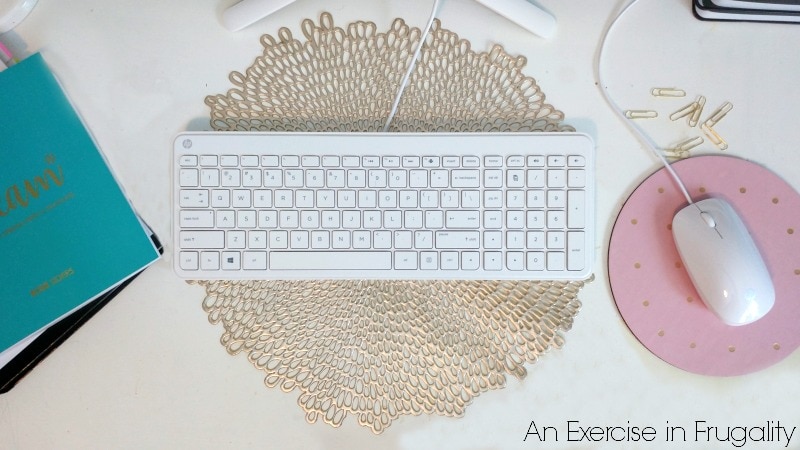 Hopefully these recommendations alleviate some of the stress that comes with purchasing a computer for your college-bound teen. With the suggestions above your student will be equipped to achieve academic excellence, and you'll look like the cool, tech-savvy parent that you now are!
Oh, and if you're looking for places to get great deals on textbooks, check out my post on cheap places to buy textbooks. It's another great resource for college bound students! Also, I have some great tips for ways college students can save money.
If you love your HP computers like we do, be sure to head to Walmart to share your thoughts! Share your story to help other parents and college students make their technology shopping decisions!
DISCLOSURE: I may be an affiliate for some products that I recommend. For more information please check out my Disclosure Statement.