[XC90]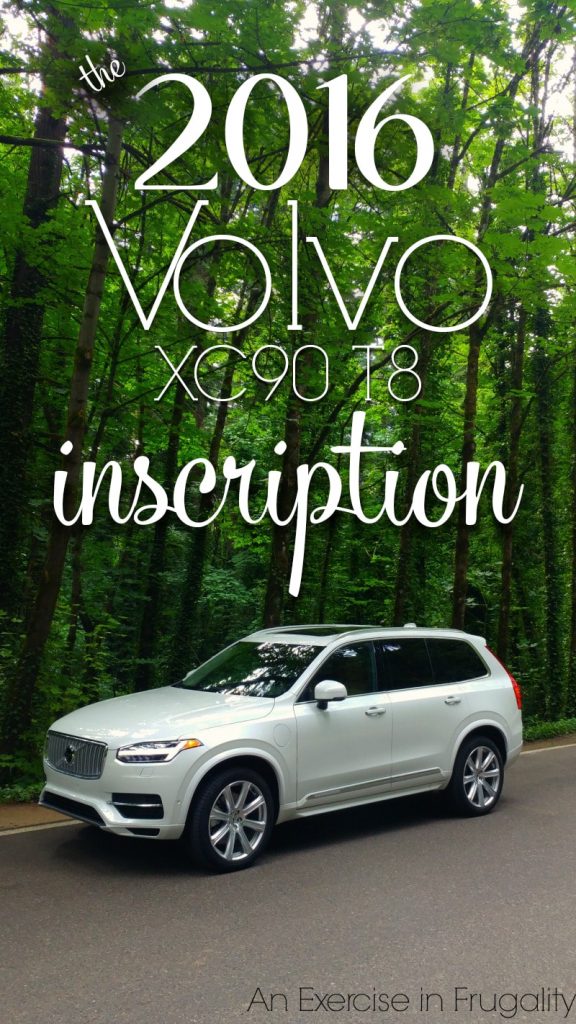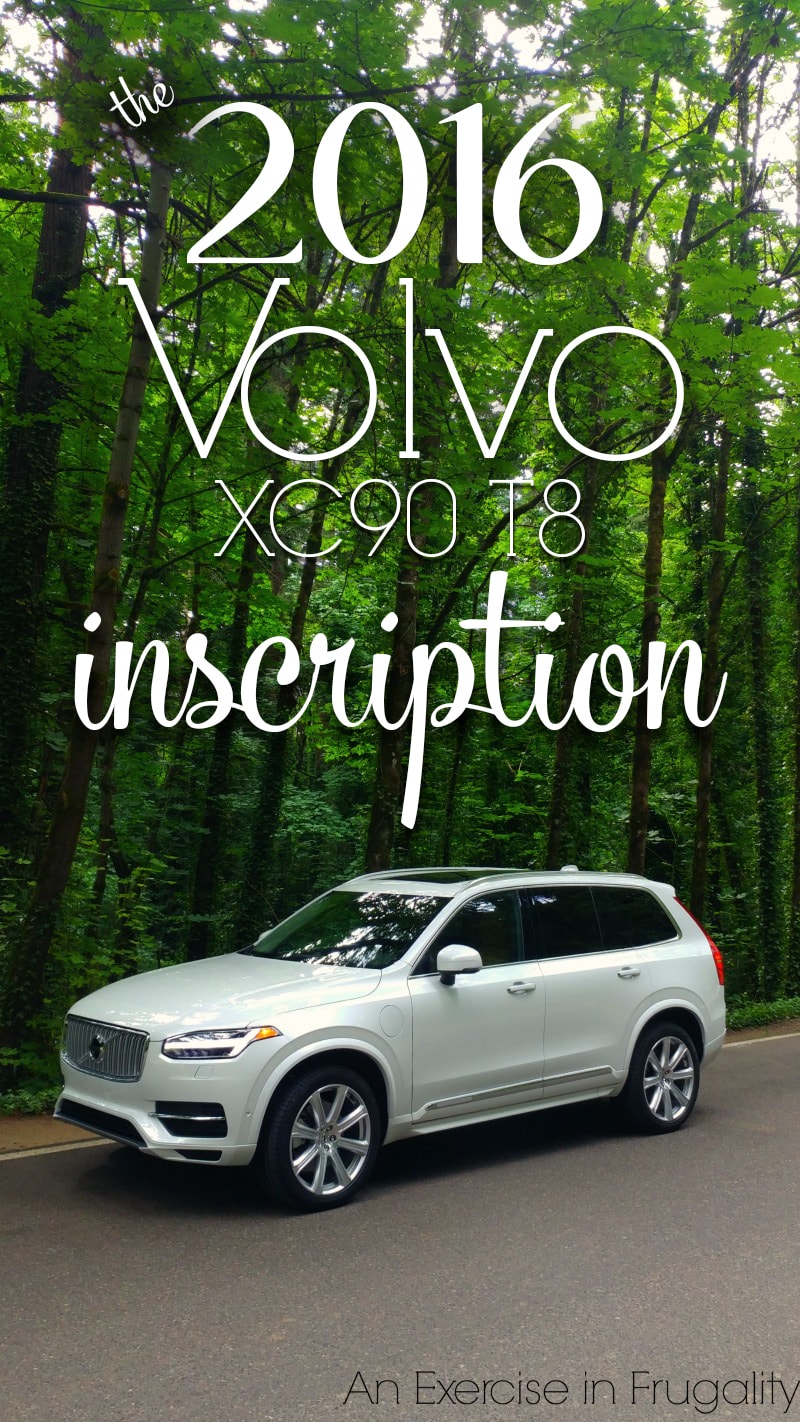 [ad]
This past week I was fortunate to get to partner with Volvo to try out their 2016 XC90. The model I got to drive was the top of the line, fully loaded T8 Inscription. As you can see, it was love at first sight. I named her "Elsa" like from the movie Frozen. She's Swedish, and she's the color of snow (or Crystal White Pearl as Volvo calls it) so I thought it was fitting.
Though the Volvo is more than just a pretty face. It has so many features that when it was dropped at my door, they spent an hour going over all the bells and whistles and we didn't even cover everything! It packs a lot of value into one sexy looking package. I have never driven a vehicle that turns heads like the Volvo. A lot of people gave it a second lingering look!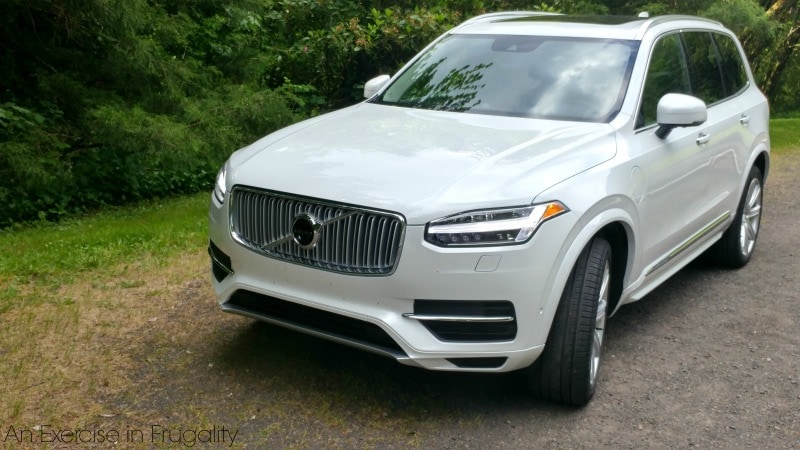 This SUV is a dual-engine hybrid, giving it better fuel economy than other vehicles of its size. We averaged around 26mpg (which is better than what we currently get in our older model full-size car) and that was lots of stop and go with hills and the air conditioning going! The gasoline engine is a 2.0L 4 cylinder turbocharged and supercharged (yes, you read that right!) which means its been optimized for the best fuel economy. You can also toggle between the different drive modes if you want to manually change it up. There's lots of little things that you might not notice at first glance. The shifter for example is hand carved crystal from a Scandinavian company called Orrefors. It is a little luxe detail that complements the center console and the supple leather interior.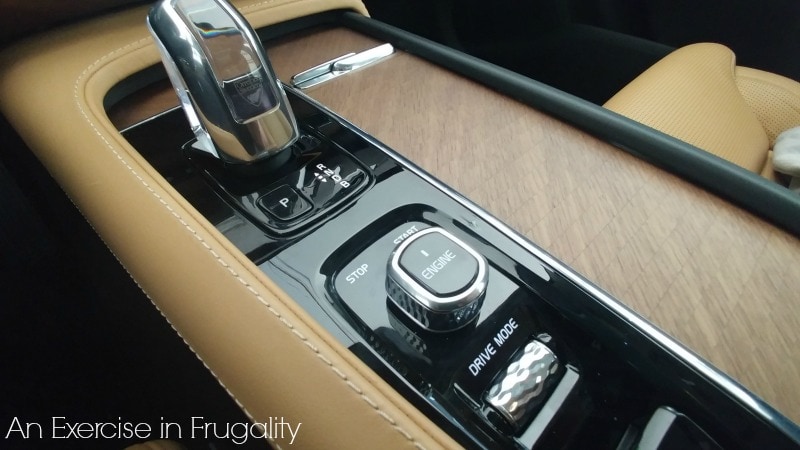 The sound system in this car was amazing. It's a 19-speaker Bowers & Wilkins premium sound system. Paired with the SiriusXM radio, and we were bumping some serious beats. The sound system and most of the other awesome features are controlled by the 9″ touchscreen "infotainment system".
The "Thor's Hammer" headlights were something we thought were just for looks but it turns out they are optimized for safety as well. They are automatic and self-leveling. Ok, they also look pretty sleek too, but that's just a bonus.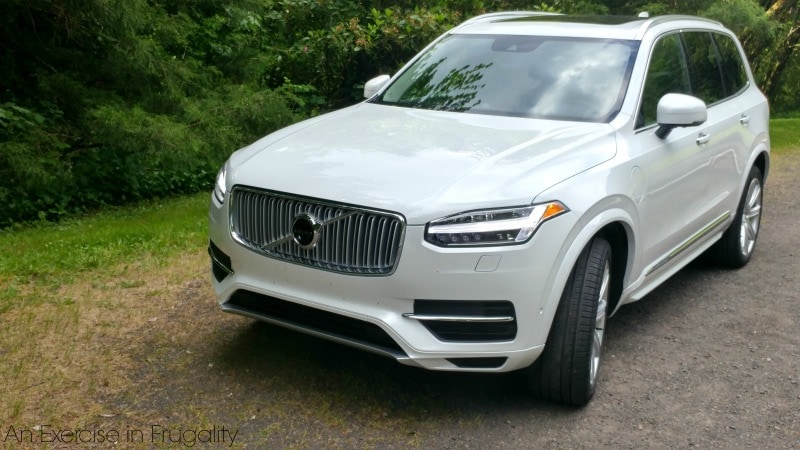 The T8's tailgate isn't too high, but with the touch of a button, the air ride suspension lowers the tailgate to assist in loading and unloading. This is perfect for families with lots of stuff (think strollers and groceries) which is perfect considering it has 7 seats and room for everyone and individual climate controls so everyone is comfortable.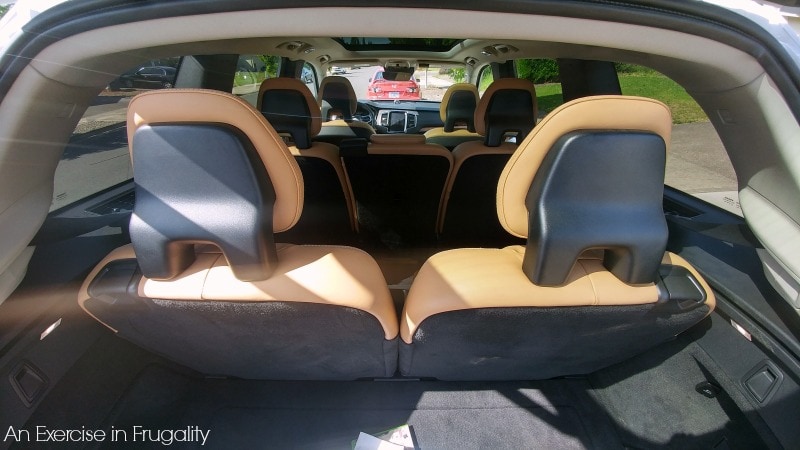 Seriously guys, this back seat is roomy enough even for adults!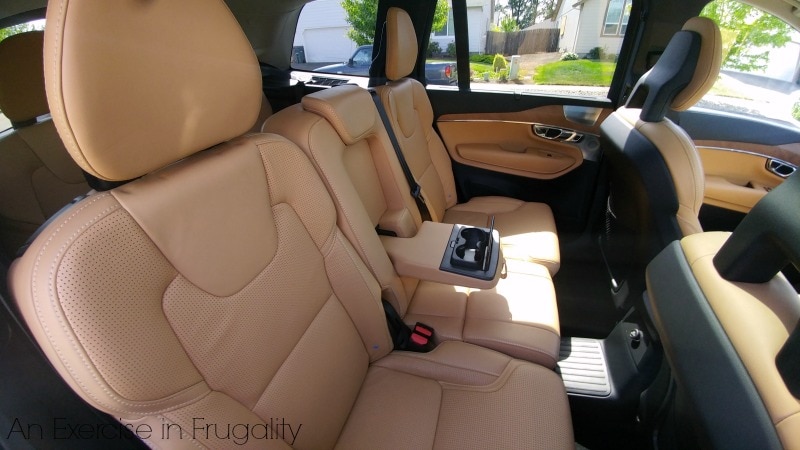 Now if you're interested in safety features, you're in for a treat. The XC90 T8 Inscription I drive has a multitude of both standard and revolutionary safety features. I mean, it's a Volvo so of course you know they are the leaders in safety innovations. This vehicle was rated with the highest marks for safety by the IIHS. These are just a few of the ones I would like to highlight:
360 degree cameras
Adaptive Cruise Control (senses when you're getting too close to the car in front of you and adjusts your speed)
Lane Departure Prevention
Emergency Brake Assistance
Head Up Display (shows your speed AND reads the speed limit signs and displays them in the HUD)
7 airbags standard
Child seat anchors
Rear Collision Warning (automatically flashes your rear lights if it senses someone is tailgating you too closely!)
and MANY more. Seriously, I could go on for hours.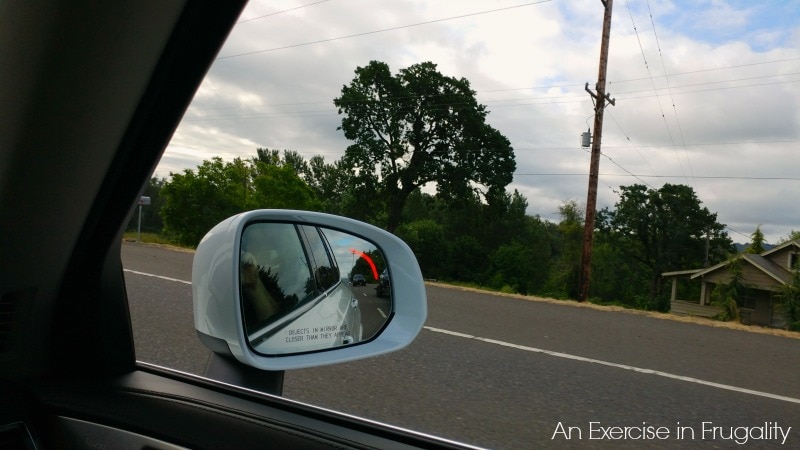 So you might be wondering why a frugal blog is reviewing a luxury vehicle. Here's the amazing part about the Volvo XC90 T8 Inscription-it is actually the most affordable compared to similarly equipped vehicles in its class such as the Audi Q7, BMW X5 or the Mercedes Benz GL. If you love luxury vehicles but the price tag holds you back, you'll be happy to know that the T6 base model starts at just $48,900. This top of the line T8 Inscription, fully loaded with all the features runs about $84,000. Either way you'll have confidence that your family is safe when you pull out of the driveway. It pays not to compromise on safety!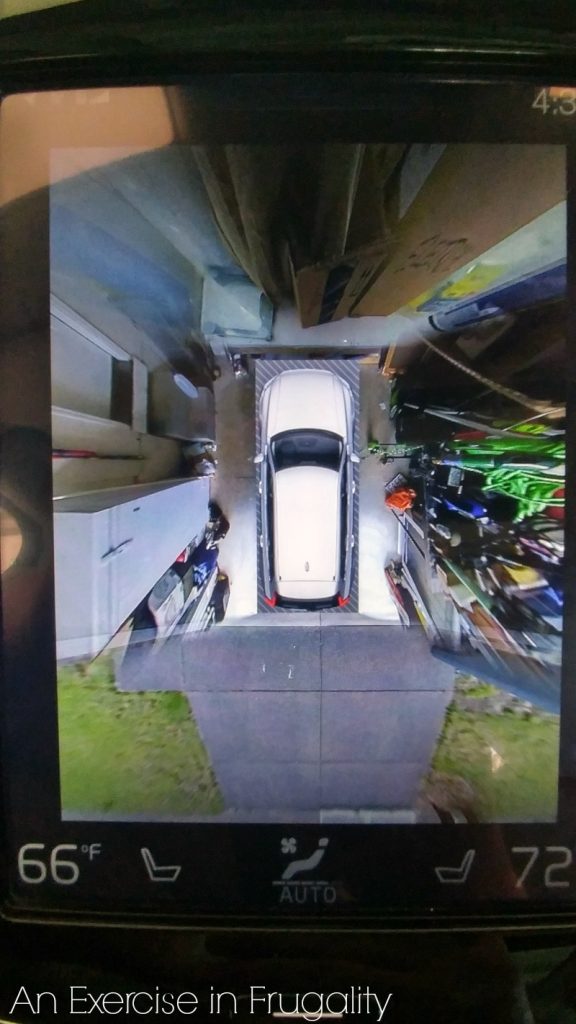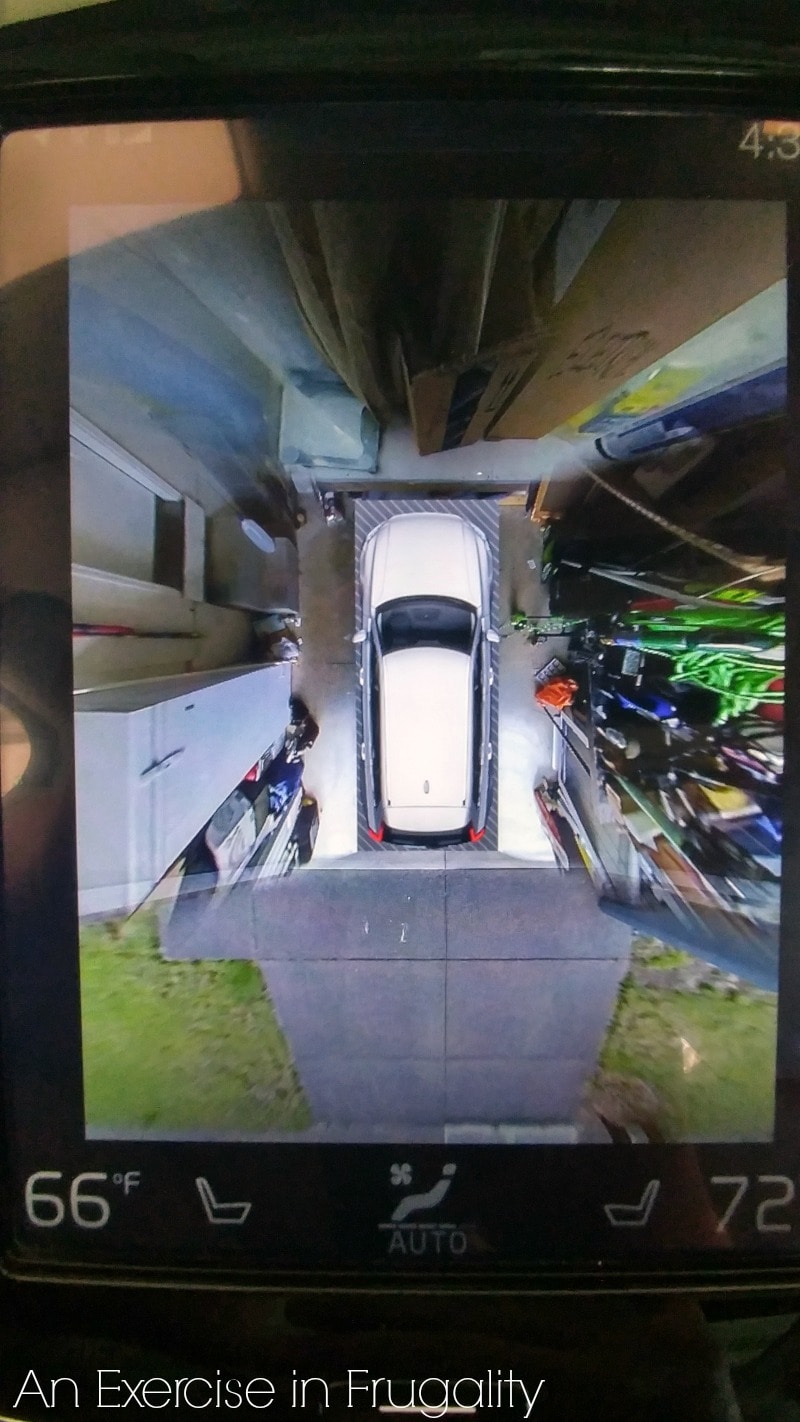 We absolutely loved driving the Volvo. It's a vehicle I would recommend to anyone who is looking for a 7-seat SUV who priorities are space, safety and luxury. It handles amazingly well, even on our windy, narrow Oregon mountain roads. I've even squeezed it into some tiny parking spots. It certainly doesn't handle like a large, 7 passenger "luxury utility" vehicle.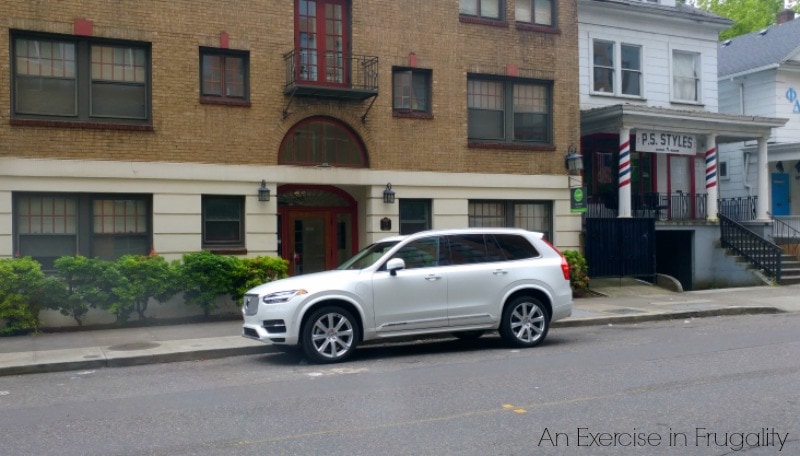 We took a little road trip to Portland and went to the Rose Gardens (only to circle the parking lot and leave because it was TOTALLY packed), Powell's Bookstore and to get Andrew's beard done at a barbershop downtown. The XC90 drives amazingly in stop and go city traffic as well as cruising on the highway. Usually I get stiff and sore on long car rides, but this vehicle is so roomy and comfy that it was literally a pleasure to drive!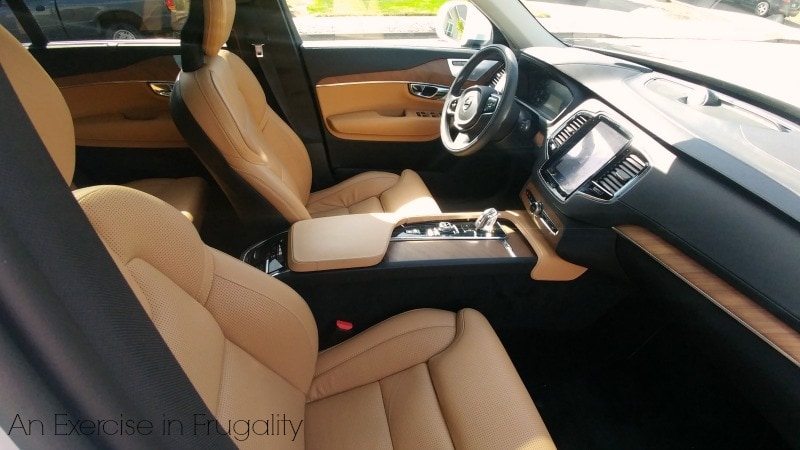 It's been an absolute delight to drive the XC90. I am almost positive I will shed a tear when they come to pick her up. I don't think I'll be able to "Let it Go". 😉
What are your thoughts on the Volvo XC90 T8 Inscription? #DriveVolvo
[share]
[disclosure]