How to cut your own hair without looking like a damn mess: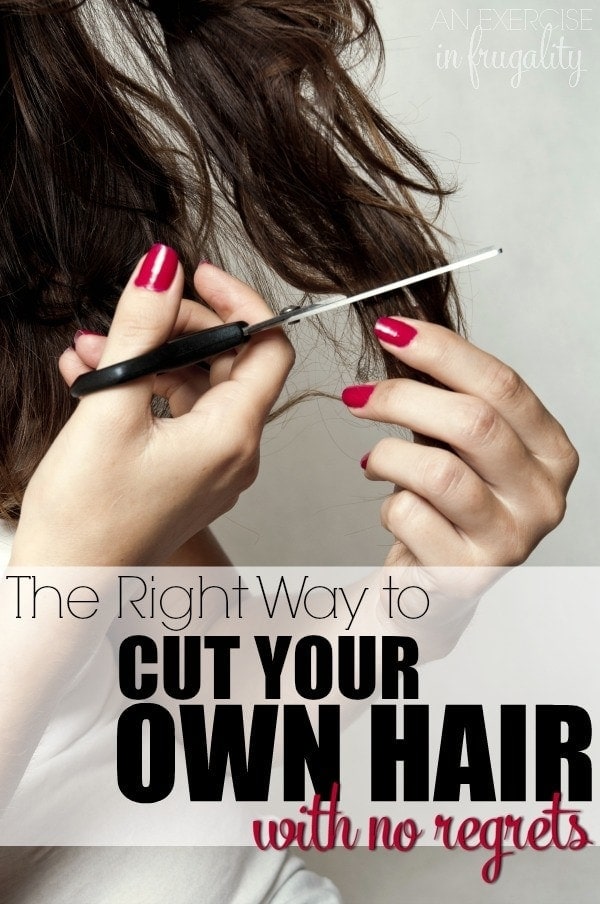 If you're thinking of cutting your own hair, read this first to make sure you know how to cut your own hair the right way.
I know…I know…you think I am crazy. I'm ok with that. I have accepted it long ago, and dare I say, embraced it.
I thought it myself the first time I stood, hair dripping, hand quivering and scissors aloft in my bathroom mirror…but I promise you, the bowl cut horror stories are nothing like my DIY Haircuts.
When I was a kid, back in the 80's and 90's, perms were all the rage. My mother, bless her heart, gave me several home perms. They never quite worked out right, and I always wound up smelling like a nuclear waste plant.
She also cut my brothers' hair (thankfully I escaped the "buzz cut" fate, but they were not so lucky).
I think she wisely avoided cutting my hair at home because she would have had to fumble her way through it, and it would likely wind up disastrous (no offense, Mom!).
Nowadays though, there are SO many resources available to teach you how to cut your own hair. Now, I'm not saying that you should take your scissors and start playing Vidal Sassoon and doing crazy styles, but a simple trim, or basic layer cut is easy to do, and think of the money you will save!
If you head to the salon every 4-6 weeks for a trim, that adds up FAST.
Your stylist may hate me, and I am sure I am gonna catch hell from any hair professionals that stumble upon my post (SORRY!) but hear me out! You can in fact cut your own hair successfully. You can even learn how to cut your own hair with layers!
The truth is, they know you can, and that's why they get so mad when they hear people saying they do their own trims.
Now I'm not saying my aim is to put hairstylists out of business, of course a major change is something you might want to consult with a professional on, but a little clean up between salon visits makes a world of difference.
My aim is not to have everyone in the world giving themselves haircuts. However–a nice, trimmed hairstyle can make you FEEL better.
If you don't have the money, doing it yourself can provide that boost that you need. Not only the sense of accomplishment for knowing you can do it, but also because your hair looks fresh and healthy!
If haircuts for yourself and/or your kids are simply not in your budget, then you can cut your own hair and save that money for more urgent expenses.
How to cut your hair the right way:
1. I am NOT Paul Mitchell, I know my limitations and don't expect to have a cutting edge fancy schmancy look off the cover of Vogue. HAVE REASONABLE EXPECTATIONS.
2. Do NOT cut your hair while PMSing, or just after a traumatic breakup, or any other time where you might be emotionally unstable. It wasn't a good look on Britney, it won't be a good look for you either.
3. Use only VERY SHARP scissors or shears (see below for some great, cheap tools to use). That being said, please refer to tip #2. No stabby-stabby.
4. Do not cut your hair wet. It's easier to see mess ups right away when it's dry. Therefore, you can make sure to make adjustments as you go.
5. Speaking of adjustments, TAKE YOUR TIME. Cut slowly little bits at a time. Never hack off several inches at once. You can always take more, you can't put it back on.
6. Never ever cut straight across. Blunt cuts are for the pros. Blend your snips by cutting "UP".
7. Do your research. There are TONS of YouTube tutorials that walk you through how to cut your own hair step by step. Find one who has similar hair (length, texture, etc) to yours, and watch that video at least 3 times BEFORE you pick up the scissors. Then have your laptop or computer near by to watch the video for reference. Pause, rewind, repeat as necessary.
8. DO NOT cut your hair right before a big event (*cough* like a wedding). Just in case there are any screw ups…
9. Be confident…if you're convinced you will screw up, then you will. Relax, take a deep breath and go.
10. Remember: Hair grows back. If your bangs wind up a little shorter than you'd like, just pin them back with bobby pins, and in a couple weeks they will be good as new. As long as you cut in SMALL amounts as mentioned above, you have nothing to worry about!

Are you going to attempt it now that you know how to cut your own hair?