Makeup is such a personal thing- what works for some folks won't work for others. I have definitely read some RAVE reviews on products that I wound up hating. But today I wanted to share with you some of my top makeup bag favorites, because some of you will find them just as awesome as I do!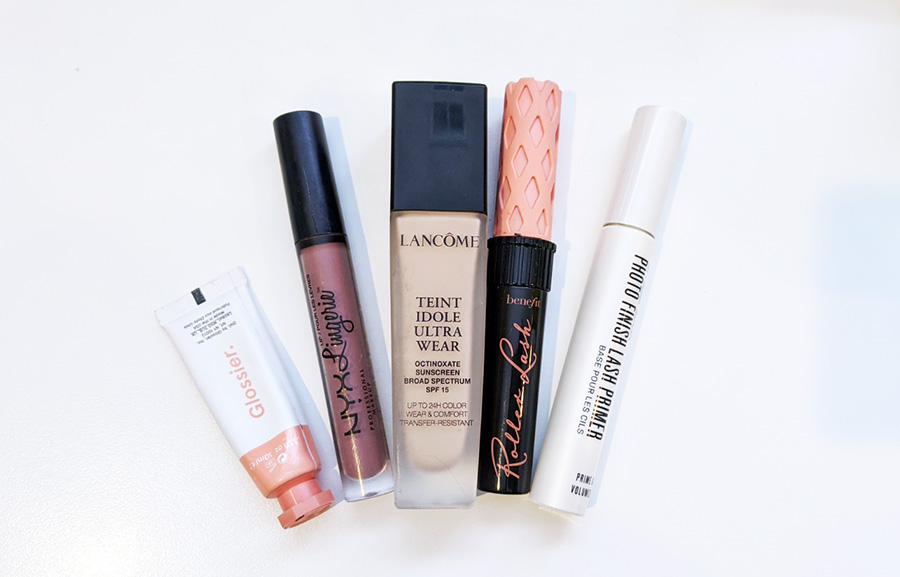 First: a quick disclaimer…
I'll admit it- sometimes I'm not as frugal as I would like to be when it comes to makeup. While I'm out out there buying Chanel foundation or anything, I do experiment quite a bit with brands that are not the absolute cheapest.
But here's the thing: I'm not going by labels. I don't run out and buy a particular brand because some influencer says it's good, or because their name is on it (and you shouldn't either). I experiment with different things to see what works best for me. If that means it costs a bit more for a premium brand, that's okay as long as it fits my budget.
What I don't do is buy a specific brand for the name, or to show it off.
I try not to get caught up in the appeal of the latest and greatest thing, but it's hard! If I'm happy with how a certain product is working, I won't buy another version until this one is gone.
I also don't wear makeup on the daily- I work from home and there's no one here I need to impress! So if you wear makeup every single day, you might want to invest more, or less depending on your needs and budget.
Oh, and one more thing- you'll notice I don't have a favorite eyeshadow. I'm on the struggle bus with eyeshadow lately. I have the Urban Decay Naked 3 Palette, but while I do use it a lot, it's not my favorite thing. I'm not sure if the colors just aren't right for me or what. Just not lovin' them.

With that said, let's move on to my favorites from my makeup bag right now!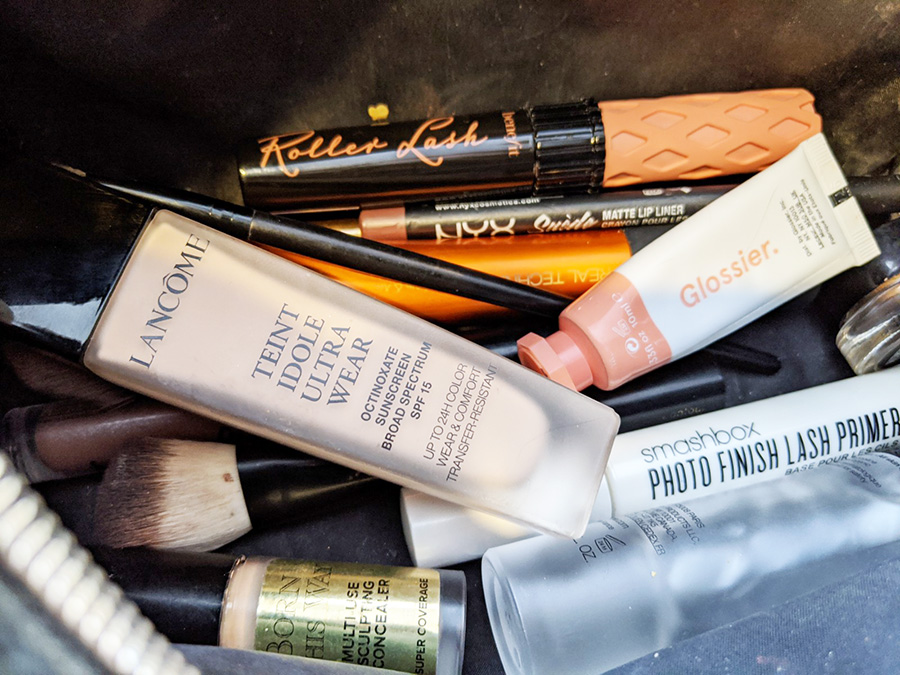 My Makeup Bag Favorites
Here's what I am LOVING in my makeup bag right now. It's a pretty good mix of drugstore makeup brands with a few higher end things mixed in.
My Favorite Primer
I'll be totally honest- I used to be one of those people who thought that primer was a scam to get you to spend more at the makeup counter. I could not have been more wrong. A good primer makes ALL the difference. One of the issues I had with my foundation is that it looked flaky and gross by the end of the day. Turns out that's because of my lack of primer!
My friendly neighborhood Ulta lady told me that without primer, your skin absorbs all the moisture from the foundation, leaving the flaky pigment behind. I had no idea! Now I never use foundation without it!
My Favorite Foundation
This foundation came at the recommendation of the makeup artist at my local Ulta. I went in and explained the concerns I had about my skin and the previous foundation I was using and this was the one she recommended. I've really liked it so far! I wear shade 215 Buff N, but there appeared to be a ton of shades available for all skin tones.
My Favorite Concealer
I got a sample size of this concealer and other than the fact that I got too light of a color, I like this concealer a lot!
Full disclosure: I'm not great at contouring. But this bronzer is kinda idiot-proof. It feels like it's easy to start light and build up. Not too orange, just a nice healthy glow. I got the tiny size and a little goes a long way.
My Favorite Blush
I was admittedly reluctant to try a liquid blush. I'm starting to get the lovely signs of aging on my face so I worried that this would collect in creases and any dry patches but so far it's been great! A teeeny tiny bit goes a really long way so this small tube lasts a long time. Call me a liquid blush convert! I plan to try another color soon.
My Favorite Brow Product
This baby is my secret weapon! I have gotten lots of compliments on my brows (of all things) since I started using this product. The color payoff is good, and it lasts a long time. Brows look natural and they have a few colors to choose from. The staying power can't be beat. I think the claim is 24 hours, but I don't sleep with it on so I can't speak to that BUT it does last all day and the pomade texture means that brow hairs stay in place too.
My Favorite Lash Primer
Another thing I didn't think I needed in my life? Lash primer. Wanna know what changed my lash game forever? Lash primer. You can build a solid base for your mascara to knock it out of the park. You can try applying mascara immediately after primer (while it's still wet) or after letting it dry a few seconds depending on your mascara formula and your lash goals. Either way, get yourself a primer girl!
My Favorite Mascara
Guys, it's just SO GOOD. Not clumpy, adds length and volume, it's just so...*chef's kiss* perfect. My lashes have thinned over the years and this has a "you but better" effect that looks amazing without looking spidery or fake.
My Favorite Lippie
This matte liquid lipstick is to dieeee for. It's not too drying, the color is gorgeous and it lasts a super long time on the lips. They have a bunch of colors but this embellishment is a plummy nude that is absolute perfection.