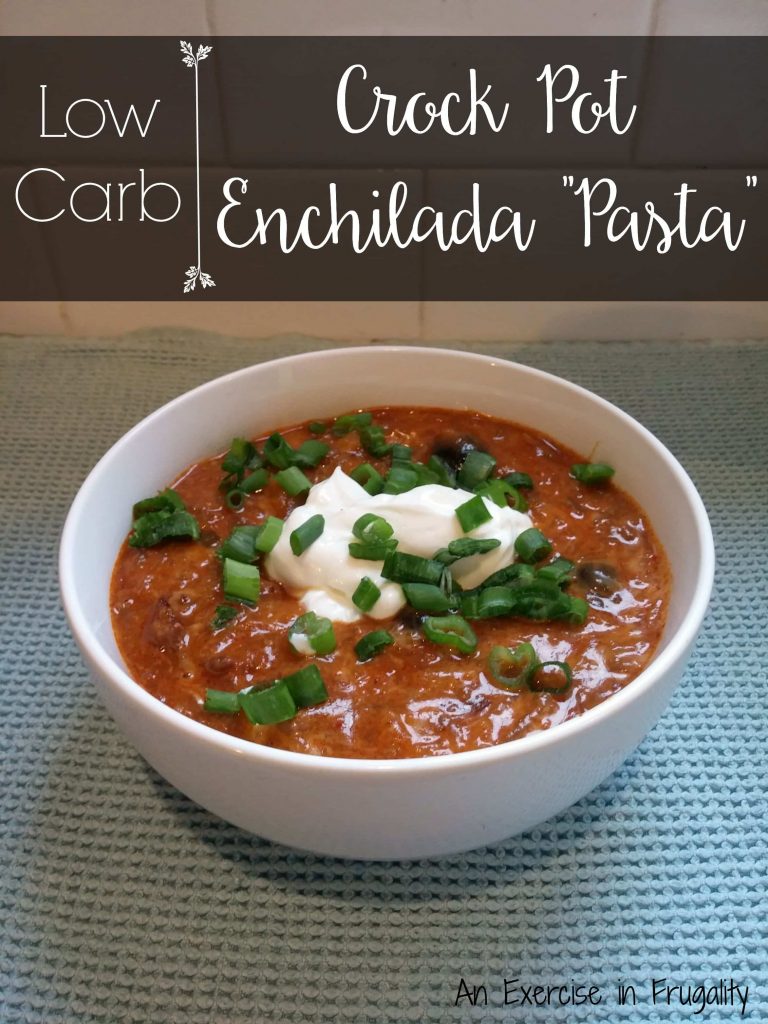 My husband and I are getting back on the low carb bandwagon. I won't profess the benefits of a low carb lifestyle to you (but seriously, you should read about it!) but if you're looking for a fabulous low carb dish (or just a way to get your kids to secretly eat more vegetables) then you're in for a real treat. This Low Carb Enchilada Pasta dish is perfectly delicious-a filling comfort food simple enough for a weeknight meal, but tasty enough that you could serve it to company! If you liked my Cheesy Low Carb Pizza Casserole, then you're going to LOVE this!
We enjoy Mexican food, but unfortunately while avoiding carbohydrates that means no rice, beans or tortillas. We just get a little creative and then we can enjoy our favorite meals without the carb load. This dish is based off the One Pan Enchilada Pasta that has become very popular on Pinterest. I've taken the dish, modified it to make it low carb AND slow cooker/crock pot friendly. It uses our favorite pasta substitute, spaghetti squash in place of the starchy pasta called for in the original recipe (which by the way, is delicious as written if you're not watching your carb count!)
You can throw together the ingredients in a few minutes, toss in your crock pot, and a few hours later you have a hearty, delicious meal (and one batch of this makes a LOT so there's plenty of leftovers to freeze for lunches!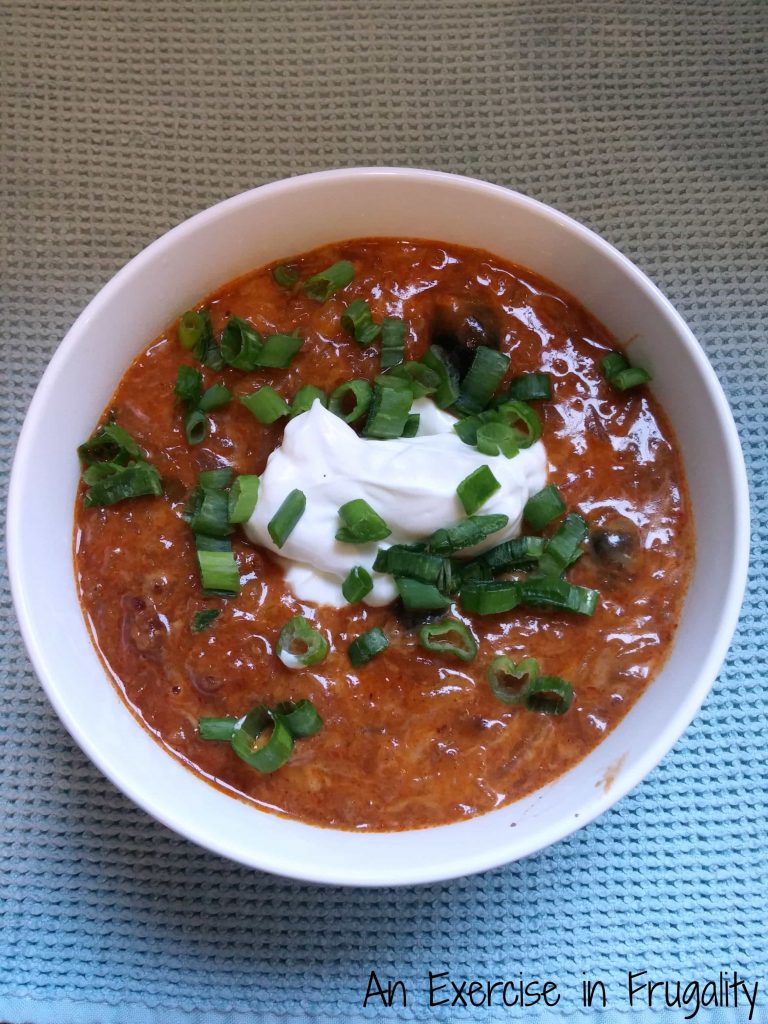 Adapted from Number 2 Pencil
Low Carb Crock Pot Enchilada "Pasta"
Delicious Low Carb Crock-Pot Enchilada Pasta is the perfect alternative to traditional enchiladas when you're trying to eat keto.
Ingredients
2 cloves of garlic-minced
1 onion-diced
2 envelopes taco seasoning
2 lbs ground beef (or ground turkey)
1 cup chicken broth
1 19oz can enchilada sauce
1 spaghetti squash
2 c shredded cheddar or Colby Jack cheese
2 4oz cans diced green chiles
1 can black olives
green onions
cilantro (optional, for garnish)
sour cream
Instructions
Brown the meat in a frying pan just until no longer pink.
Add taco packets to the meat-do not add water if the packet calls for it.
In a large crock pot, dump the enchilada sauce, chicken broth, chiles minced garlic, diced onions and prepared taco meat and mix well.
Cut the spaghetti squash in half horizontally. Place each half open-end down in the sauce mixture.
Cook the squash and sauce on low 4-5 hours depending on the size of your squash. The squash is cooked when you can easily "shred" the squash into spaghetti-like strands.
Once all the squash is shredded and mixed into the sauce, add the cheese and stir well. Add the olives and stir.
Top with sour cream, green onions and optional cilantro.
https://anexerciseinfrugality.com/low-carb-crock-pot-enchilada-pasta/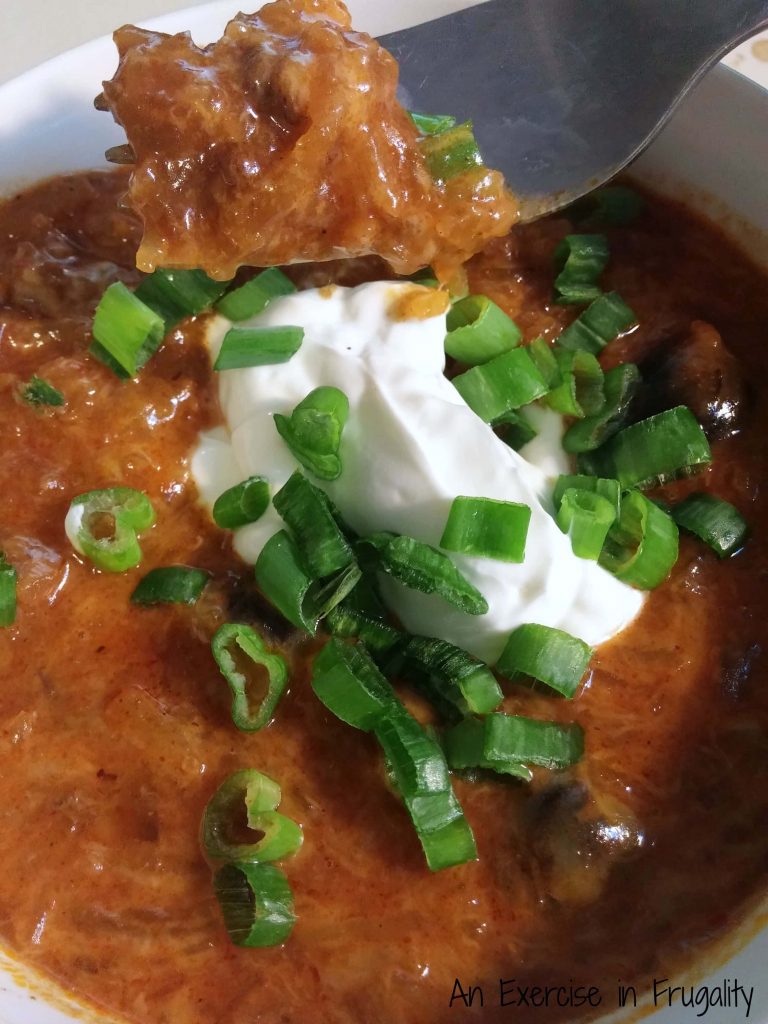 I would love to hear what you think of this low carb enchilada pasta adaptation. Its quickly become a favorite at our house! You could even make this with leftover shredded chicken in place of the beef. It's a great way to remove pasta/grain/carbohydrates from your diet…and get a heaping helping of veggies without a lot of fuss!
Looking for more Low Carb Recipes? Check out my Cheesy Low Carb Pizza Casserole, Low Carb "Fathead" Pizza Dippers and Low Carb Buffalo Shrimp Salad
What do you think of this Low Carb Enchilada Pasta?
DISCLOSURE: I may be an affiliate for some products that I recommend. For more information please check out my Disclosure Statement.