The reviewer has been compensated in the form of a Best Buy Gift Card and/or received the product/service at a reduced price or for free.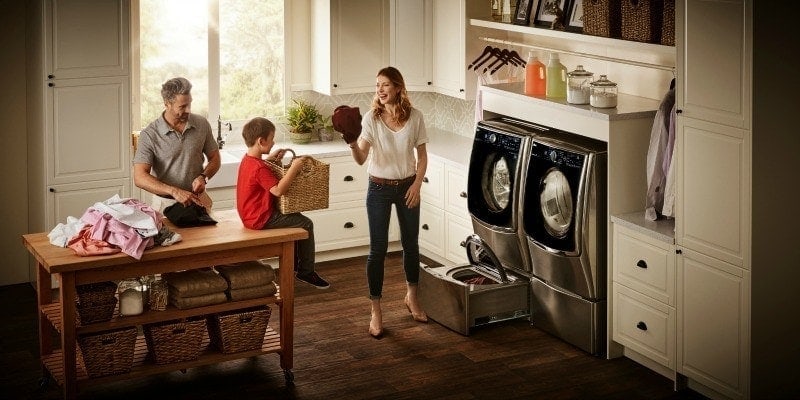 If you're in the market for a new washer and dryer, I've got some excellent news for you! You can save up to $500 on LG laundry systems RIGHT NOW. Read on to find out how.
Whether you need a large capacity washer for those big jobs, or like to run itty bitty loads for the stuff that can't wait, like your little one's favorite blankie perhaps? Or your husband's stinky gym clothes? Or the brand new blouse you just spilled red wine on? The LG Twin Wash system is the best of both worlds! There's a full size, jumbo capacity washing machine, with a pint size "SideKick" Pedastal washer for those little loads. They can be used together or separate! Totally genius if you're into saving water, saving time, saving money, or all three!
The cleaning performance is outstanding. Did you know that more households have chosen LG for laundry than any other brand? I didn't! Personally, I can't wait to get a set myself. We're living in an apartment right now and we are stuck with the old style top loader with an agitator. Boo! It's no good for our clothes and it's very inefficient. We are looking forward to next spring when our lease is up so we can buy a new home and get our hands on this LG Twin Wash system.
Fortunately for you guys that are ready to buy NOW, there's a special bonus going on at Best Buy where you can get up to $500 off a LG laundry solution for your home (whether it's the Twin Wash or any other LG system) now through 4/25/18. Unfortunately for me, this deal will be long gone by the time I'm ready to buy. *sigh* You guys though, are lucky because this is a sweet deal!
It's posts like this that remind me I'm an adult. I never thought the day would come in my life where I would be excited by a washer and dryer, but lo and behold, that day hath come. But let's be real, wouldn't YOU be excited to have this Twin Wash system? I thought so.
Practically no one loves doing laundry, but if you are planning to upgrade or replace your washer and/or dryer, why not get ones that make the drudgery of doing laundry a little less awful and a little more awesome and helps clothes last longer?
What's your favorite feature of the new LG Twin Wash System?