[PP]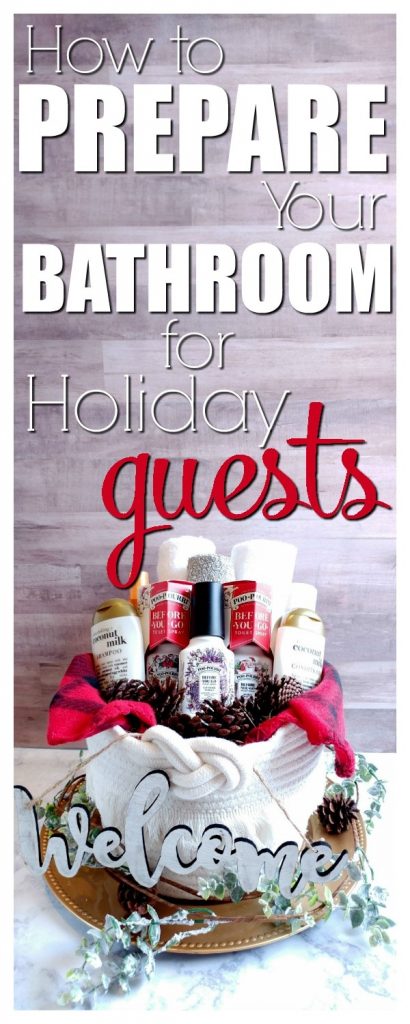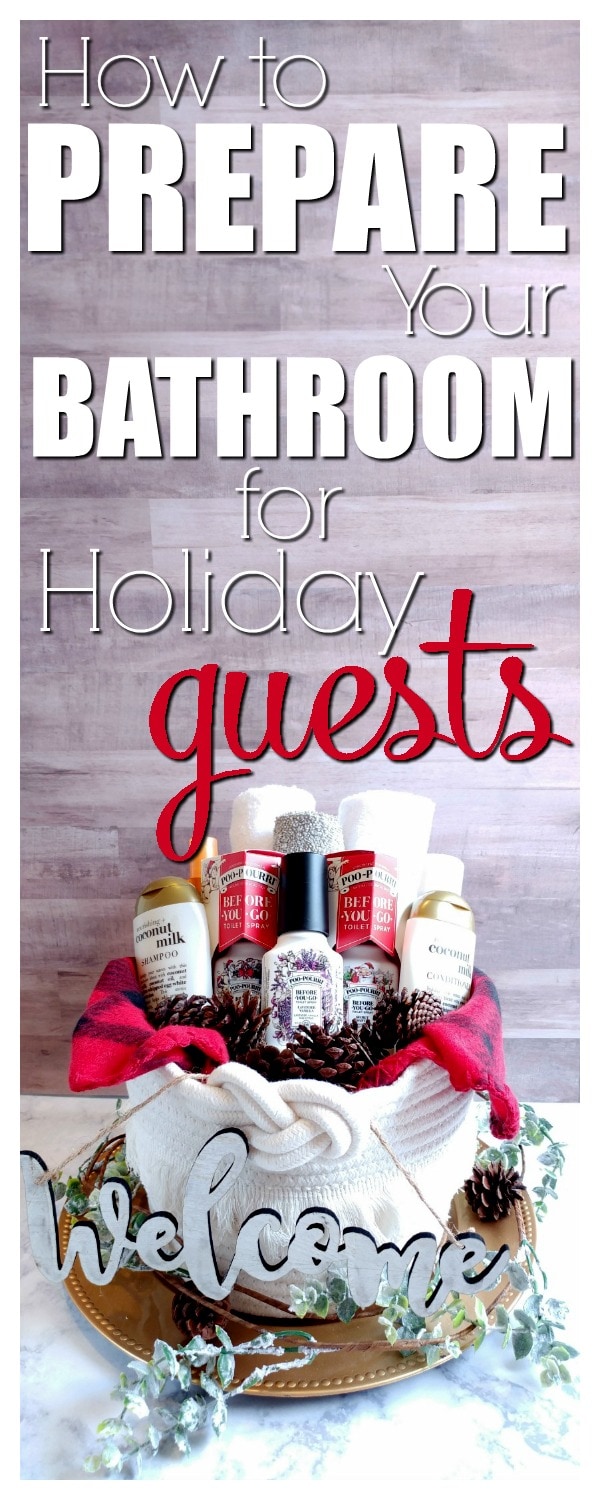 When Mr. Frugality and I first moved in together, our rental townhome had two bathrooms. One on either side of the home. We weren't married yet, and still had the whole "illusion" going on that no one ever does anything stinky or gross in the bathroom. Ah, to be young and dating again.
Then we moved into our next apartment. Suddenly we had only ONE bathroom. While we weren't leaving the door open or barging in on each other, somehow that mystique was gone. There was no hiding anything anymore.
We bought our first house in Oregon and it was back to two bathrooms again, but when we moved back to Minnesota to our current apartment it was back to reality. Here we are, once again with only one bathroom. There's no hiding…everything is out in the open. And the worst part is, if you stink up the bathroom, it's right in between the bedroom and the living room, so there's really no escape.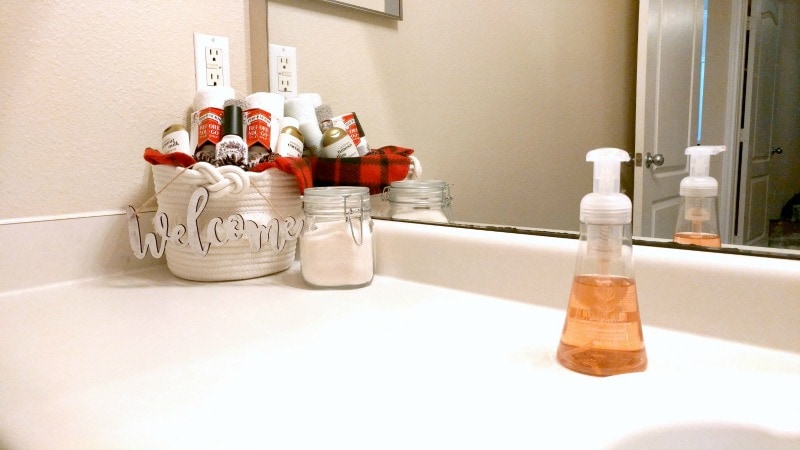 Now let's imagine we have holiday guests. Whether overnight guests or just friends over for a party, one bathroom is TOUGH. Not only logistically (how exactly do you stand in line for a bathroom in a tiny apartment?) but also…well…aromatically?
Because let's face it, everyone goes number 2. While most people don't like to talk about it, NO ONE likes to smell it. So how do you prepare your bathroom for holiday guests, especially when you only have ONE bathroom for everyone to share?
Let's put the poo aside for a moment, shall we? What's the one thing you want your guests to feel when they step into your home? Comfortable, right? What's a surefire way to make guests feel uncomfortable? Having to awkwardly ask for things like toilet paper, air freshener, feminine hygiene products, etc.
An easy way to make your guests feel welcome and comfortable is to have a well-stocked restroom and a cute little guest welcome basket. It takes just minutes to put together, and chances are you have everything you need already in your cabinets. Save your guests from awkward fumbling with these simple tips.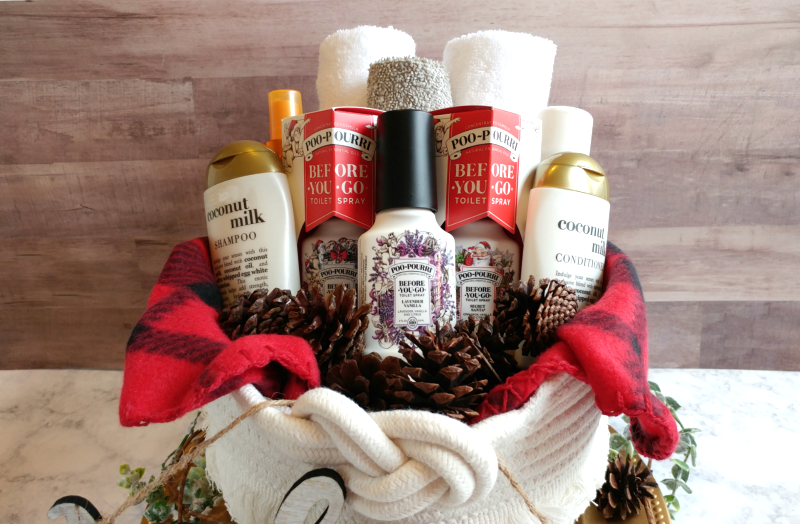 (PS: You can hover over the image above to purchase your own Poo~Pourri from the Bed Bath and Beyond Website.)
How to Prepare Your Bathroom for Holiday Guests:
Gather up some personal care essentials. What you put in this basket can vary depending on who's coming over and how long they are staying, but things I like to include are:
soaps
shampoo/conditioner
toothpaste
mouthwash
hand towels
tampons/pads
q-tips
hairspray
Poo~Pourri
Assemble in the basket, embellish with ribbons or bows if you choose and you're done! Easy peasy!
If you've never used Poo~Pourri before, it's a Before-You-Go® Toilet Spray. Rather than spaying it in the air after you do your business, it gets sprayed on the water in the toilet bowl first. Then when you go, odors are trapped below the surface and flushed before anything hits the air.
This is great for guests because traditional air fresheners are full of chemicals, and many people have allergies and asthma. Poo~Pourri is made from all natural essential oils, there's no aerosols or chemicals either.
This is something we ALWAYS have in our bathroom, even when we don't have guests. In fact, I'm pretty sure Poo~Pourri has saved my marriage on more than one occasion. Okay, maybe that is a slight exaggeration, but when sharing ONE bathroom, you gotta find something that helps keep the mystery alive, am I right? If nothing else, just out of courtesy for everyone else who has to use that bathroom, guests or not.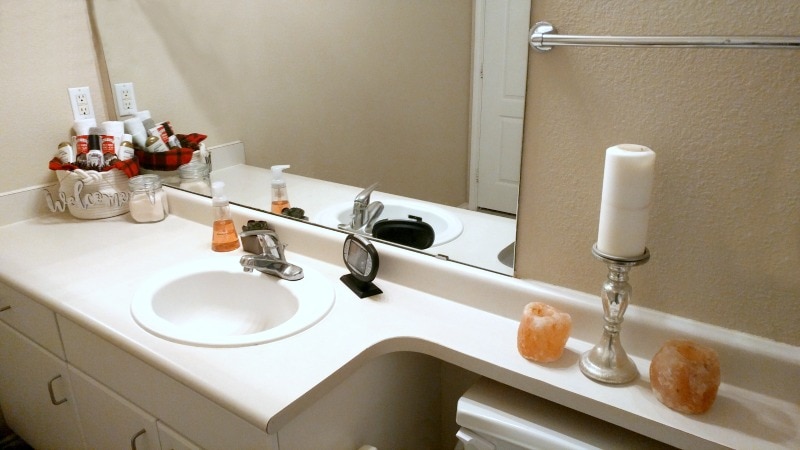 There's even new holiday scents too. We've always used original, but when I went to Bed Bath and Beyond I stumbled upon a display of a bunch of new scents, and I knew I needed to stock up and try some of these new scents! I grabbed the Lavender Vanilla Citrus as well as the Secret Santa (cinnamon-vanilla-citrus) and Merry Spritzmas® (peppermint-vanilla-citrus) varieties. You can see in the basket above I got the Holiday Pull Apart Gift Set which includes the Secret Santa and Merry Spritzmas®scents. What's neat is that the boxes separate out so you can gift them together or separately!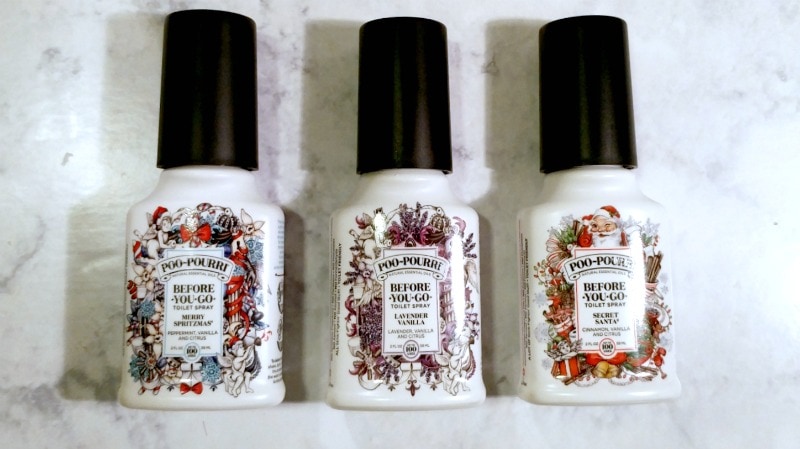 These would make a cute gift for your guests to take home too! They even have the small travel sizes if your guests are going home by plane, or to keep in your desk at work. The same rules of decency apply there too!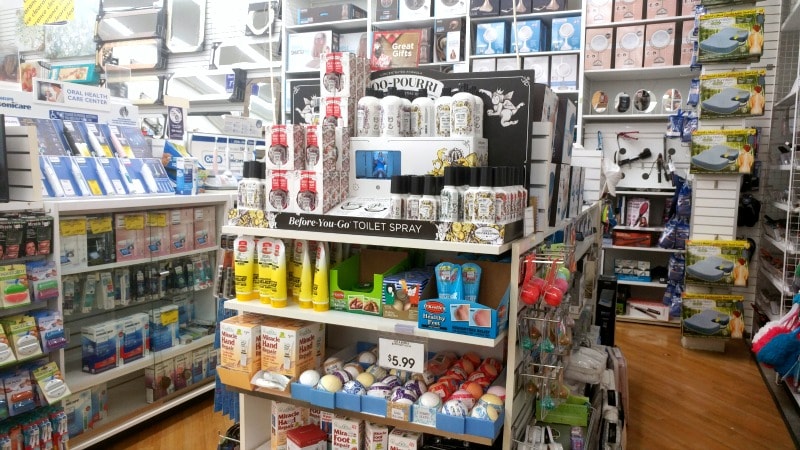 These are great because the scent isn't overpowering-it doesn't scream "SOMEONE POOED IN HERE" like those aerosol air fresheners do. Definitely a better choice for your guests!
Aside from the basket, you should also make sure your bathroom is stocked with essentials like facial tissue, toilet paper, bath and hand towels in easily accessible places. If you can't easily leave them visible, be sure to tell your guests where they are, or make a little sign. No one wants to interrupt the party to ask where they can find more toilet paper!
With a well-stocked bathroom, you'll be ready to dazzle your holiday guests and make them feel right at home! Keep it simple, or dress it up, the choice is up to you.
Use these simple tips, and you can prepare your bathroom for holiday guests in no time. Oh, and don't forget to look for special coupons on Bed Bath and Beyond's website for great savings on Poo~Pourri or anything else you need for your welcome guest basket.
What's your favorite way to prepare for holiday guests?