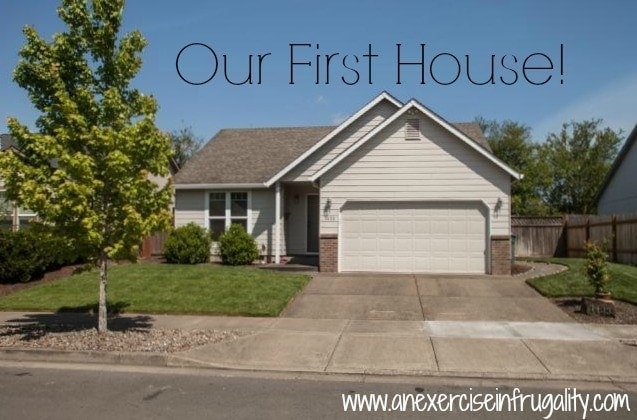 First of all, I just want to say how sorry I am. It's been a really long time…like…really long…since I posted last. Things have been a little hectic.
As I mentioned before, we bought a house.
I wish it were that simple.
Our offer was accepted on May 24th.
We moved in July 31st.
I'll get to why in a moment…
When we started our house hunting process, it was almost two years ago. We knew that coming up with 3.5% down was going to be a challenge for us at the time, so we did a little research and found out that our local county offered first time home buyer down payment assistance. The process required a first time home buyer series of classes, which we eagerly took, only to find out our credit was still not high enough to qualify for an FHA loan. We were devastated, but determined to fix our credit.
Shortly after that class, Andrew proposed. We had been paying off debt and working on our credit, and all the while, this sneaky man had been stashing cash for a ring. We paid for our own wedding (which I've talked about in my $5k Wedding Wednesday posts) and so that again put house buying on hold, since our money was going to the wedding rather than restoring our credit.
For our wedding, we received a large amount of generous cash gifts from our friends and family. We put this money in the bank, and declared that as soon as our credit was high enough, this little nest egg was going to be our down payment fund (since the down payment assistance expired after one year and we were no longer looking in the county where the assistance was valid). We were so excited to purchase a house in Minnesota.
And then the phone call came.
Andrew's father was going to be leaving his job as an IT manager of a small but successful accounting firm in Salem, Oregon. He knew exactly who he wanted as his replacement….Andrew!
While moving to Oregon certainly wasn't on my top ten list…heck it wasn't even on my radar…I knew that this move was exactly what my new husband's career needed. He'd been laid off in the IT field several times before moving to Minnesota and meeting yours truly, so he was working in a job that was not really in his field. This meant not only a modest raise, but more importantly the experience he desperately needed.
It was a no brainer. I knew that we had to make this decision for the good of our future family. So we packed up our life in Minnesota, and stuffed it into a truck bound for Oregon.
And subsequently drained our bank account getting there. Yep, that nice little nest egg was gone. Poof. Between a $1200 truck rental, almost $1000 in gas, a deposit and first month's rent for our rental house and all the essentials…we were plum cleaned out.
We quickly balanced things out, and continued restoring our credit. One day, after a few months I checked our credit scores on a whim and realized they had shot up from all the work we'd done. We would finally qualify for a mortgage! We were so ecstatic that we immediately started searching for down payment assistance programs, only to find out there were none with any available funding in our area. Not to be dismayed, we thought we'd start saving and buy in another year or two. Then during some research, I discovered the USDA Rural Development loans. This program offers 0% down payment mortgages to people buying homes in qualified "rural" areas. While it took a LONG time to process (nearly 30 BUSINESS days) it saved us from having to come up with a down payment, which has allowed us to purchase a home much sooner than we would have normally. The process was fairly simple, just takes a long time during their busy season (some folks say it was quick for them, just depends).
Because of that program, we were able to find an adorable house in our price range in a "rural" area that we love. I say "rural" because its a small town, but its not like we live miles away from the nearest neighbor. It's a subdivision in a small, quaint town. Just far enough from all the chaos, but close enough where my husband has a 20 minute commute to work and I can still get into a bigger town with relative ease.
We originally planned to close June 30th, but because of the delay in processing through the USDA, we pushed our closing date back to July 30th.
My family threw my grandmother a surprise 75th birthday party in New York that my husband and I planned to attend, but it meant flying back home the day before our closing. No big deal…until the morning before we were supposed to leave, we got a call from our lender saying that they needed to close a day early because of the seller's lender processing another month's mortgage payment. So that meant flying from New York to Oregon, getting picked up at the airport (with about 2 hours of sleep) and racing to the house to do our final walk-through, then racing back to the title company to do our closing. We then had one day to finish packing, and then our movers showed up the following day.
Needless to say, I needed some time to recuperate from all this craziness!
I cannot even begin to tell you how thrilled we are. Its been a whirlwind of an experience after a couple years of waiting, but we couldn't be happier at this point. Everything we've struggled with, every sacrifice we made has come to fruition in the form of a beautiful home of our very own!
Well…it WILL be beautiful…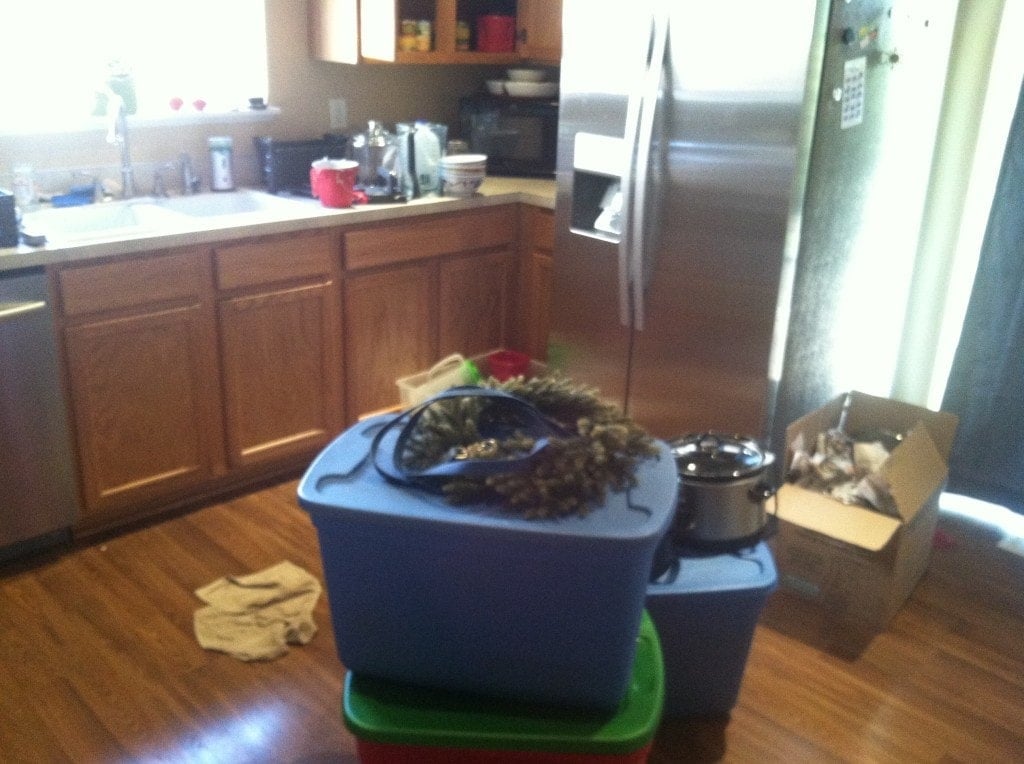 Now if I could just get everything unpacked, we'd be in good shape….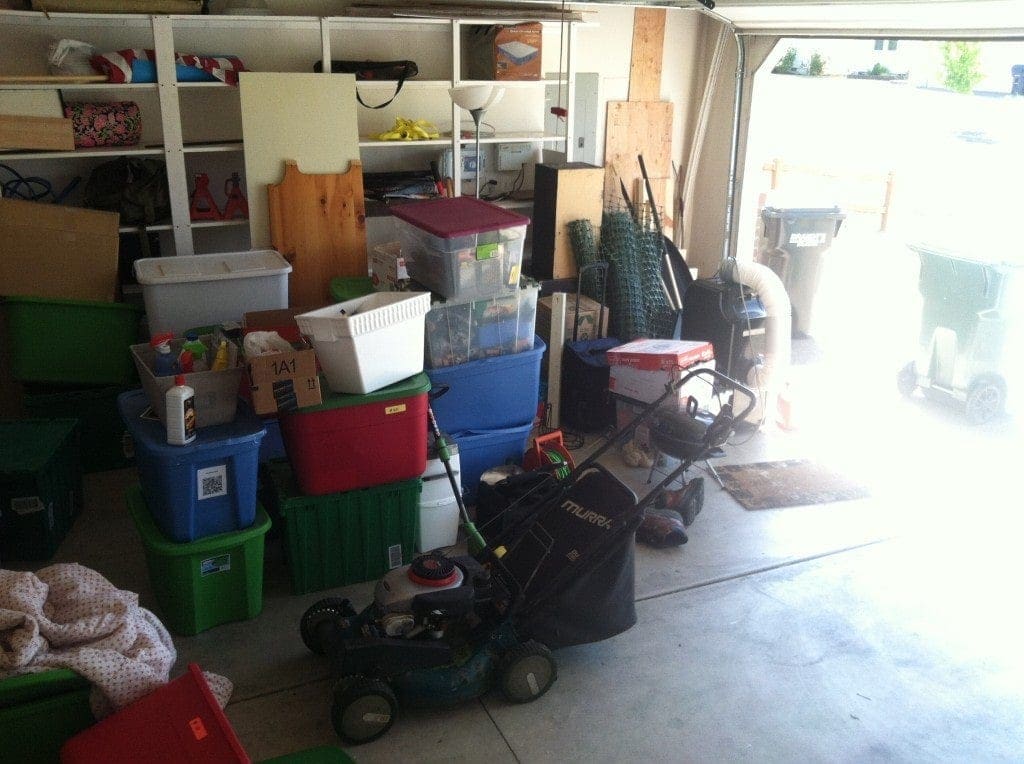 So anyway my loves, I haven't forgotten about you. I promise lots of great things to come in the not-too-distant future, some DIY projects, some design ideas, and of course, plenty of frugal fun. Stay tuned for more!
[share]
[disclosure]