What do you do when you love the taste of banana bread but don't have the time or desire to bake banana bread fresh every morning? You make this banana bread overnight oatmeal recipe instead!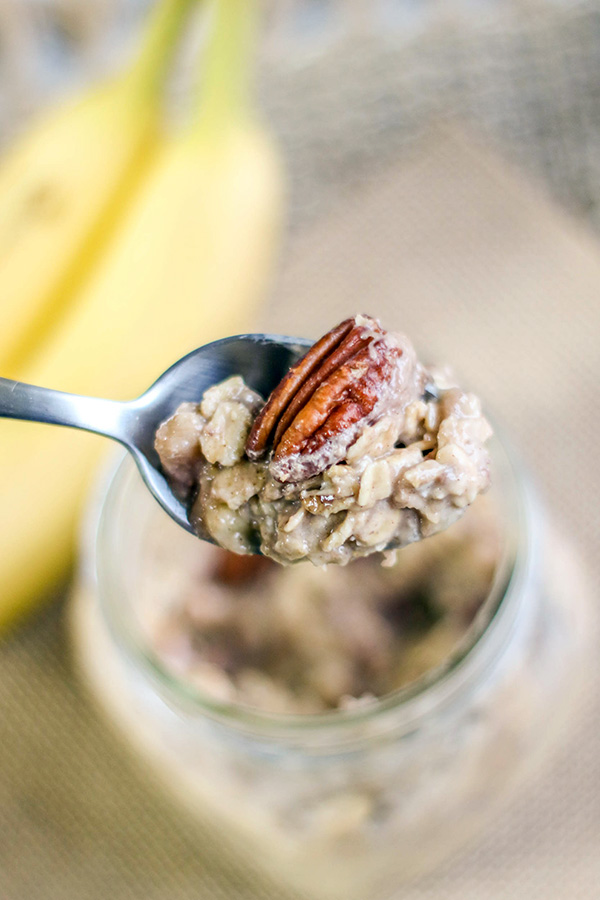 The overnight oats trend has been hot for a while, with SO MANY different varieties available.
And it's no wonder, overnight oatmeal recipes are easy, inexpensive and a deliciously filling way to start your day off on the right foot.
For a quick and tasty breakfast, check out this banana bread overnight oatmeal recipe!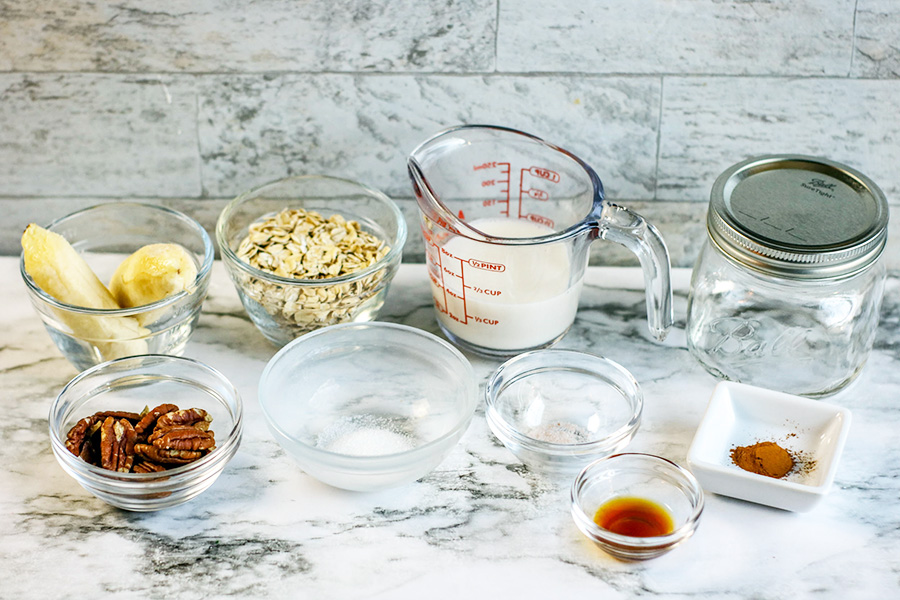 Is this overnight oatmeal recipe healthy?
In general, yes! But of course like anything else, not all overnight oatmeal recipes are created equally.
You'll want to check the recipe you're using to see how much added sugar and other junk is in it. Like anything else if you start adding a bunch of sugar or chocolate or crazy stuff, it's going to be less healthy.
You can also swap out sugar in most recipes for your own preferred sweetener for a sugar-free version.
Are overnight oats vegan?
This is also going to vary from recipe to recipe but you can make them vegan!
This particular banana bread overnight oatmeal recipe IS vegan, but not all recipes are, so make sure you check the ingredients.
What kind of oats are used for overnight oatmeal recipes?
Definitely make sure you get the right kind! Raw, rolled oats are best for overnight oatmeal recipes.

You can also use steel cut oats, but they will be chewier and more dense than rolled oats.
DO NOT use instant oats when making overnight oats. They basically dissolve into mushy nothing and are not great. Plus instant oats (the flavored kind) tend to be loaded with extra sugar.
Are overnight oats supposed to be cold or hot?
Whatever you prefer! They are delicious right out of the fridge, but if you need a hot breakfast on a cold winter morning heat yours up for a belly-warming way to start your day!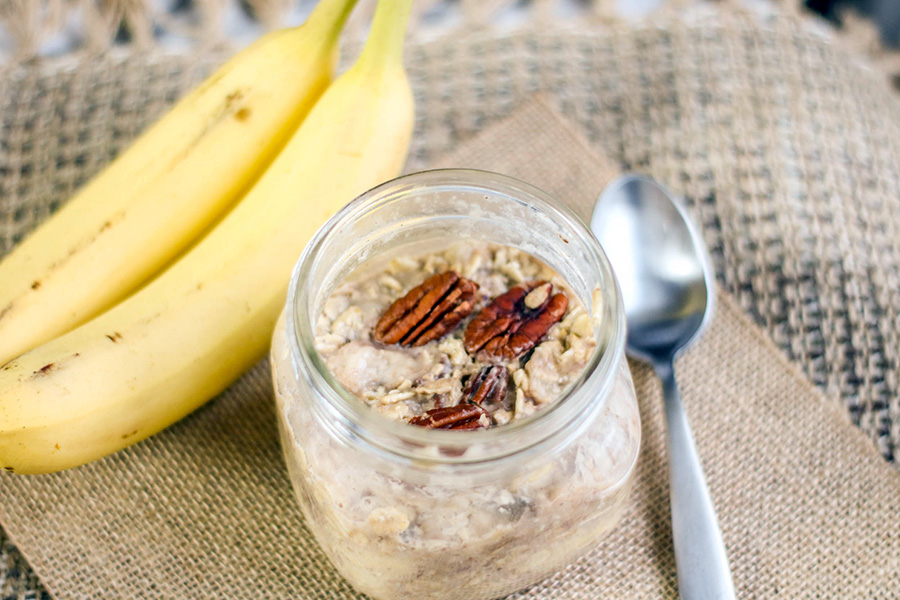 How do you make overnight oatmeal?
It's SUPER easy. No cooking involved, just time.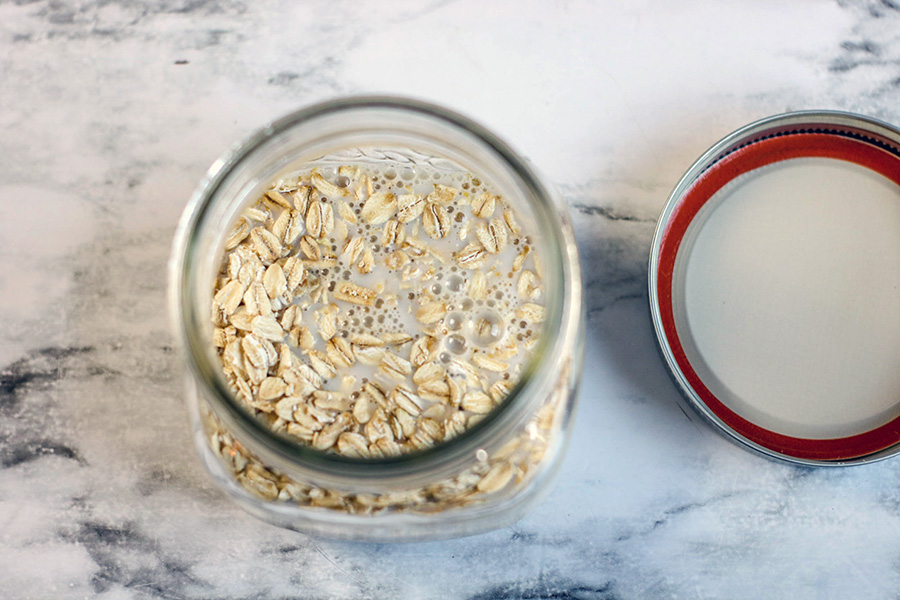 You mix in all the ingredients into a pint jar or another container. Then pop in the fridge overnight!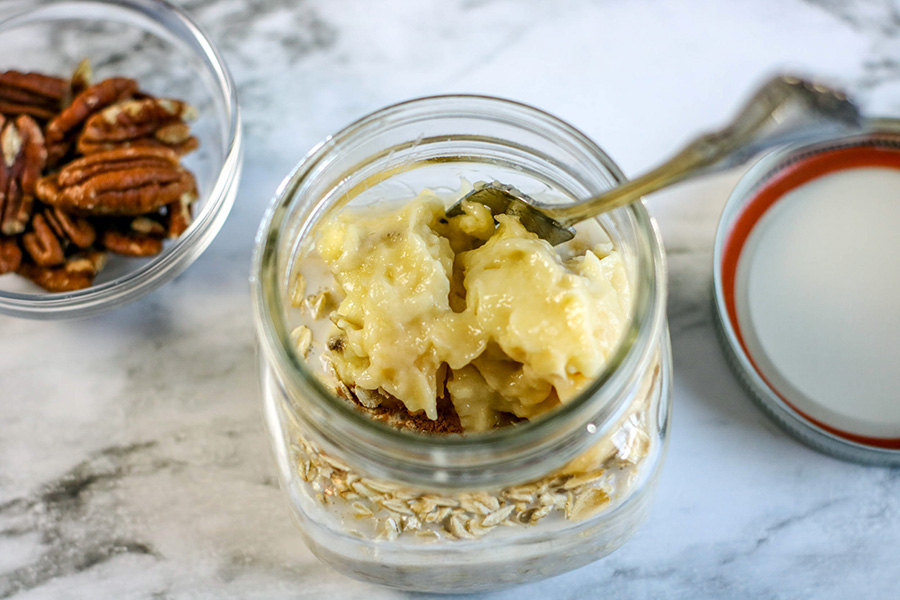 Pro tip: you can experiment with leaving the nuts out, and adding them as a topping the next morning.
Otherwise they'll get a bit more chewy. If you like them crisp, just throw them on in the morning before digging in.
So good.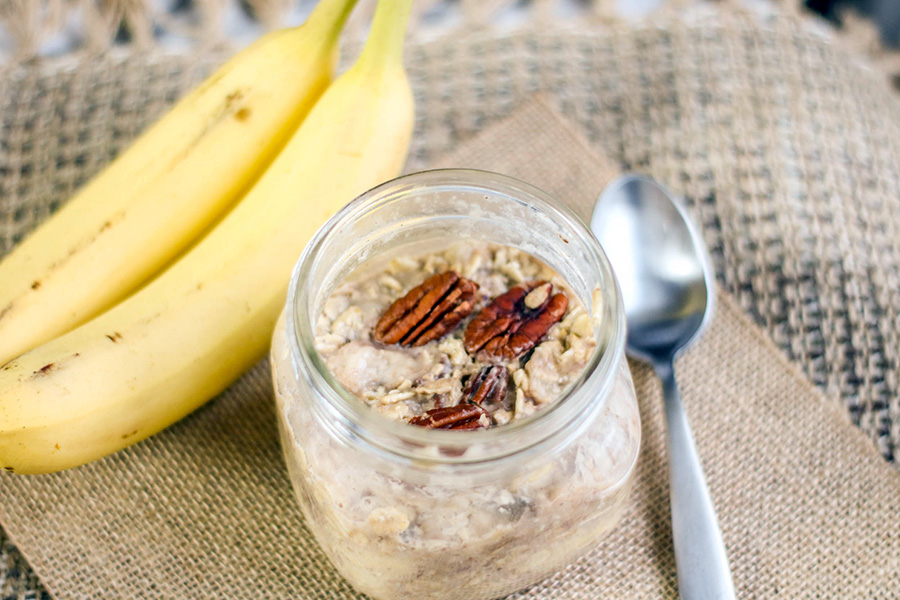 Give it a try and let me know what you think!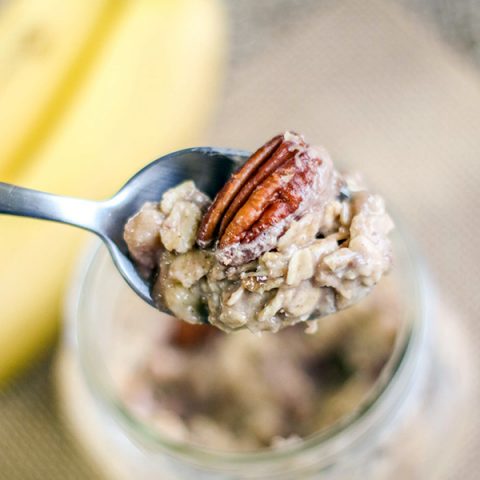 Banana Bread Overnight Oatmeal Recipe
Total Time:
8 hours
5 minutes
This delicious banana bread overnight oatmeal recipe is a filling, low sugar way to start your day! Excellent hot or cold, so you can enjoy the nutty, cinnamon-y taste banana bread all year long!
Ingredients
½ cup old fashioned rolled oats
½ cup almond milk*
⅛ teaspoon mineral salt
1 teaspoon monkfruit sweetener*
1 small ripe banana, mashed
½ teaspoon vanilla extract
½ teaspoon ground cinnamon
1 tablespoon coarsely chopped pecans *
Instructions
Mix all ingredients together in a pint size jar with lid or other small container and seal tightly.
Place in the refrigerator overnight.
Eat cold or remove the lid and microwave for about 1 minute to eat warm.
Notes
* the type of milk, sweetener and nut can be altered to meet your dietary needs or taste preferences! Keep in mind that substitutions will alter the nutrition facts.
Nutrition Information:
Yield:

1
Serving Size:

1
Amount Per Serving:
Calories:

330
Total Fat:

9g
Saturated Fat:

1g
Trans Fat:

0g
Unsaturated Fat:

7g
Cholesterol:

0mg
Sodium:

262mg
Carbohydrates:

57g
Net Carbohydrates:

0g
Fiber:

8g
Sugar:

17g
Sugar Alcohols:

0g
Protein:

8g