STOP what you are doing RIGHT NOW and get ready for 11 life-changing avocado recipes. Please? Because these avocado recipes are so good you are going to kick yourself for not discovering them sooner.

Today I wanted to share with you some of these avocado recipes. Some are for breakfast, some are for dinner, some are even desserts but one thing they all have in common is that they are DELISH.
Well, and that they use avocados. There's that too obviously.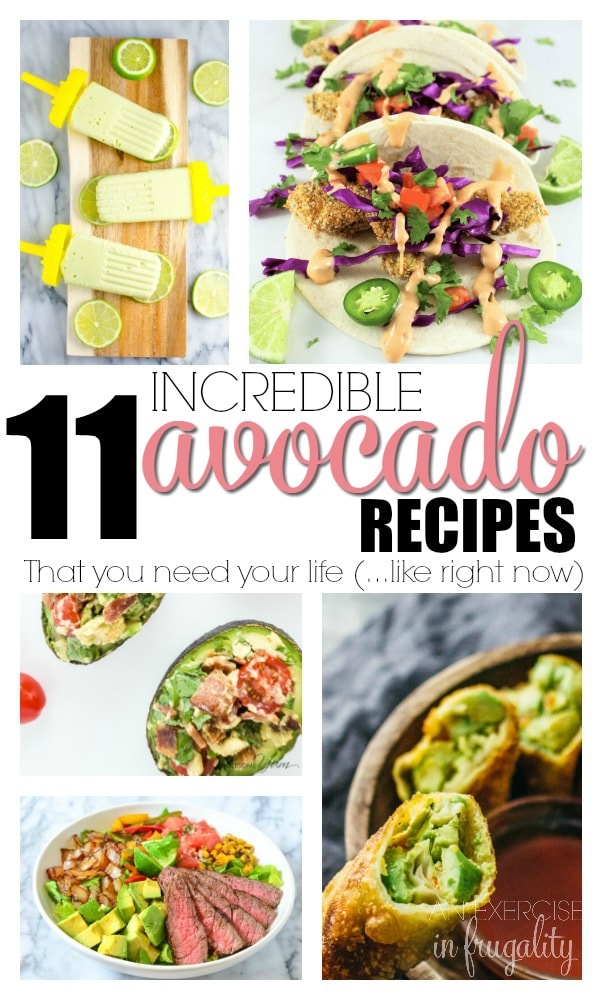 These are some of our new favorite avocado recipes, plus a few we're excited to try.
I can't even begin to tell you how many avocados I have had to throw away in my lifetime. The number is painful to admit as the author of a frugal lifestyle blog. It's almost sacrilege!
Next time you have one and you're looking for some easy avocado recipes that are incredibly delicious, I've got you covered.
Don't forget to pin this handy list of amazing avocado recipes for later! You can make everything from avocado desserts, avocado toast, avocado dips and more, and it's all right here.
So grab your avocados, hold them close until they are the perfect ripeness, and then let's get cooking!
What are the benefits of avocado?
Avocados are rich in potassium (more than bananas!) and are full of healthy fats. Avocados are also rich in oleic acid which has been linked to brain health and cognition.
They are packed with nutrients and anti-oxidants that help with heart health, cancer prevention and lower cholesterol and triglycerides.
If that isn't enough, they are also loaded with fiber to help keep you full so you're less likely to overeat less healthy things.
They are pretty much the perfect health food!
What can I make with an avocado?
SO MANY THINGS.
Seriously. Avocados are so versatile. You can use them in both sweet and savory recipes.
Guacamole is amazing but it's not the only thing you can make with avocados (though if you need a good guacamole recipe, I've got you covered below).
Is avocado good for breakfast?
YOU BET. You can put it in a smoothie, eat it drizzled with honey, or of course, avocado toast. Oh, you need the perfect avocado toast recipe? I've got that for you too. Read on!
Below you'll find some incredible recipes from our friends around the internet. Avocado breakfast recipes, avocado dessert recipes, avocado appetizer recipes and so much more. YUM!
How to eat avocado
Slice carefully into the skin, until you hit the pit. Slide the knife around the entire avocado lengthwise. Then pull the two halves apart. Use a spoon to gently pry the pit out of the fruit and VIOLA!
Now you have a delicious, healthy avocado ready to use in any of these incredible recipes!
Easy Avocado Recipes
DELICIOUS and easy avocado recipes for all occasions. Avocado breakfast recipes to avocado dessert recipes and everything in between. Sweet and savory avocado recipes, and a little something for everyone!