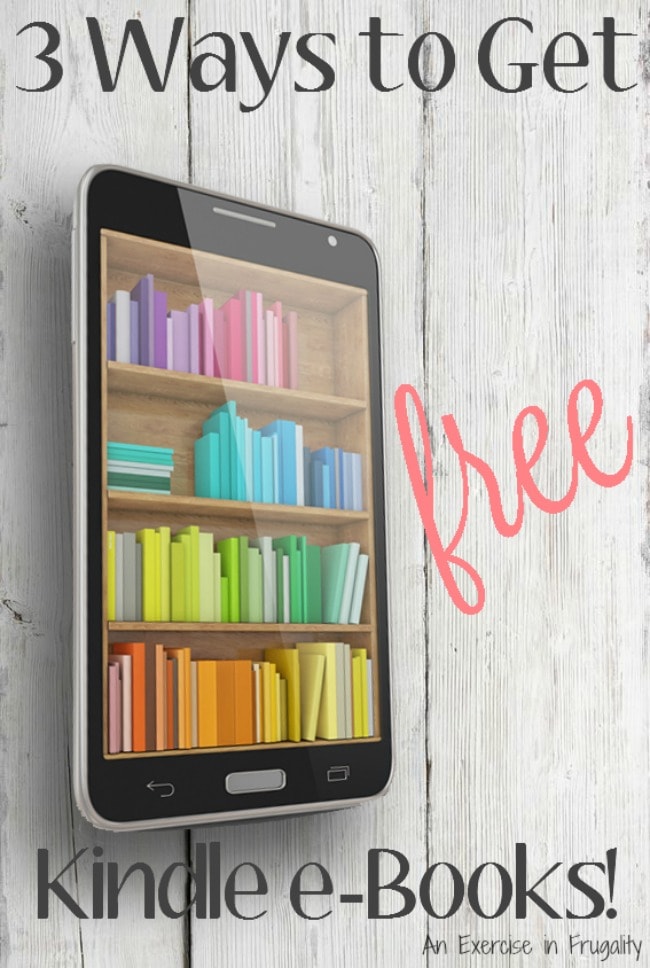 It's no secret that I love to read, but my voracious appetite for reading can get COSTLY if I'm not careful. Some Kindle books will run you $5-10 a piece. While that may not seem like much, when you're counting your pennies it all adds up.
I always wondered why most e-books cost almost as much as (if not MORE than) their paperback counterparts! I get having to pay for the rights and royalties, but how does a digital copy cost the same or more as one that requires printing, binding, shipping, selling, etc? Crazy!
Anyway, I found three ways to get free ebooks that are completely legal, and not shady in any way. I promise there are no repercussions to these methods, in fact ALL of them are Amazon approved! These are little-known programs that can put books on your Kindle (or other devices with the free Kindle app) for free!
Celebrate Amazon Prime Day with free ebooks!
Here's 3+ ways to get free Kindle books:
Method 1: Search in Amazon for "Free Kindle Books"
This may seem obvious, but not everyone knows. Amazon runs daily deals on their Kindle books and prices change all the time. If you watch carefully, and search on their website (or on the Kindle store via your device) you can often find free books this way. Simply search for "free kindle books" and a list will come up-usually with a TON of titles. Don't see anything you like? No problem, check back the next day, as titles are often free one day but not the next! You never know what you'll find. I'm not gonna lie, some are junky, but there's a lot of really great ones too. Authors (especially newer ones) will often make their new book free for a day or two to spark interest and get the buzz going. If you see a title you like, GRAB IT right away, because like I said these deals change all the time and it might not be free the next time you get around to looking! This method is the only method where the e-books you download are yours to keep permanently.
Method 2: Amazon Prime Lending Library
If you have Amazon Prime, you're in luck! If you don't have it, you can sign up here and get a free 30 day trial of Amazon Prime. A Prime membership has many benefits, one of which is the Lending Library. On select books, you can "borrow" one of thousands of free Kindle books per month. You can keep it as long as you want, but you can't borrow another until you "return" it. The book is removed from your device and the new one is loaded on. Simple and free and you don't have to do anything to sign up if you have a Prime membership. Just look for the "borrow for free" button to see if its available on the title you selected. You have to search from your device, and then it will download and you're ready to go. Boom. Free is awesome isn't it?
Method 3: "Borrow" From a Friend
For this method to work, you both have to be Amazon Prime members. Your friend can "send" you the digital version of their purchased books to "borrow" for any length of time. Your friend cannot access the book on their Kindle device until you have "returned" it to them. This is neat if you have a bookworm friend! Once you "return" the book, you will no longer be able to access it on your device. This is especially useful for cases where you only need the book for a short while (like say for a book report) and don't want to purchase the book OR if its a new release that is costly and not available by other methods. It's a great way to save money if your friend and you have similar tastes.
Bonus Method: Check Your Local Library
Many libraries have started offering e-book rentals. Much like a regular library book, they have only so many digital copies of a book. The file is downloaded to your device, and has to be "returned". The difference between this and the Amazon Lending Library is that there's only a set number of copies, and someone may be on a waiting list to use the book after you. Check with your local library to see if they are participating in this free service yet. I have found that while my local library does participate, since the service is new, there aren't as many titles and there is ALWAYS a long wait list but I think as this becomes more commonplace, there will be more copies available and less of a wait!
So that's it-I hope you found this useful. I love to read and if you do too, you have to try these tips for finding free Kindle books. I love finding ways to get things for FREE don't you?
Do you love free Kindle books?!
[share]
[disclosure]