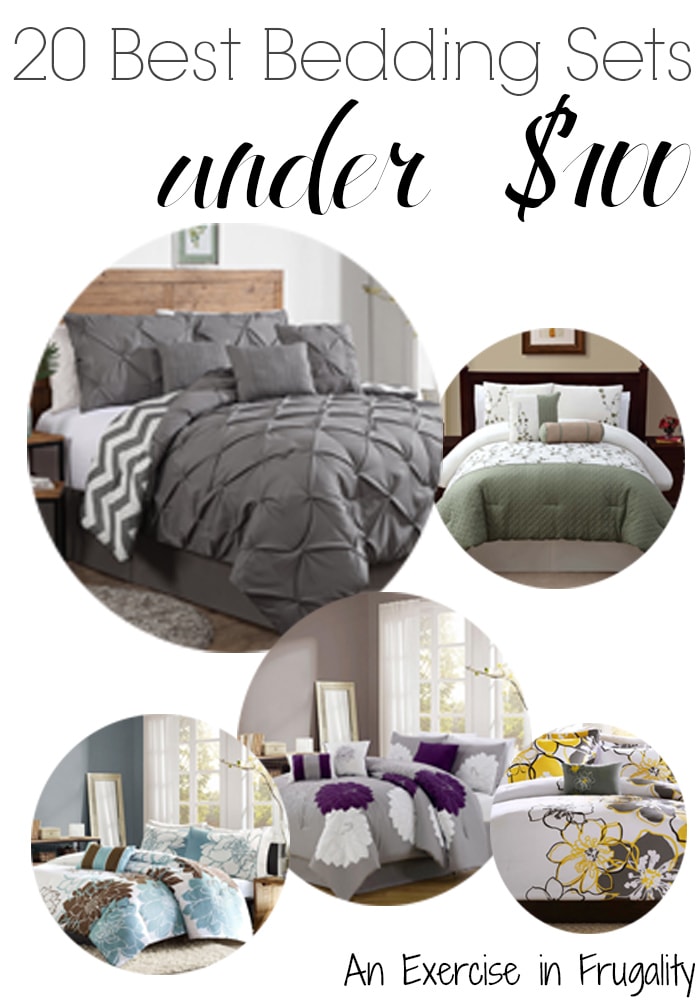 [ad]
One of the hardest things to find on a budget is decent bedding. I have a difficult time with scratchy sheets or ugly comforters. I am currently in the market for a new bedding set for our master bedroom and I thought I would share with you some of the best ones I have found during my search!
Check out these great bedding sets that are all under $100 each. *Note, the prices at the time of this post going live were $100 or less. Prices can change rapidly on Amazon so I suggest if you find one you love, don't wait because the price may go back up!

1. Victoria Classics Sadie 5-Piece Comforter Set, Queen, Green
2. Geneva Home Fashion 7-Piece Ella Pinch Pleat Comforter Set, Queen, Grey
3. 7 Piece Queen Provence Embroidered Comforter Set
4. Allison Comforter Set Size: Queen
5. Home Essence Chloe 4-Piece Bedding Set, Queen
6. Chezmoi Collection 7-Piece 3-Tone Embroidery Comforter Set/Bed-in-a-Bag, Queen
7. 7pc. Microfiber Nautical Themed Comforter set, Navy Blue and White Striped
8. 8 Piece Queen Antheia 100% Cotton Comforter Set
9. Chic Home 8-Piece Ruth Ruffled Comforter Set, Queen, Silver
[mid]
10. 8pc Modern Pleated Comforter Set, Silver and Black Queen / King

11. Victoria Classics Aurora 8-Piece Queen Comforter Set,
12. Chic Home 8-Piece Embroidery Comforter Set

13. 7 Piece Modern Embroidered Comforter Set
14. Home Essence Belleview 5-Piece Comforter Set

15. Modern Living Oxidized Leaf Comforter Set, Queen
16. Victoria Classics Madeira 4-Piece Comforter Set, Queen, Taupe
17. Romance 5-piece Comforter Set

18. Victoria Classics Havoc 6-Piece Comforter Set
19. Victoria Classics Adrienne 7-Piece Comforter Set
20. 9 Piece Queen Abbie Leaves Embroidered Comforter Set
Which bedding sets is your favorite?
[share]
[disclosure]