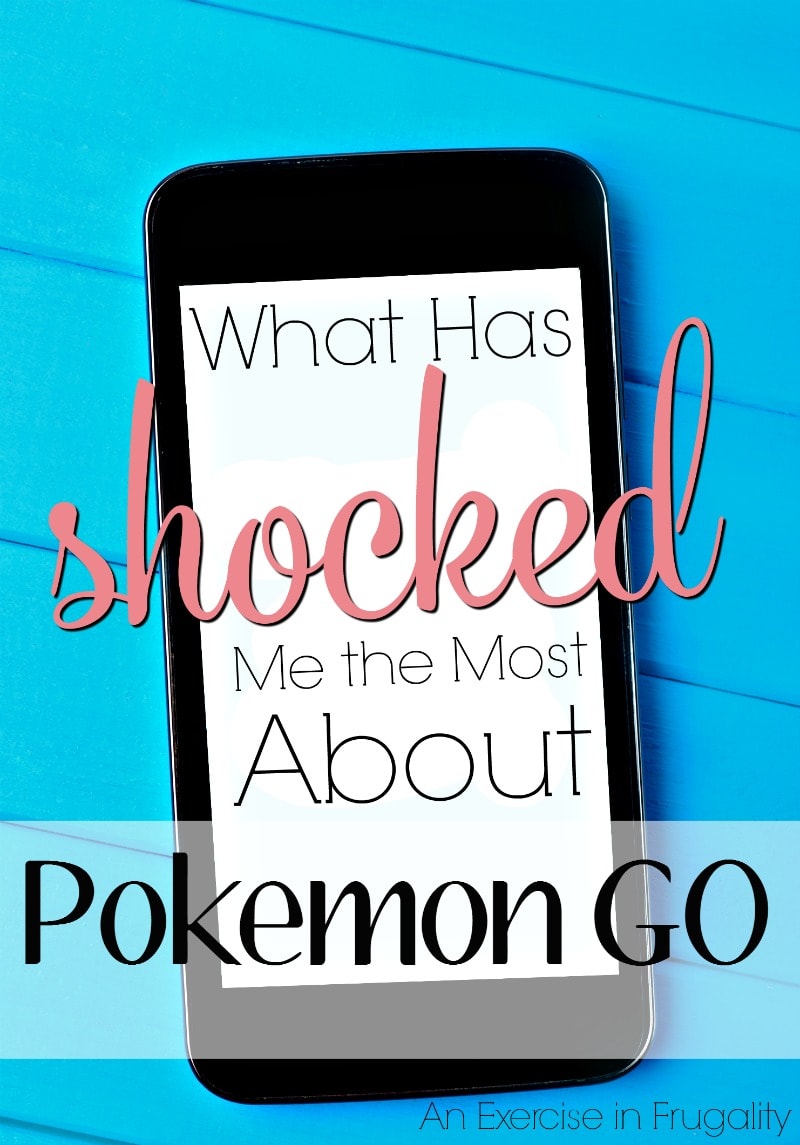 [ad]
Pokémon GO has become a huge overnight sensation. There are millions of people flocking to play this game every single day. When I started hearing about it, I thought it might be kinda cute. The idea of augmented reality intrigued me. Most of you probably don't know this about me, but I am actually a big fan of video games. My husband and I each have an Xbox 360 and a tv. They are side-by-side in our living room, and we play games together most nights. It's our way of relaxing and enjoying an activity together. The one problem we run into, however, is that we have different tastes in games.
My husband tends to prefer sci-fi and fantasy games. He's a fan of games like World of Warcraft, Star Wars: The Old Republic and League of Legends. I on the other hand oddly enough have been more of a first person shooter/adventure type games.
When I heard about Pokémon GO, I downloaded the app. I figured I would see what all the fuss is about, and assumed I would play it for 10 minutes and then delete it (as I tend to do with many games on my phone). It's a free app so nothing to lose, right? I began puttering around with it and right away I thought it was surprisingly fun.
I asked my husband if it was something he would be interested in. We were both a little too old to be interested in Pokémon when they first gained popularity in the late 1990's so I wasn't surprised when his reaction was a little apprehensive. I am always looking for new games for the two of us to play together since we both love games but have very different tastes. He gave me a half-hearted "eh, maybe" and that was the end of the discussion.
A few days later, I was folding laundry in our bedroom. I had been playing Pokémon GO for about a week or so, and only half into it. It was fun, but I felt like it was missing something. I couldn't put my finger on it. My husband walked into the room with a mischievous look on his face and laid down on the bed with exaggerated non-chalance. I knew immediately he was up to something.
"So…" he began wryly, "do you still want me to play Pokémon GO with you?"
I put down what I was folding. "Well, I mean it would be something fun to do together, but I don't want you to start playing it just for me. If you're not interested, it's ok. Why? Are you thinking of downloading it?"
He smirked. "It's possible I already downloaded it…three days ago. And I have been trying to catch up to you."
What a stinker. Since then, we've both been hooked into all things Pokémon GO. Even though we haven't been die hard Pokemon fans since they first debuted, we were still able to get into this fad. We've spent countless hours on long walks together, driving to nearby towns to collect Pokémon and Pokéballs.
What surprised me most about this game, is that it brings people together. Even though it's technically a single player game, (meaning in it's current state, there's no benefit in-game to playing alone or with friends) it still gave me and my husband something fun to do together.
Let's not forget that the game is completely free to play, it promotes being active (I walked two miles the other day around my neighborhood just to hunt for Pokémon while Andrew was at work without even realizing it, and we took a mile and a half walk last night. For us that's a lot!). I was shocked at how we both fell in love with this game so quickly, and how its given us a fun, free hobby to do together. Often when money is tight, we wind up not going out anywhere or doing anything fun. This of course can get repetitive and depressing when you can't afford a date night. Turns out Pokémon GO makes for a FUN and frugal date night! It can even be an activity for your whole family.
There are players of all ages, races, genders and orientations so it really is something that brings together all types of people. While it can be played alone, part of the fun is getting out in your community and meeting other people who also play. We also found it fun that the game has Pokéstops which are usually landmarks or businesses. We have been able to do some exploring in our town and nearby towns and found little landmarks that we would not otherwise have known about! I honestly didn't think I would like Pokémon GO as much as I do. It is the perfect game to get your kiddos off the couch and out of the house. And heck, why don't you join them too? Just be prepared for a LOT of down-time as they work out the bugs and glitches in the game, and as the servers are overloaded with the initial onslaught of new players. Oh, and don't use your Google account to sign up for Pokémon GO without reading this, mmkay?
Do you or your kids play Pokémon GO?
[share]
[disclosure]