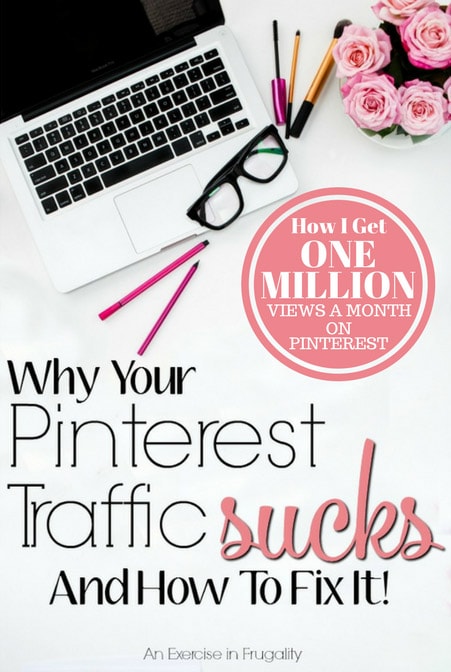 Pinning Perfect- This one's for the bloggers! If you're not a blogger, you might not find this post particularly helpful, but don't fear-I have more great stuff coming later in the week!
When I tell you 95-98% of my traffic comes from Pinterest each month, do you believe me? Chances are that's how you got here too! There's lots to learn about Pinterest, and recently everything we DID know about it was changed. Pinterest is no longer like it's initial incarnation. Sure, there's still boards, and pins (though now they are called saves instead). But believe me, under the hood everything about Pinterest has changed. It's no longer a social media channel. It's no longer about following people. Times they are a changing, and we all need to get on board or get run over!
First of all let me get right to the good stuff. Pinterest really is my number one traffic source every single month. My Pinterest analytics show my pins are seen by 1.1 MILLION PEOPLE every single month. Now that I have your attention, let me say that you can have this too! I don't have a secret group of hackers or a magic wand. But I DO have a secret weapon. I'll get to that later…
So first of all, let me tell you that I can guarantee you that you're using Pinterest wrong. Are you desperately trying to gain followers, wondering why your numbers aren't growing? Are you pinning all over dozens of group boards and not getting anywhere? Yup. I know. I have been there.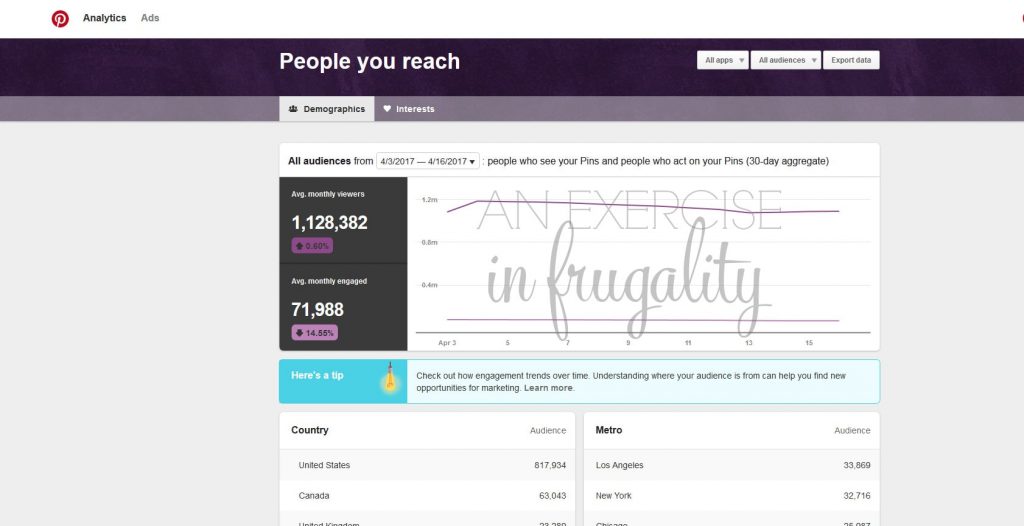 See when Pinterest first started, it was a social media platform. It was all about who followed who. Some people got SUPER lucky as early adopters and blew up to huge followers with little to no effort because Pinterest would recommend accounts to follow. They were pushing pinners to FOLLOW OTHER PINNERS.
Recently the algorithms and the goals shifted. Dramatically. Long story short, Pinterest does not give a hoot about whether you follow people anymore. They want you to follow interests.
But why would a social media platform do that? They wouldn't. That's why you have to stop thinking of Pinterest as a social media platform and start thinking of it as it's newest identity: a visual search engine.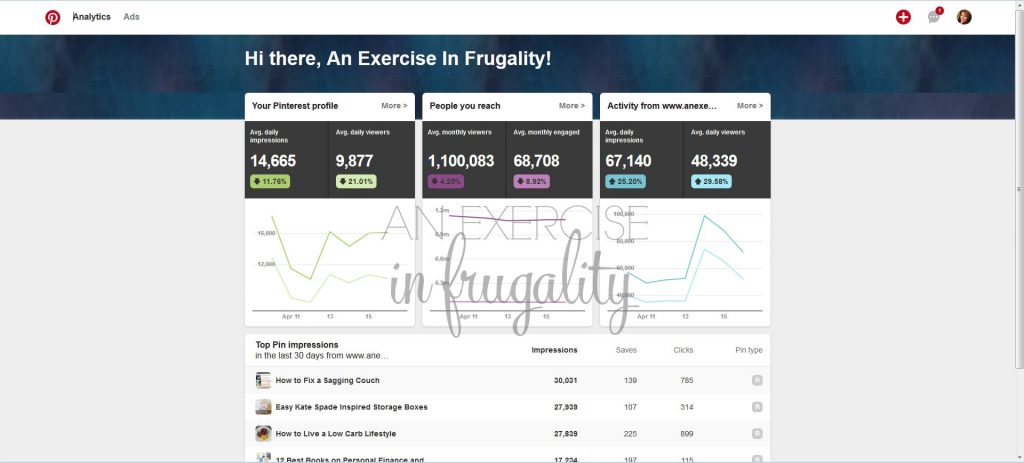 The Pinning Perfect Game Changer
Now that we've established what you're doing wrong, let's talk about how to fix it. A year or two ago, I purchased the Pinning Perfect Pinterest course from Blog Clarity. Back then, the strategy was still social media based (because that's still what Pinterest was at the time). My Pinterest growth took off by leaps and bounds. My traffic skyrocketed, and my number one referrer was Pinterest.
When "the changes" happened with Pinterest's goals and algorithm, Blog Clarity updated the course accordingly. Now it is 100% up to date with the latest details (confirmed directly with the higher ups and Pinterest btw) and it will teach you everything you need to know about optimizing your site, pins and content for Pinterest with the visual search engine premise in mind.
The awesome part about the course is that when you purchase you get LIFETIME UPDATES for free. That means the next huge paradigm shift at Pinterest will never render this course useless. I am still working through the last couple units of the update, and let me just tell you it is absolutely worth every penny. This course has probably paid for itself twice over already!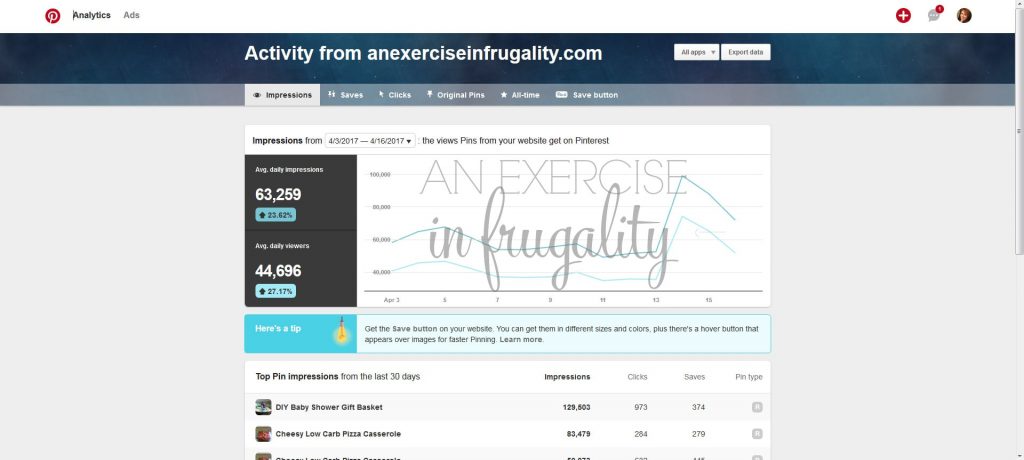 I can't say enough great things about Pinning Perfect. I can confidently say that I owe my success with Pinterest to this course, and frankly even my success as a blogger. This is not one of those fluff courses that teaches you things you already know. This takes REAL, pertinent info and breaks it down into bite size chunks that are easy to understand and execute. Plus you get access to the secret Facebook group where the creators and course alumni are at your constant beck and call to answer any questions, no matter how crazy.
If you're looking to up your Pinterest game, this is one small investment you need to make. At just $149 the course (and it's LIFETIME of free updates) is a total steal. Definitely worth the cost. Frankly, I think they are not charging ENOUGH for this information, but don't tell them I said that!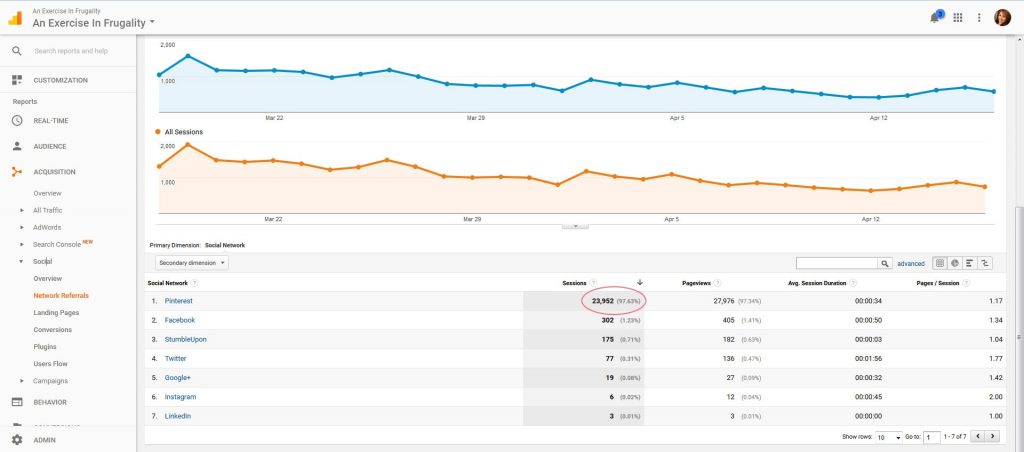 If you don't believe the hype and you think I'm exaggerating (despite the screen shots above), just remember… there's a 97% chance YOU found this post via Pinterest! 😉 And by the way, if you don't already follow me on Pinterest, you are missing out!
**Full disclosure: I purchased Pinning Perfect myself at full price, but I am an affiliate for the course. As always I only endorse products that I have used myself and truly find useful. Please see my disclosure policy for more information. I believe in full transparency so if you have any questions please feel free to ask in the comments.
Have you tried Pinning Perfect by Blog Clarity? Tell us your thoughts!
DISCLOSURE: I may be an affiliate for some products that I recommend. For more information please check out my Disclosure Statement.