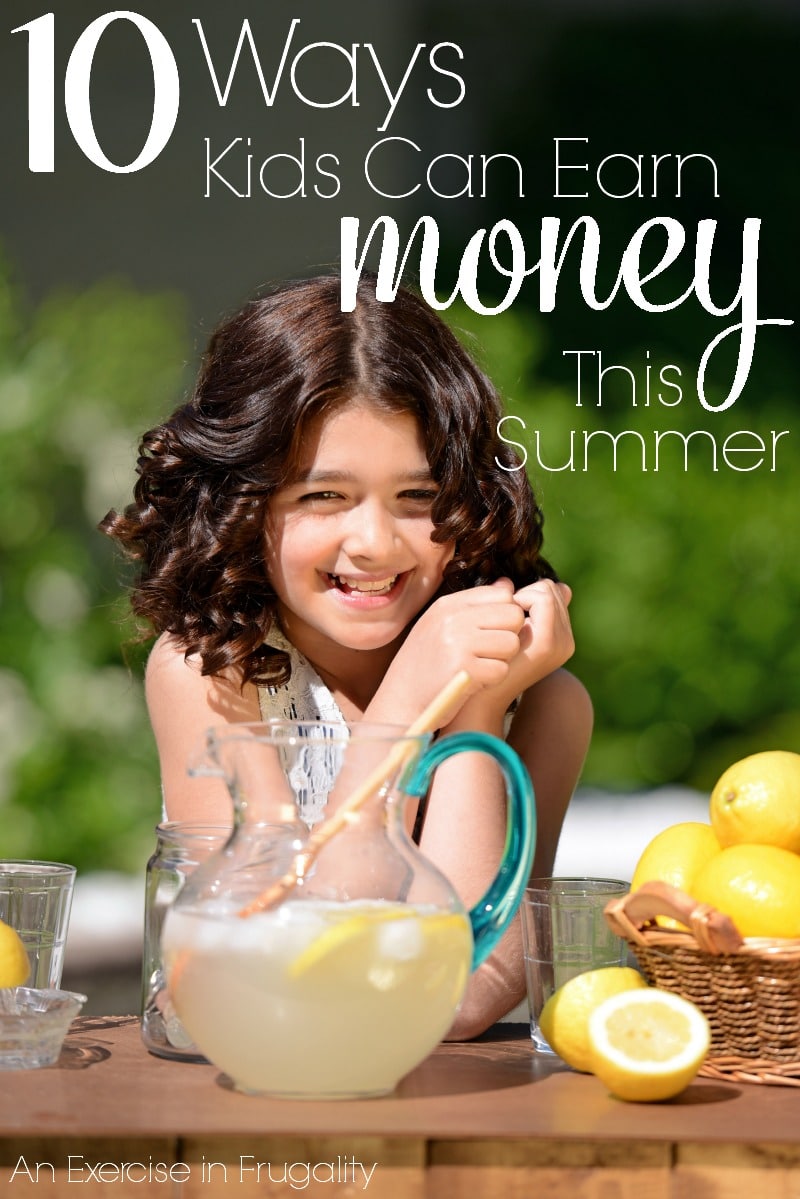 Ah, summer. The time of year when the kids get a little freedom, the teachers get a well-deserved break, and parents get to listen to the chorus of "I'm bored!". It's also the time of year when the kids start trying to raid your wallet for cash to do things like water parks, movies, treats and countless other activities. So if your kids are old enough, you can teach them a valuable financial lesson, and guide them as they learn the value of a dollar and earn their own spending (or better yet, saving) money!
Now of course, these ideas vary in age appropriateness so use your best judgement to decide if your child is physically and emotionally mature enough to handle these jobs.
Mowing the lawn– This job obviously is for older children/teens. I started mowing my parent's lawn when I was probably 12 years old. Before that, I was in charge of weed-whacking. Start out having them do your lawn for an allowance, and as they get the technique and skills down, they can offer their services to neighbors for a fair price.
Garage Sale-Older kids/teens can earn money by helping to set up and execute a garage sale. While I don't suggest leaving them alone to run the whole thing, you can put them in charge and supervise from a distance. It's a great way for kids to learn about interpersonal skills, negotiation skills and money-handling.
Babysitting-Obviously this one is for older kids as well. I took a babysitting certification course at age 11 and spent the next 7 summers babysitting for friends and neighbors. Again this one will depend on the maturity of the child, but its a great way to earn money while learning about responsibility.
Collecting cans-If your state has a deposit for aluminum cans, kids can collect them either from your home and/or also in parks and return them for the deposit. If your state does not have a deposit, they can collect and turn them in for scrap metal.
Dog Walking-Older kids and teens can walk dogs for neighbors who are at work during the day. This is great for any teen who is an animal lover, especially one who wants a career dealing with animals!
House Sitting-Older teens can water plants, collect mail and walk pets for neighbors who are out of town. Of course, I'm not talking about staying at the house overnight, but checking on the house during the day.
Start a Blog-Older teens can start a blog or a YouTube channel and learn the ins and outs of monetization (and patience!). While this is not a way to earn quick cash, it will certainly teach them a lesson in the value of hard work and the value of a dollar!
Tutoring-Is your kid a great student? If they have skill in a particular area, they can tutor other students their age or younger.
Craft fairs-If your kid is creative and crafty, they can try selling their wares at a local craft fair. Anything from birdhouses to handmade soap, friendship bracelets, paintings, etc are all great sellers at craft fairs.
Bake sale-Local farmers markets and fairs allow you to sell food items (cookies, bars, jams and pies all make great items to sell at these types of venues. If your kids love to bake (especially older kids who can experiment with different flavors and decorations) this could be a great opportunity to run their own business!
These are just a few ideas of how your kids can earn their own money this summer. Not only will it keep them busy and free from boredom, but there's lots of valuable lessons to be learned about budgeting, self-sufficiency, and the value of hard work! I also believe this is a great way to tie in a lesson of how to teach your kids financial responsibility.
How else can kids earn money this summer?
[share]
[disclosure]