Think you can't fix saggy sofa cushions? Think again! It's easier than you might think to repair foam couch cushions that have started to smush, sag and droop. Don't spend money on a new couch just yet, until you've tried this!
When your sofa cushions are squished into hard clumps of disappointment, your favorite place to sit becomes a burden on your tushie.
If your couch cushions have zippers, you're in luck! This super easy tutorial will show you how to restuff your couch, fixing those saggy cushions once and for all.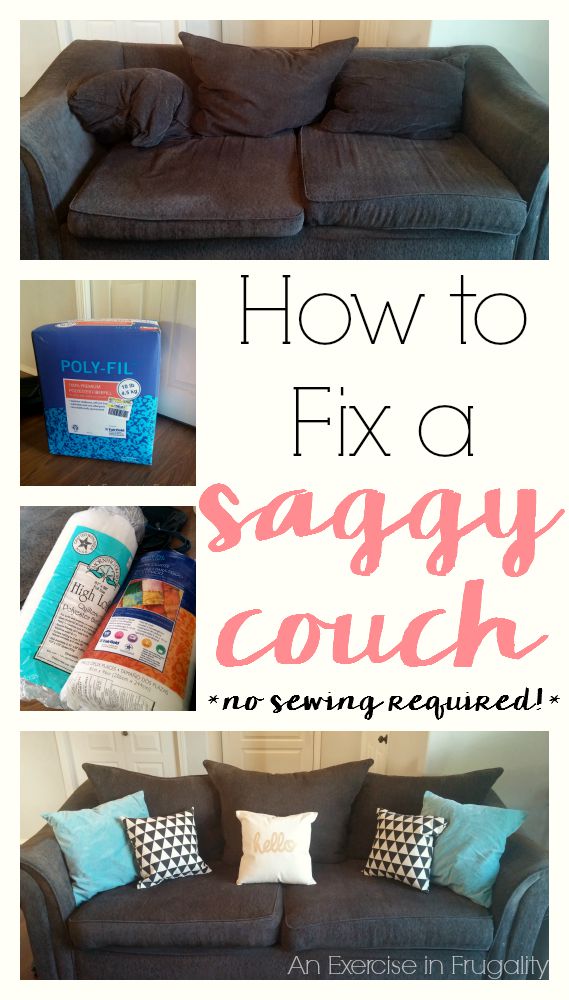 Our couch has seen better days. Who am I kidding, it's a mess. I really needed to figure out how to fix a saggy couch cushions. Or should I say, re-stuff them.
I'm actually embarrassed to show you this but here it goes. This is what my couch looks like most days.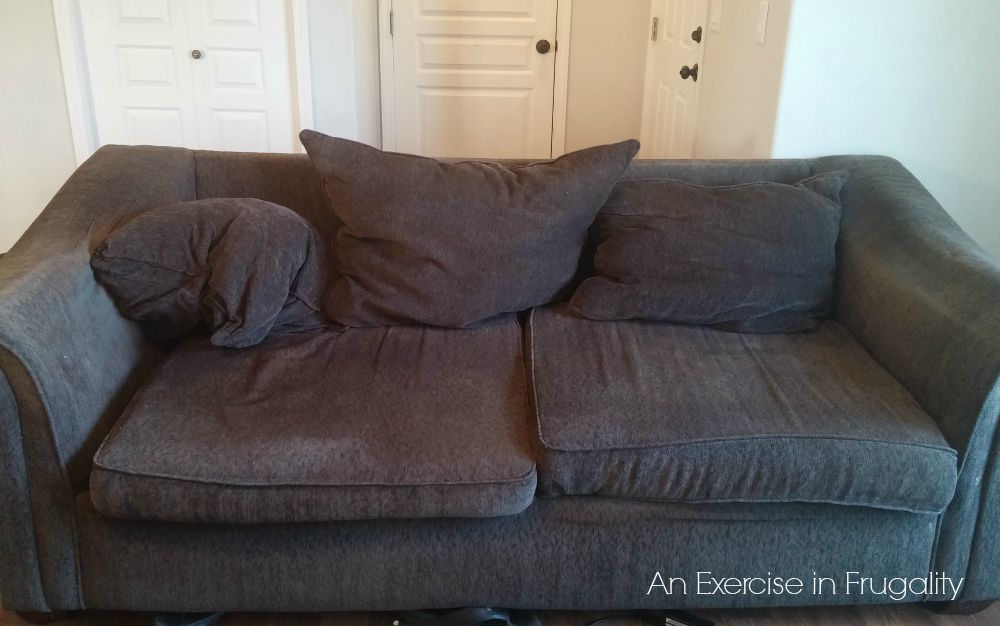 Ok, that's not entirely true. This is probably a little more accurate: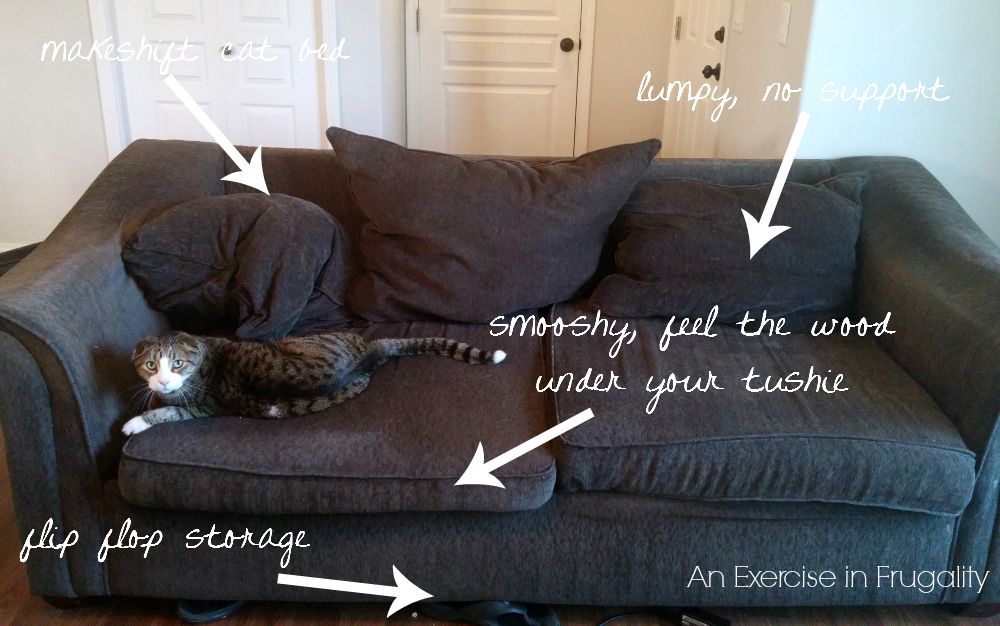 My couch is 5 years old…not terribly ancient in couch years, but certainly not new. Its cushions have been floppy and limp for a couple years now and I wanted a new one.
Two things held me back:
The couch (and its cousin, the chair) were purchased with an inheritance from my Nana when she passed away.
It wasn't much, but she wanted me to have new furniture, and so I got a couch, a chair, an ottoman and a kitchen table set. Therefore it still holds a bit of sentimental value even though its functional usefulness is waning.
We are broke and can't afford a new couch right now. We are still paying off our new refrigerator among other things, so the new couch is not high on the priority list at the moment.
So after one too many stiff and sore backs, I decided something had to be done with this couch. The cushions were like overcooked pasta: mushy and gross.
I decided to stuff my couch cushions to make them fluffier and firmer.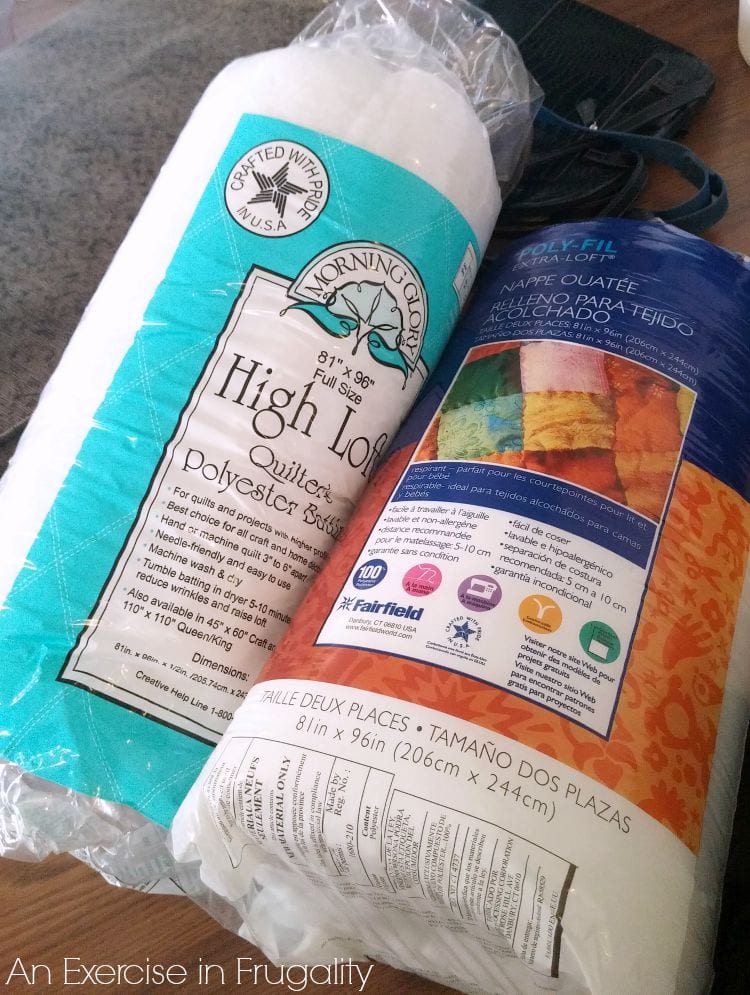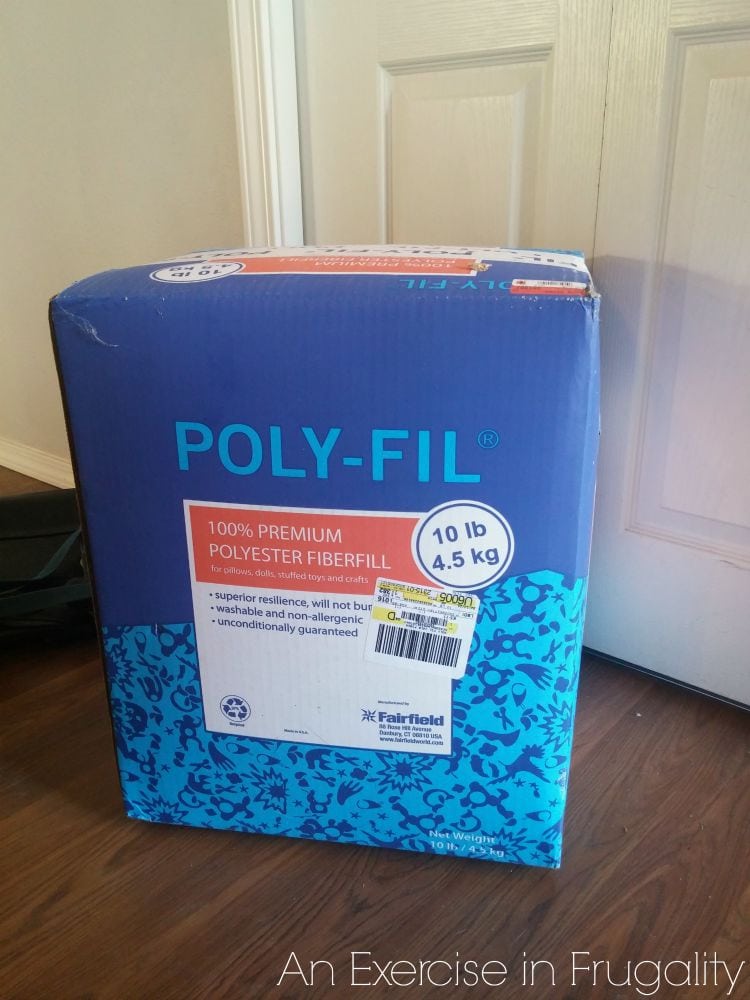 How to Fix Saggy Couch Cushions:
Here's all you need to complete this project-
a box of polyester fiberfill stuffing (I got a 10lb box from Walmart and I have leftovers for making throw pillows! Score!
1 roll of quilt batting per cushion (I used two)
The process is unbelievably simple. Absolutely no sewing required (unless for some reason your couch cushion covers are non-removable, then unfortunately there may be some stitching in your future).
It's super easy to stuff couch cushions!
Simply unzip the cover,
Add polyester fiberfill (polyfill) stuffing until its ALMOST too full to zip,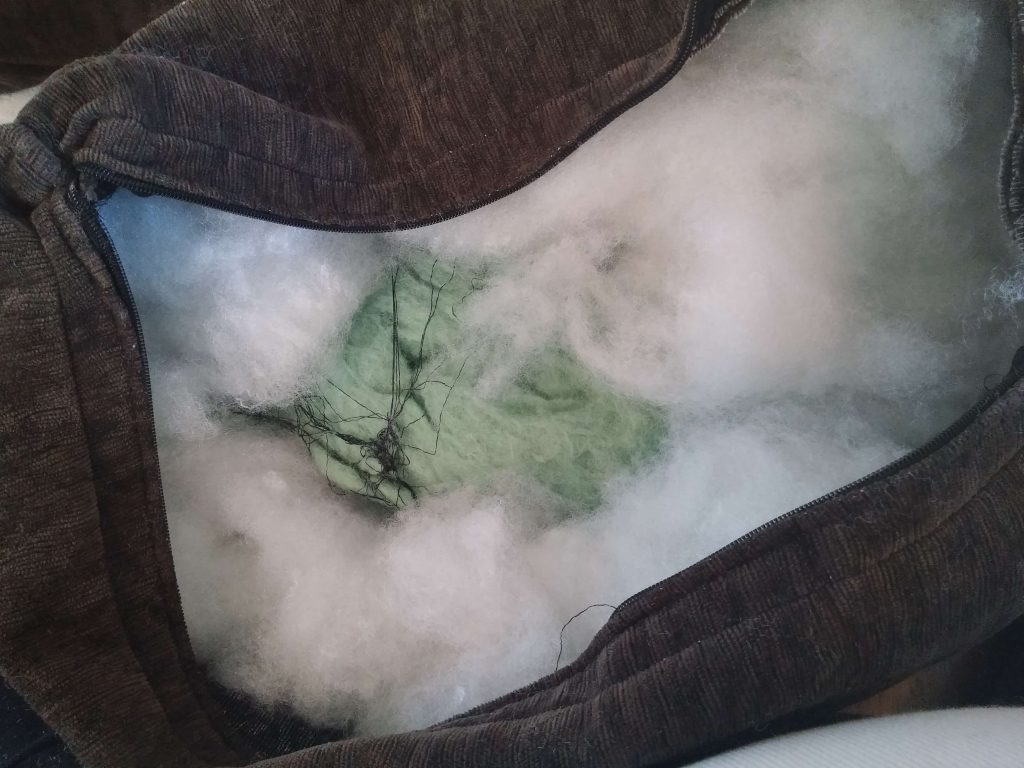 Make sure you get deep down in all the corners too!
Pull tightly and zip closed!
The seat cushions are a little harder, but not too bad. Simply remove the foam cushion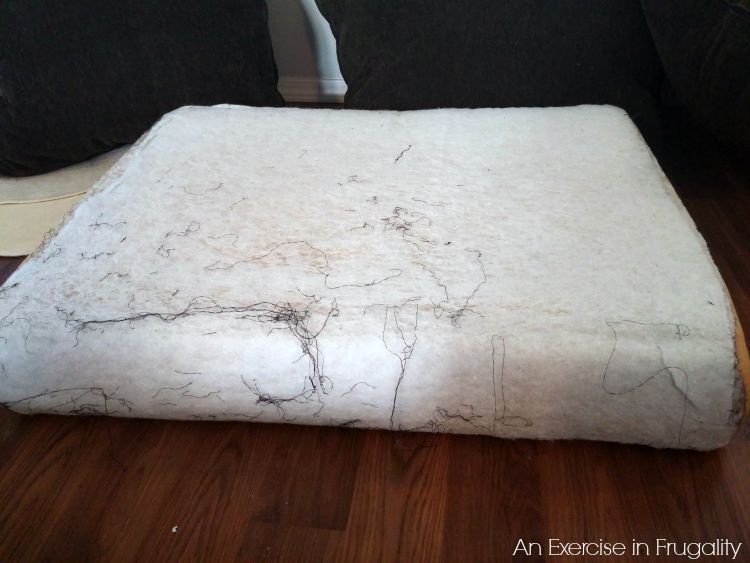 Wrap the poly batting around the cushion evenly on all sides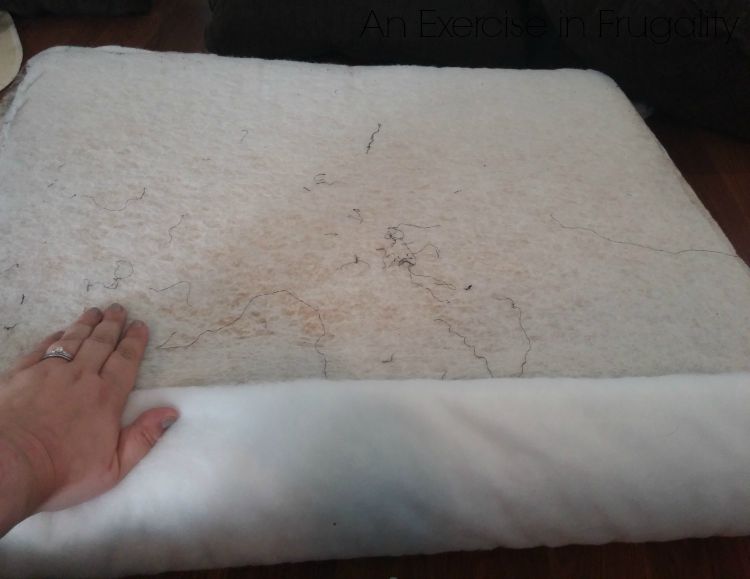 Slide carefully back into the case and zip!
If its too thick to go back into the outer case, you can try slipping a plastic trash bag over it so that it slides in easier, then cutting away the bag and discarding it after you're done.
You might need a second set of hands. Or go it alone if you're brave. More power to ya, Wonder Woman!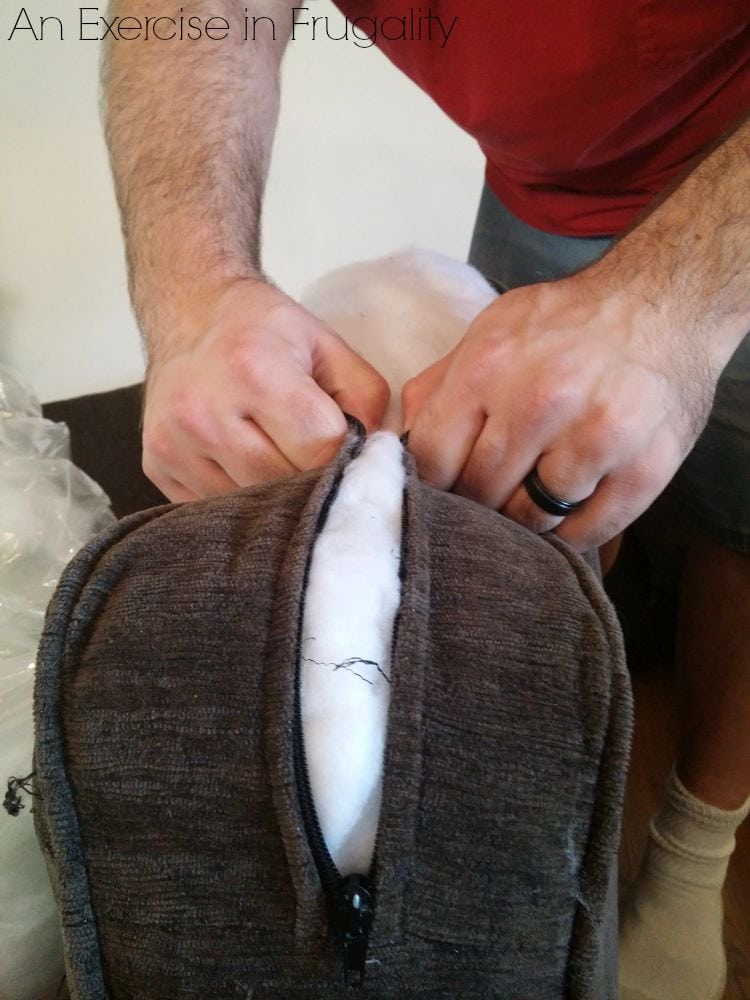 Check out the before and after. Its a remarkable difference, especially when you consider the cost breakdown: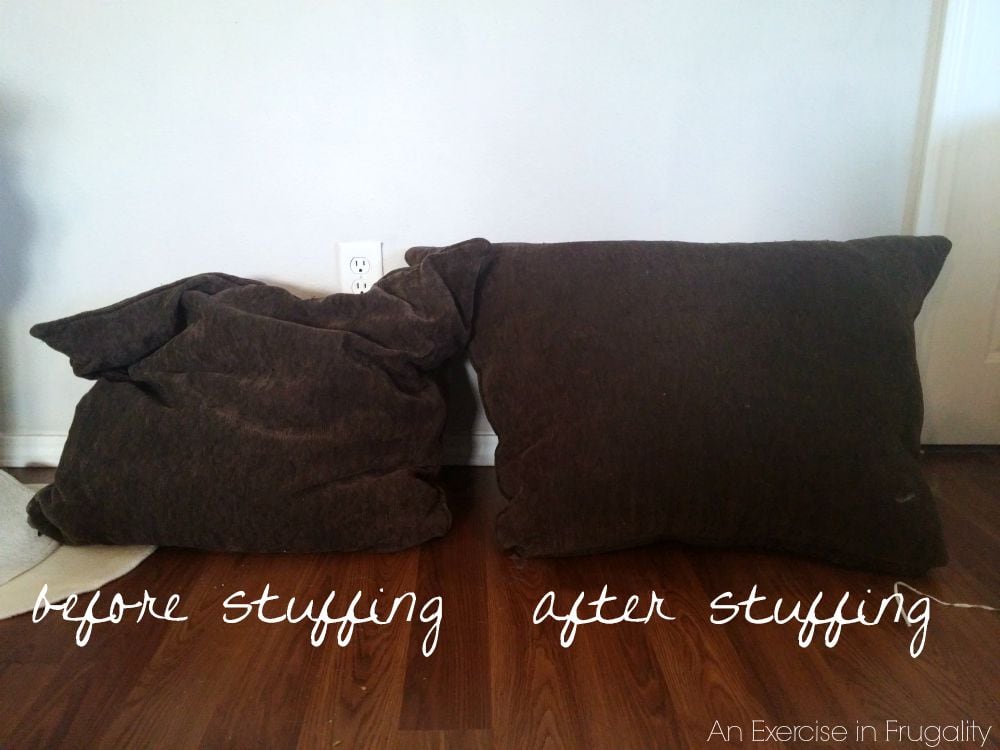 One 10lb box of Poly-Fil-$19.97 (Walmart has it the cheapest by far I've seen anywhere)
Two rolls quilt batting-$7.97 each
Total investment: $35.91!
While this won't help revive the arms of the couch (ours are pretty beat up) it will help the couch's longevity for at least a little while longer, and if the fabric is still in good shape like ours is, chances are it will look nicer than anything you could get on Craigslist for this price!
If you're feeling REALLY adventurous, you can remove the upholstery staples from the underside of the couch and add some batting to cover the arms, then re-staple.
I knew we were going to be moving soon and buying new furniture, so I didn't bother with this step.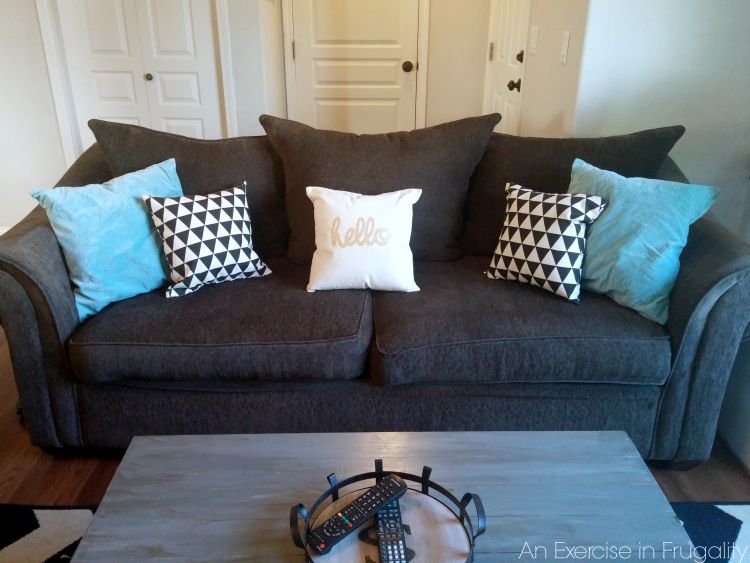 Here's the final result. Like night and day, don't ya think?
Oh, and see those throw pillows? I made the 3 in the middle! No sew throw pillows, and would you believe they're made from up-cycled canvas totes?! Super simple and only MINUTES to make!
If you like my faux barnwood coffee table, you can see how I made that in this post too.
I would love to see your pics if you try to fix a sagging couch. Tag An Exercise in Frugality on Pinterest, Instagram, G+ or Facebook if you post pictures of the finished product!
Would you try to repair and stuff couch cushions?