First of all, congratulations on making a very wise choice! You're here because you want to save money. Maybe you need to pull your budget up by its bootstraps, and get yourself out of financial danger. Maybe your money situation isn't so dire, but you want to spend less while still getting the same products you love. Either way, you've made the right choice!
"Couponing" takes a little while to get all the ins and outs down, but the basics are pretty simple. First, get rid of the mindset that "oh, that $0.50 off coupon isn't worth clipping". That $0.50 coupon, paired with a dozen other $0.50 coupons is now $6.50 off. Multiply that by 52 weeks in a year, and you're looking at $338. That's no chump change! Not to mention that if you follow my site closely, you will save that $338 in ONE month. Seriously, it's possible! Last year, I saved well over $5000. I will teach you how too. Just keep reading!
1. Let's start with the very basics. Your typical coupon has a value, like "$1.00 off any one Acme Macaroni and Cheese". These are generally abbreviated as "$1/1 Acme Macaroni and Cheese". This explains in short terms, the value and the product.
2. Every coupon also lists an expiration date. In the old days, some coupons had no expiration date, but now, due to misuse and fraud, almost any coupon you sill will have one. If you see one that does not have an expiration date, there's a good chance that coupon is counterfeit.
3. Most coupons also picture the product listed, however, some coupons are valid on more than one product. If the coupon says "$1/1 General Mills Cheerios 12oz box" Then clearly that is the ONLY product you may use the coupon for. If it says $1/1 General Mills Kids Cereals 12-18oz, then you may use it on any General Mills Kids Cereal in that size range. If a coupon says "$1/1 ANY General Mills Cereal, then it is valid on ANY size (double check the fine print, many coupons are not valid on trial size products, but some are.)
4. Generally, you want to use your coupon on the SMALLEST allowable size. This is because usually the smaller product is cheaper. You will need to buy more of them, but as long as you have the coupons to do so, this is usually the smarter route.
For example. Say a small bottle of shampoo (12oz) is $2.00 and the large bottle (18oz) is $4.00. If you have a coupon for $1/1, that makes the small bottle $1.00 for 12oz ($0.08 per ounce) and the large bottle $3.00 for 18oz ($0.16 per ounce). You can see in this case the smaller bottle is the better price per ounce. This is not always the case, but more times than not, your better option is to get more of the smaller size, if allowed by the terms on the coupon
5. Some retailers have their own store coupons, and allow what is called "stacking". Stacking refers to being allowed to use one manufacturer coupon and one store coupon per item. For example, going back to the shampoo I mentioned before: Let's say the $2.00 bottle of shampoo has a $1/1 manufacturer coupon, AND a $0.50/1 store coupon, both valid on that product. Now you can use one of each, making that bottle of shampoo just $0.50 after both coupons.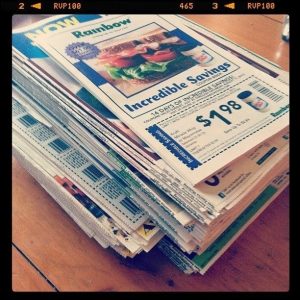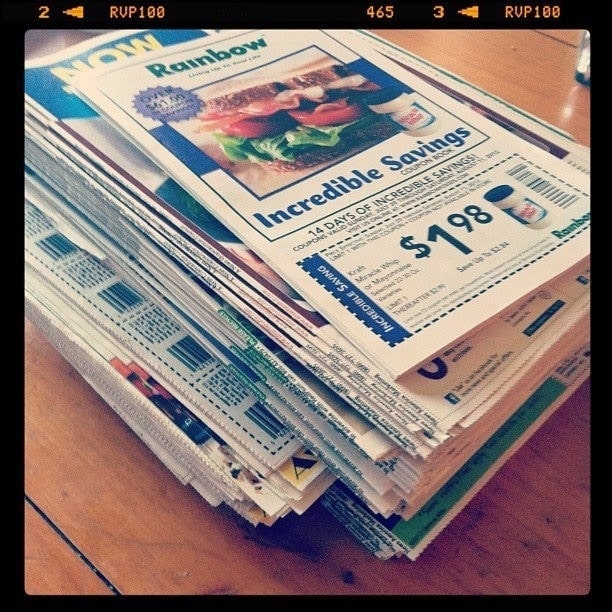 6. Some grocery stores allow for double coupons. An example in my area is Rainbow Foods. They allow a customer to "double" the value of their manufacturer coupons (within certain rules) on specific days. This means your $0.50 off one coupon, is now worth $1.00 off the indicated item. Some stores only double "up to" a certain value. Rainbow doubles up to $1.00. This means your $1/1 coupon will be $2.00 off one, but your $1.10 off one coupon is only worth $1.10. Therefore, if you had the choice of using $0.55/1 or $1.10/2 (which in a non-double scenario, would be the same exact value) you would use the $0.55/1 because it would double to $1.10 off 1 instead. Make sense?
7. Some stores require you to have their store loyalty card in order to get their sale prices, promotions, or to double coupons. Examples of these include the Rainbow Foods Roundy's Rewards card, CVS's Extra Care Card or Walgreens Balance Rewards Card. These are free to sign up for, and essential to maximize savings, so get all of them! You can simplify things if you have an iPhone with the Passbook app. You can read how to set up your Passbook here. .
8. You will hear the term "Catalina". A Catalina coupon is the coupons that print out at the end of your transaction. Many of them are just advertisements, but there are some good ones too. Generally they trigger when a certain item or combination of items are purchased. Think of these as money back. Walgreens Register Rewards are sort of like a Catalina. CVS ECB's are not, but are the same kind of "money back". They are valid on your next purchase, not the transaction that generated them.
9. Each store's policy varies, but some Catalinas are good for money off your next transaction, rather than a specific item. In those cases, you could theoretically use a manufacturer coupon, a store coupon AND the Catalina all for the same item. If you cannot, sometimes it is necessary to use a "filler" item so that the number of coupons you're using does not exceed the total number of items being purchased. A filler item is often a very inexpensive one (think under 50 cents) that does not have a coupon used with it. Sometimes a pencil or small piece of candy can be used in this situation. Or, if you have another item of any price on your list that does not have an accompanying coupon, you can use that too.
10. "Rolling" refers to using a Catalina coupon towards the purchase of a second item that triggers another Catalina. Some Catalinas (or Cats) will do this, some will not. Most Walgreens Register Rewards will not. In fact, Register Rewards (or RR's) will not "roll" if you buy another product by the same parent company. For example, Tide and Downy are both made by P&G. If there was a Catalina for both products, you could use the first Catalina to buy the second, but you would NOT receive a Catalina for the second product purchased. Therefore, it is best to save those Catalinas to use on other items NOT from the same parent brand.
11. When you get your Sunday paper with your coupon inserts, you don't just clip what you think you will use and toss the rest. From now on, you will keep (and organize) your coupon inserts until they expire. This means you will ALWAYS have coupons on hand. You can use the binder method, or the method I prefer which I call the Hybrid Method for coupon organizing. You will want to start out with two newspapers, and then eventually you will work your way up to 1-2 papers for each member of your family. That way you can establish a substantial coupon collection with enough to stockpile things your family uses.
12. Stockpiling…learn to embrace it. You have to get past the whole "hoarding" and "Doomsday Prepper" mentality. It's just smart shopping. When you can get a fantastic deal on something, you don't buy one, you buy enough to last you 3-6 months depending on what your family uses. Why? Because that is how you maximize your savings. If your family goes through peanut butter like it's going out of style, and it's available for free with coupons this week and you only buy one, now next week you are paying $3.00 per jar again. Why do that when you can get a dozen jars for free, and be set on peanut butter for months? If it doesn't expire, and you will use it, you need it in your stockpile. Read more about stockpiling here.
There's more information here on how to order coupons in large quantities. Make sure you are ordering from legitimate sources that do not sell stolen, counterfeit or fake coupons. .
Another thing to consider is pre-ordering items. If you get the hang of couponing, and you spot a great deal, please consider pre-ordering. It's a common courtesy if you are planning on purchasing more than 5-10 of a given item (unless it's something that the store has hundreds of) Most managers would be happy to place an order for you, just make sure that the order will arrive before the sale ends, or that they will honor your sale price/coupon if it comes in late.
This is probably a lot to take in, but if you have ANY questions at all, I would be happy to address them. Please leave a comment with your question, or send me an email and I will be glad to answer it. There are no stupid questions! I guarantee you I had the same question when I first started couponing too!
Happy Couponing!