Hi everyone! If you're one of the over

100,000

 people (and counting) who have just joined us from Pinterest, WELCOME! Please feel free to venture around the rest of my site. Lots of frugal projects, tutorials, and other posts here too! Please feel free to say hello in the comments and don't forget to follow me on Facebook!
If you're in your 20's-30's, chances are you have friends that are starting to get married and have kids. This is an expensive time in our lives, because not only are we trying to start lives and families of our own, but we want to give a nice gift to our friends without breaking the bank. So how do you purchase a nice gift for someone without going broke? Gift baskets!
Last summer, I was invited to the baby shower of a good friend of mine from high school, who was having a baby boy.  I wanted to get her a gift that was most importantly, useful, but also one that wouldn't make me go broke (baby stuff is EXPENSIVE!). I didn't want to be "cheap" either, because she's a good friend. Quite the predicament. So what did I do? I got a little creative.
You can purchase a basket, or use a nicer one you already have. I lined the basket with decorative tissue paper, and filled it with baby essentials: diapers, ointment, baby bath, onesies, socks,etc. Then to make it look pretty, I decorated the stacks of diapers with ribbon and topped it off with a monkey blanket. The baby clothes were the most expensive part, but I went in on the gift with a friend, and she contributed most of the baby clothes.
Now, to make this basket for even less, look for coupons for the items. Often Target has printable store coupons for Circo crib sheets and things of that nature. You can always find printable coupons for diapers, wipes, baby food, toiletries and more.
If you're looking for more things to put in the basket, why not throw in a couple things for mom? Some nice bubble bath, chocolates, or if she's bottle feeding, you could give her some nice coffee (chances are she's gonna need it!) What are some other things new moms love?
UPDATE: Here's another gift basket I made for a different friend having a baby boy. Apparently I have a fixation with little monkies. Cuteness!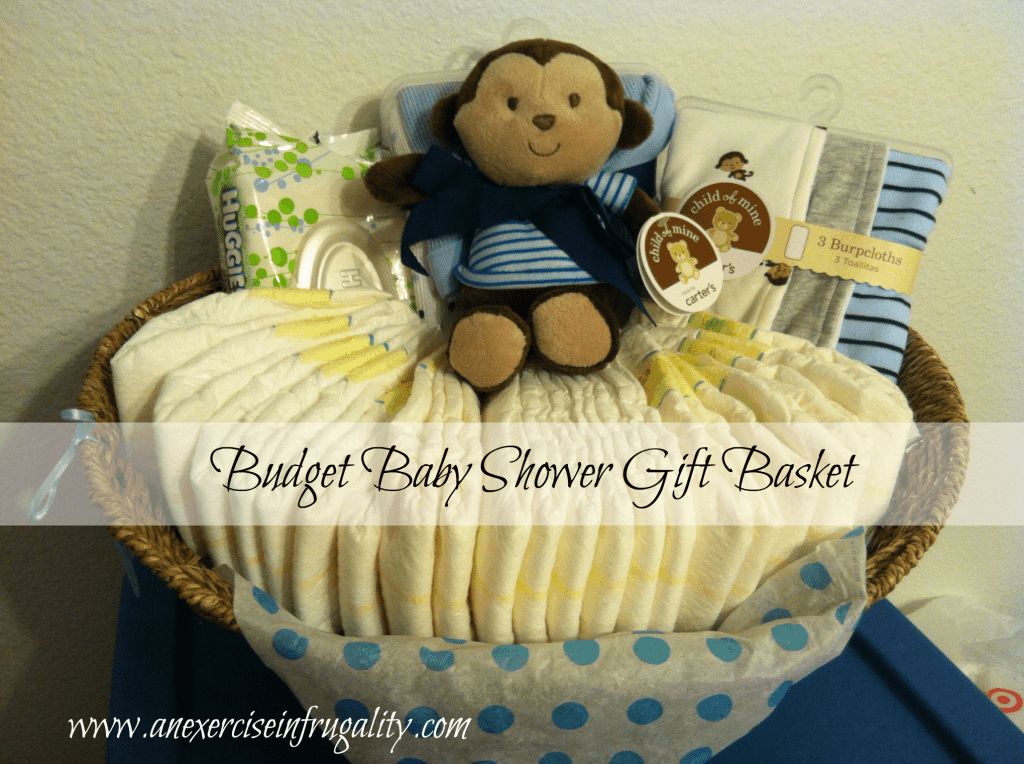 What do you think of this Baby Shower Gift Basket idea?
DISCLOSURE: I may be an affiliate for some products that I recommend. If you purchase those items or print coupons through my links I typically earn a small commission at no cost to you. I may have received items described within for free in exchange for my honest opinion.
I only establish affiliate relationships with and recommend products from companies I know and use myself. For more information please check out my Disclosure Statement.