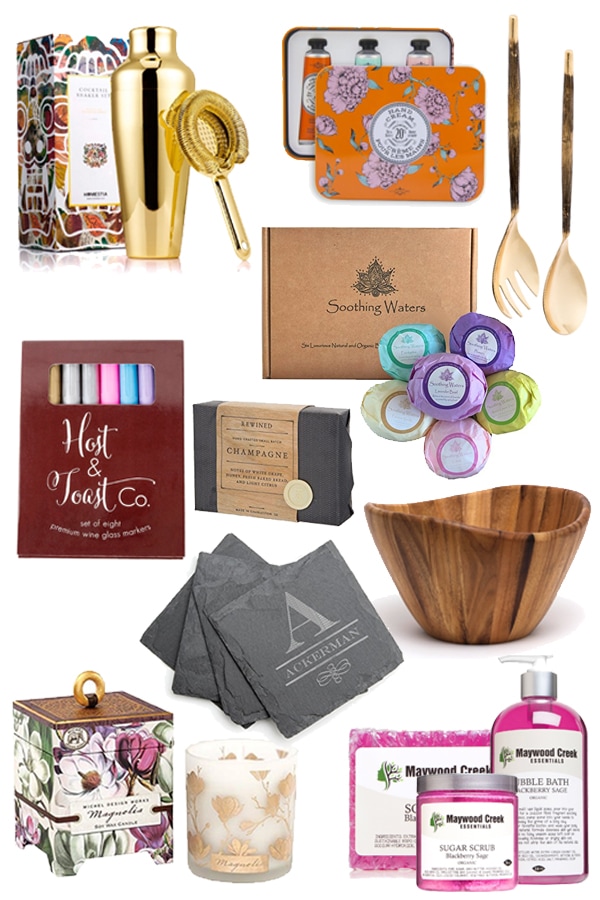 This holiday gift guide is in honor of the hostesses! Being a hostess is no easy task, whether its throwing an "everyday" party, or a themed holiday event, orchestrating a gathering is a lot of work. Show your appreciation to the hostess of your holiday fete with a lovely token gift. These options are sure to please. There's gifts here to pamper the hostess, or to jazz up her home with fun accessories perfect for making any gathering extra special!
I absolutely adore these gift ideas. Personally I am a huge fan of bath products, lotions and candles, and I know lots of hostesses would love to indulge themselves after planning, preparing and executing a Pinterest-worthy bash!
Best Gift Ideas for the Hostess
I gotta say, some of these gifts make me want to throw a party just so someone will get me one of these. Ok I kid, but seriously…the cocktail shaker is a swanky addition to any bar set and the candle and bath products will make the perfect way to unwind.
Check out the rest of my 2016 Holiday Gift Guide here!
What other hostess gifts would you add to this wishlist?
DISCLOSURE: I may be an affiliate for some products that I recommend. For more information please check out my Disclosure Statement.