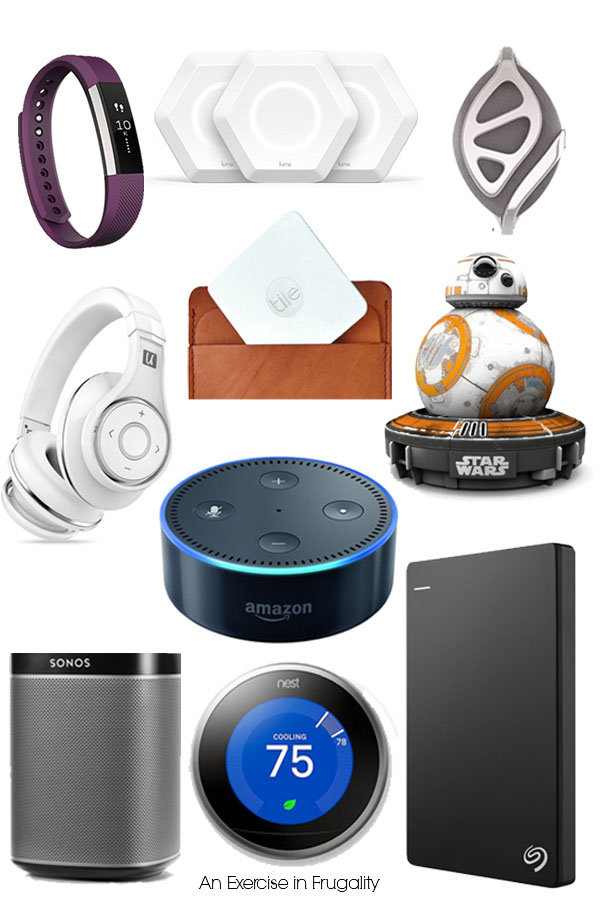 Got a tech lover in your house? Here at Chateau Frugality my husband Mr. Frugality is a big tech junkie. He loves all the newest gadgets, and anything computer related. He is an IT Manager so it's only in his nature. Purchasing the latest technology goodies can get expensive, but you can be sure that a gift like this will do nothing short of delight the recipient like a little kid on Christmas morning.
To kick off our annual Holiday Gift Guide, I wanted to start off with gifts of technology! These gift ideas cover a variety of tech topics like things from smart home accessories to fitness/wellness trackers, to great gifts for the audio and music fans!
I have already purchased a couple things off this list (requested of course by friends and family who are BIG fans of the latest gadgets) so I know that this is a hot list of goodies. Take a peek at what I've included below:
Best Gift Ideas for Technology Lovers
My husband got the Tile trackers for his birthday and we just love them. Its perfect for keeping track of your keys, wallet, phone or any number of other things you might lose frequently. Also, I got my brother the Amazon Echo (at his request) for his birthday last month and he was super excited to try it out.
Don't forget to check out the rest of my 2016 Holiday Gift Guide here!
What other gifts are on your tech lover's wishlist?
DISCLOSURE: I may be an affiliate for some products that I recommend. For more information please check out my Disclosure Statement.