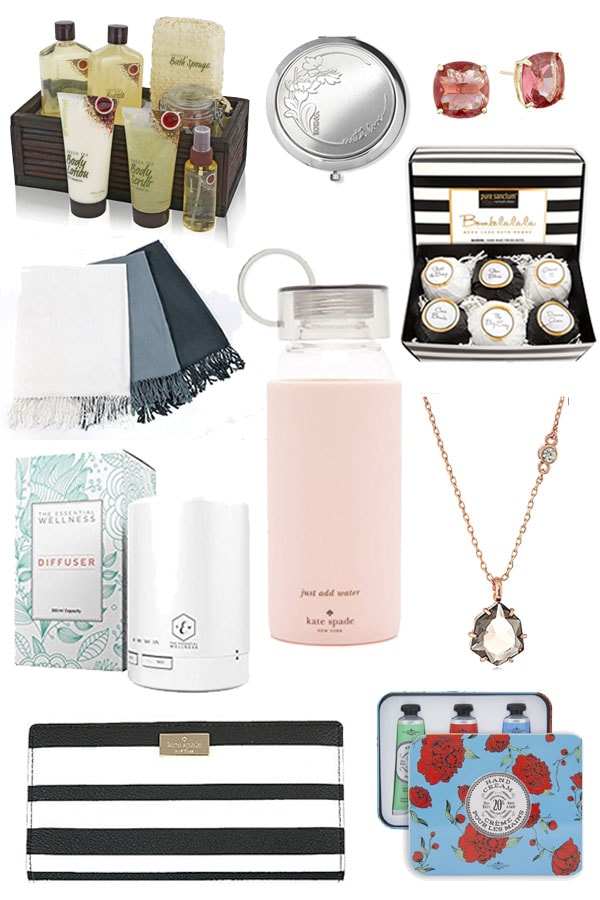 Can you believe Christmas is a little more than a month away? Where has the time gone? I swear it was August like 5 minutes ago. If you're reading this in early November, don't panic: you still have plenty of time. If you're reading this in a frenzy the week before Christmas, you *might* want to figure out a plan, and pronto! These holiday gift ideas are for the women in our lives, whether that be wives, girlfriends, girl-friends, besties, co-workers, teachers….ok pretty much anyone!
I tried to include a variety of gifts that have a wide appeal to ladies from all walks of life and all age groups. These are gifts I would love to have myself, so don't feel shy about adding them to your own holiday wishlist.
Can you believe the Kate Spade goodies I snuck in here? Kate Spade is super popular right now and their stuff is usually really expensive, but if you shop smart, you can find some really adorable accessories that aren't going to bust your budget.
Best Gift Ideas for Women Under $50:
I'll admit, I have a hard time picking my favorites out of this list! This one was hard to limit to just ten items, but I finally was able to choose the ones I liked best. I think out of these ten, my favorites are the Kate Spade wallet and the earrings. Or maybe the cashmere pashmina. Or the necklace. Ok fine, I can't decide.
Don't forget to check out the rest of my 2016 Holiday Gift Guide here!
Which of these gifts for her are your favorites?
DISCLOSURE: I may be an affiliate for some products that I recommend. For more information please check out my Disclosure Statement.