This week's $5k Wedding Wednesday post focuses on first impressions. I'm talking invitations. The invitation sets the tone for your soiree. Is it a casual beach theme? A romantic rustic retreat? A posh modern EVENT? The invitation tells a lot about the wedding to come, but if you're like me (and if you weren't, you probably wouldn't be reading this…) you don't want to spend a fortune on your invitations.
Let's be realistic. Say you invite 100 people to your wedding. 75 of them are going to reply, enter the date into their iPhone or Outlook and toss the paper invitation in the garbage. 20 of them are going to stuff the paper invitation at the bottom of a drawer or "junk" pile, and the other 5 (just guessing: Mom, and four grandmas perhaps?) might put it away for safekeeping in a scrapbook. In all reality, the invitation is not something you should splurge on, since it plays a minor role once the wedding is announced, but you also don't want to scrawl on a Post-It Note either.
There's gotta be a happy medium. I found that medium for my invitations.
Want to see what they look like?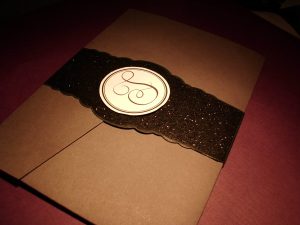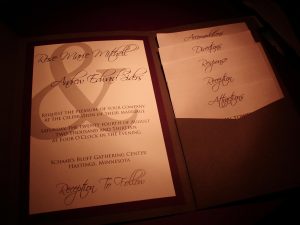 You could certainly make cheaper invitations than the ones I have. Mine cost me about $85 or so for 50 invitations, but I had a specific look in mind. The bulk of the cost associated with my invitations was the pocketfolds. I could have made them myself, but I decided that my time and sanity was worth the $50 or so that I paid for them.
By making your own invitations (especially if you choose a design that can be printed in gray scale, like the one I designed for mine) you can save a large amount of money. I designed the invitations in Photoshop, and created the enclosure cards in a "stairstep" pattern. The reply card is included in those, and the reply card envelope tucked behind them. (please note that in the photo above, the enclosure cards are a mock up and printed on plain paper. In the real invitation they will be printed on heavier card stock to keep from curling.)
All it required was a 4.5×6.5 inch "mat" of purple paper, mounted to the pocket fold, and then the invitation printed on cardstock and trimmed to 4×6 which was then mounted on top of that. A rich look, much cheaper than printing in color.
If you feel you must have color printing, consider doing one or two keepsake ones with a fancier color design, and sending out the gray scale ones to guests.
You can still have a lovely invitation on a tight budget!
What do you think of my budget pocket fold invitations?
DISCLOSURE: I may be an affiliate for some products that I recommend. If you purchase those items or print coupons through my links I typically earn a small commission at no cost to you. I may have received items described within for free in exchange for my honest opinion.
I only establish affiliate relationships with and recommend products from companies I know and use myself. For more information please check out my Disclosure Statement.